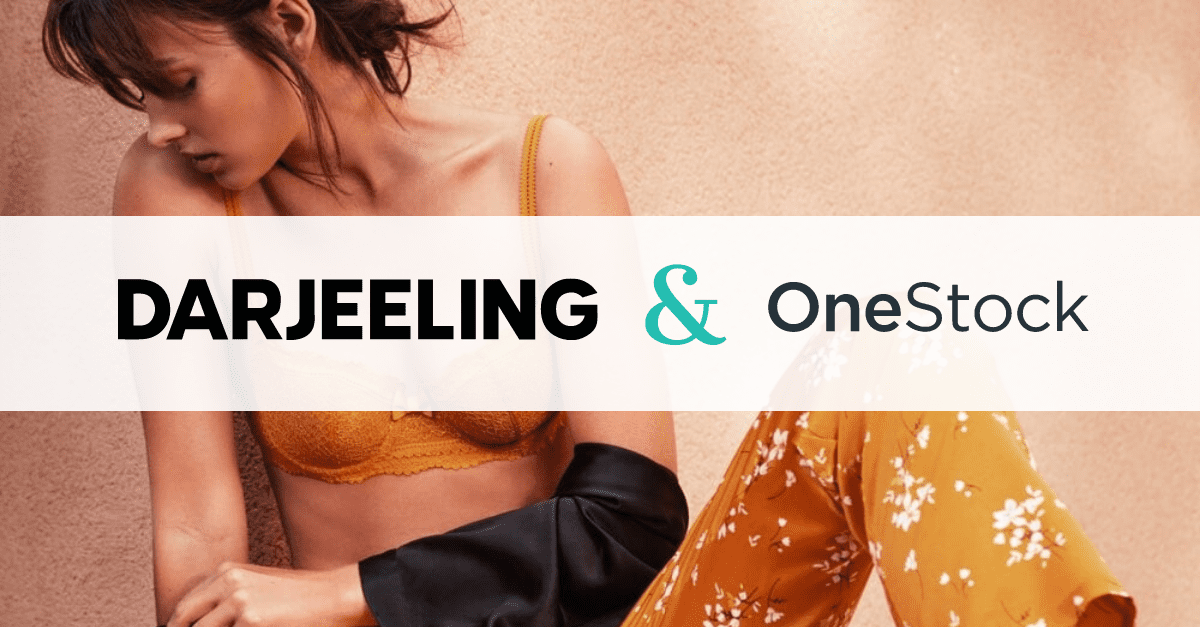 4 min
DARJEELING & ONESTOCK: DEPLOYING AN OMS AS PART OF A UNIFIED COMMERCE STRATEGY
OneStock has once again been selected to work alongside an iconic international retailer! The company was chosen by one of the leading French retailers in the lingerie market, the Chantelle Group, to develop an omnichannel vision for its entire supply chain. The Group's ambition is to offer its customers an enhanced purchasing experience, on a par with the brands it represents.
The Chantelle Group, which has been creating women's lingerie since 1876, is made up of six brands (Chantelle, Darjeeling, Passionata, Livera, Chantal Thomass, and Femilet), has more than 5500 employees in 23 countries, and generates a turnover of 400 million Euros (of which 50% is generated outside France). With more than 400 stores and nine e-commerce websites, it had become imperative for the Group to offer an optimised omnichannel experience with the help of a reliable and agile Order Management System (OMS). Darjeeling was chosen as the first brand in the Group to spearhead this ambitious project.
Unifying stock and improving the purchasing experience to match ever-changing customer expectations
Darjeeling, which has been part of the French lingerie market for more than 20 years, is commercially represented by 180 stores and one e-commerce website. Keen to offer its customers a unified shopping experience that encapsulates the motto "any time, any place, anywhere", the Group has decided to set up several omnichannel solutions, with a number of objectives:
For the customer : being able to take advantage of a wide variety of online and in-store services throughout the purchasing process, and being able to benefit from a wider choice of products with increased availability (and no erroneous reporting of stock levels).
For the Darjeeling brand: benefiting from a unified vision of stock to improve sales and adjust production as closely as possible to meet demand.
Integrating two new omnichannel solutions at the heart of Darjeeling's customer promise: Ship from Store, and Order in Store
The Ship from Store solution will be the first feature implemented for the lingerie brand, with an online launch scheduled for July 2020. OneStock will thus allow Darjeeling to help its individual stores to fulfil web orders, according to meticulous orchestration rules (geographical proximity, store able to fulfil the entire order, etc.).  The store identified for each order will take care of picking the items from their own stock, packing them and dispatching them ; the DC warehouse will no longer be the only point-of-stock. The Ship from Store solution will therefore have a big impact in reducing costs and delivery times, with a reduced carbon footprint.
In the second phase of the project, OneStock will empower Darjeeling with its Order in Store capability. Thanks to the store assistant app, customers will be able to access the entire range of products from any store (Endless Aisle). This will allow them to find the item of their choice, even if it's out of stock in the store, and will instantly maximise the conversion rate. This is a real asset, especially in the lingerie industry, where retailers must offer a significant depth of stock to correspond to the different shapes and sizes of their customers, and where purchases are often made up of several matching items. The Order in Store solution will, thus, boost cross-selling and up-selling, and help increase the average basket.
The implementation of these two omnichannel solutions will be made possible thanks to the unification of stock by OneStock's OMS (DC warehouse stock combined with store stock). Darjeeling will also be able to take advantage of the unification of stock to optimize the profitability of existing solutions, such as Click and Collect, and Reserve and Collect.
The customer is at the heart of the Chantelle Group's business activities, from the design of our products to the purchasing experience. We are committed to ensuring each client can find the product that is perfect for them. After benchmarking various players in the OMS sector, OneStock appeared to be the best solution that would allow us to offer the smoothest purchasing experience, covering all omnichannel use scenarios."

Patrick NOLLET – Director of Digital and Retail IT, Chantelle Group
Designed to fit all IT systems, OneStock's agile OMS will be directly connected to Darjeeling's ERP / POS system and the existing e-commerce website.
The entire OneStock team is delighted to announce this new collaboration and we will report back in a few months with comprehensive feedback on the deployment of Darjeeling's omnichannel strategy.