Supply Chain
Orchestration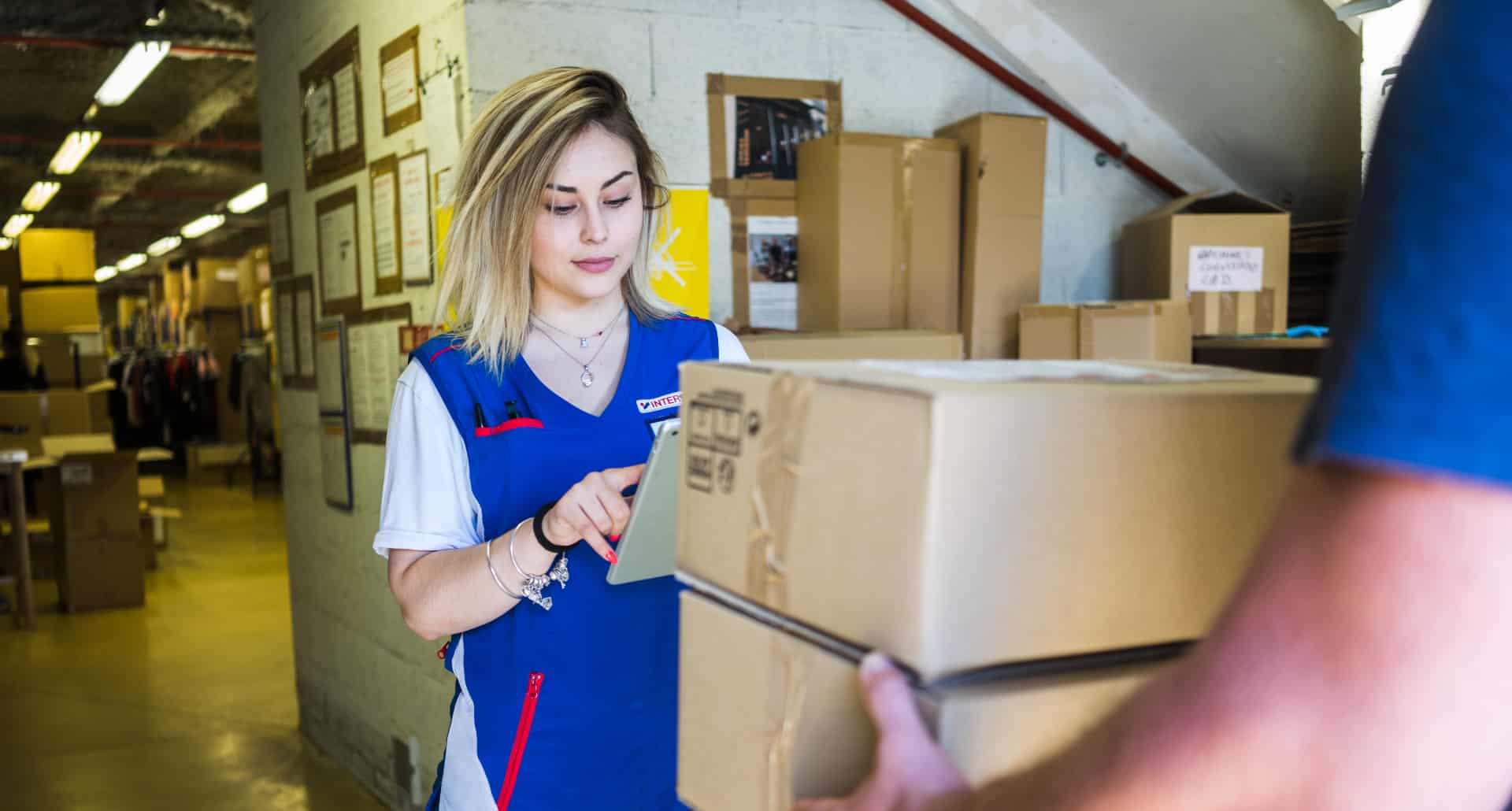 Webedia has strong ambitions for the development of its e-commerce activity. We needed to structure ourselves using an agile OMS, able to connect quickly with our 3PL. The OneStock team understood our needs and were able to provide excellent advice during the deployment phase. We greatly appreciated their know-how!
Why should you implement Supply Chain Orchestration?
Optimise your supply chain
Select the best carrier to fulfil an order
100%
of international orders processed by stores
Put an end to the chaos of border customs
Manage inter-warehouse transfers
Make sure you always have the stock needed available locally
Supply Chain Orchestration Overview
If your Supply Chain operations are complex or international, if you have more than one warehouse and if the goods you are selling have different dimensions/ constraints, then an OMS is a must-have for better optimisation.
For every B2B or B2C order, select the most effective way to fulfil it:
Manage multiple points of
stock for every sales channel
Manage multi-step
fulfilment routes
Manage dynamic buffers
and reservation/allocation
Manage dynamic
delivery options
Manage all services associated
with the products/orders (e.g.
installation, personalisation,
specific deliveries)
Benefit from a native integration
with carriers
Benefit from an easy integration
with your ERP, WMS and TMS
Optimise the management of
logistic exceptions
Enjoy full visibility of
your Supply Chain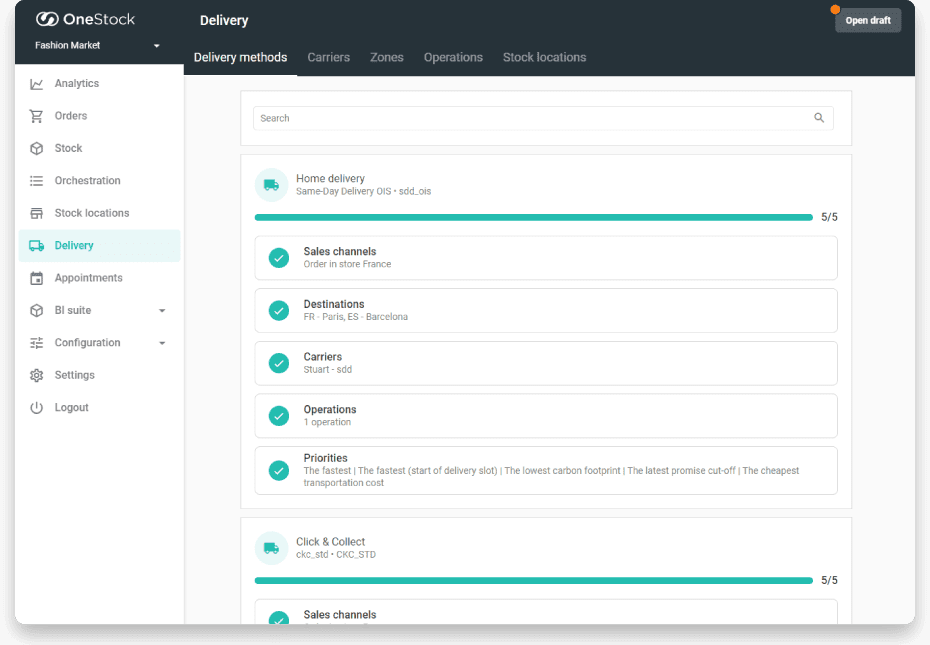 Unique
features
Choose the best carrier to fulfil orders
For your Last mile, warehouse to store, and store to store operations you probably have different carrier partners helping you to deliver the best possible service to your customers. Every partner has its own prices, constraints, specificities and areas of excellence. Supply Chain Orchestration selects the best transportation partner(s) to fulfil an order (or a set of orders) and minimise your operational costs.
Give your customers the visibility they need
You can give your customers a full view – via your customer care services for instance, or via your ecommerce platform – of all the delivery options available to them for an order (standard, express and for each option the OMS can calculate/estimate the costs and the delays). Learn more about our
Delivery Promise
.
Start optimising your logistics operations today
FAQs
Why is Supply Chain Orchestration a must-have?
Supply Chain Orchestration creates, displays, and records all inbound and outbound stock movements to identify potential shortages (quantities, broken items, etc.) and to create a reliable image of saleable stock.
Supply Chain Orchestration is also a tool that logistics and supply teams particularly appreciate because it allows them to:
● Transfer stock between warehouses and optimise stock allocation to, for example, better serve a local market
● Manage transits between 2 warehouses to allow for a gradual ramping up of the new warehouse
Is this Supply Chain Orchestration a kind of TMS?
No, OneStock is not a TMS player but the 'Select the Best Carrier' feature is indeed a functionality offered by several TMS on the market. Nevertheless, it could be interesting for a retail or BtoB company to benefit from this functionality directly in their OMS, especially when the choice of the carrier impacts the
Delivery Promise
.
Is this Supply Chain Orchestration a kind of WMS?
No, OneStock is not a WMS either. OMS and WMS are acronyms that you hear a lot within the retail and e-commerce world and of course, both operate to optimize your logistics. WMS and OMS – and its Supply Chain orchestration feature – mainly differ in their scope: the warehouse management system focuses on the processes within (or between) warehouses, while the OMS works at a higher level and manages all processes related to orders and shipping. For instance, if the company stores stock in more than one warehouse the Supply Chain orchestration will select the best-suited warehouse to fulfil an incoming order.
Can Supply Chain Orchestration also help select the best Warehouse to fulfil an order?
Yes, and this is an important feature when a company has multiple warehouses or stock points. Supply Chain Orchestration helps you make the best choice when, for example, the main warehouse does not have all the items ordered. The geographical position of each stock point and its distance from the delivery point, stock levels per article, the probability of selling that particular item from that particular point of stock, transport costs and delays, the presence of borders or other constraints between the point of stock and the delivery point, number of parcels, splits and shipping points… are all variables that are taken into account to allow the Supply Chain Orchestration tool to choose the best path to execute an incoming order.
Usually, warehouses and logistics providers manage all their operations directly from their WMS. For efficient logistics execution, OneStock sends orders to be prepared to the existing WMS(s), providing all the information needed to prepare the order or part of the order.
Warehouse operators prepare the orders issued by the WMS, which then sends the preparation confirmation or reports any problems so that the OneStock OMS can take over. In the event of a problem, the OMS can, for example, redirect the order.
Is Supply Chain Orchestration an additional module on the top of OneStock's OMS?
Supply Chain Orchestration is a native feature of OneStock's OMS.
Delivery Promise
, very often used in conjunction with Supply Chain Orchestration, is an additional module that can be added to our standard OMS platform.