Delivery Promise
Offer your customers guaranteed delivery options before they check out.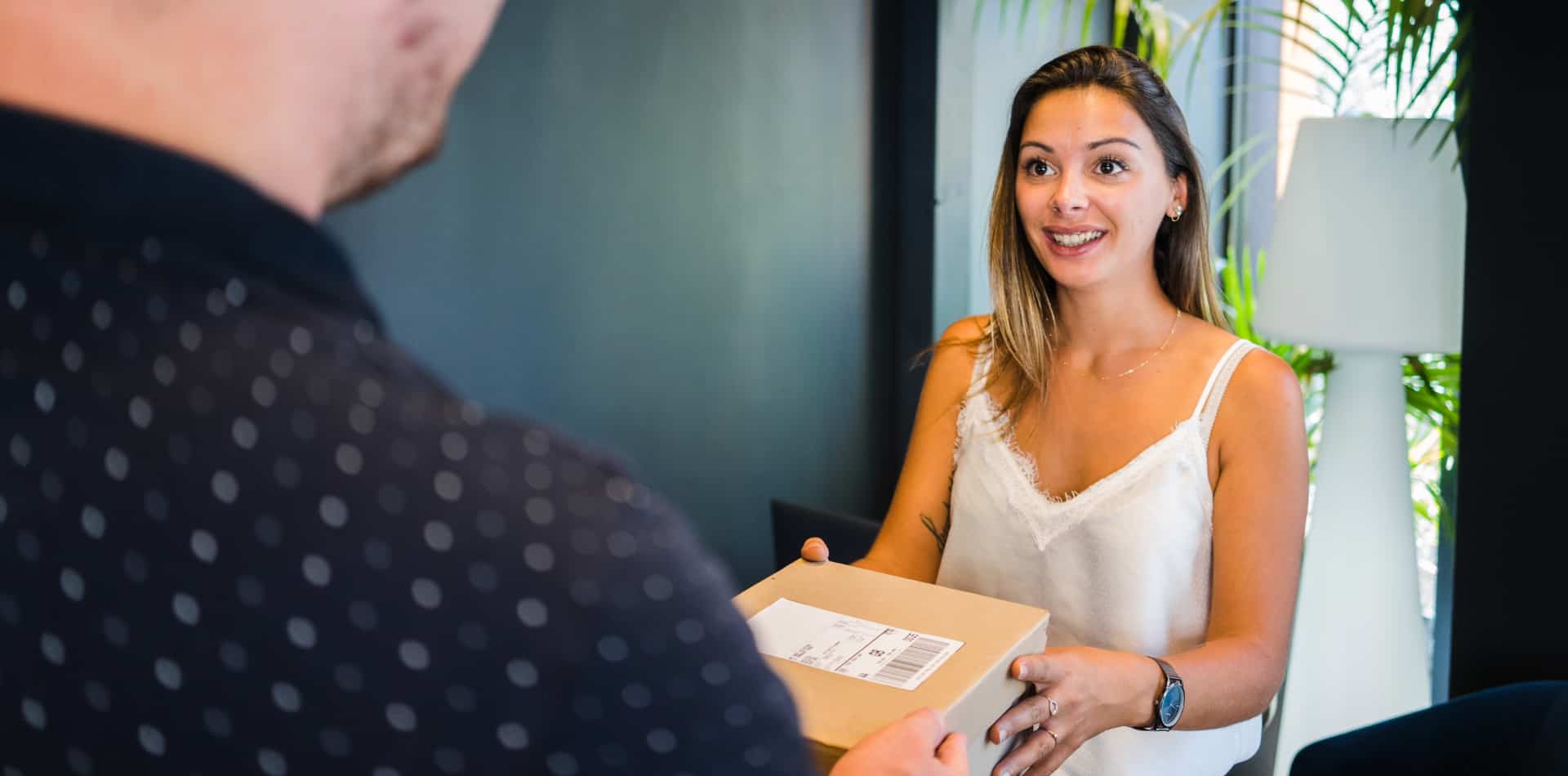 OneStock helps us to optimise our conversion rate because we have a better pool of stock to satisfy our customers. Also, thanks to Delivery Promise, we now provide accurate delivery times for that customer and stick to our SLAs. We can also inform the customer about the delays and shipping issues.
Why do retailers need a reliable delivery promise?
38%
of customers won't shop with
a retailer again if they have a
negative delivery experience
60%
of online customers abandon
shopping carts if delivery
options are unsatisfactory
44%
of consumers would be
willing to pay more for
eco-friendly delivery
Delivery Promise Overview
Share reliable inventory information
Provide accurate delivery times
Offer eligible delivery methods only
Limit post-purchase cancellations
Improve your online conversion rate
Improve the customer experience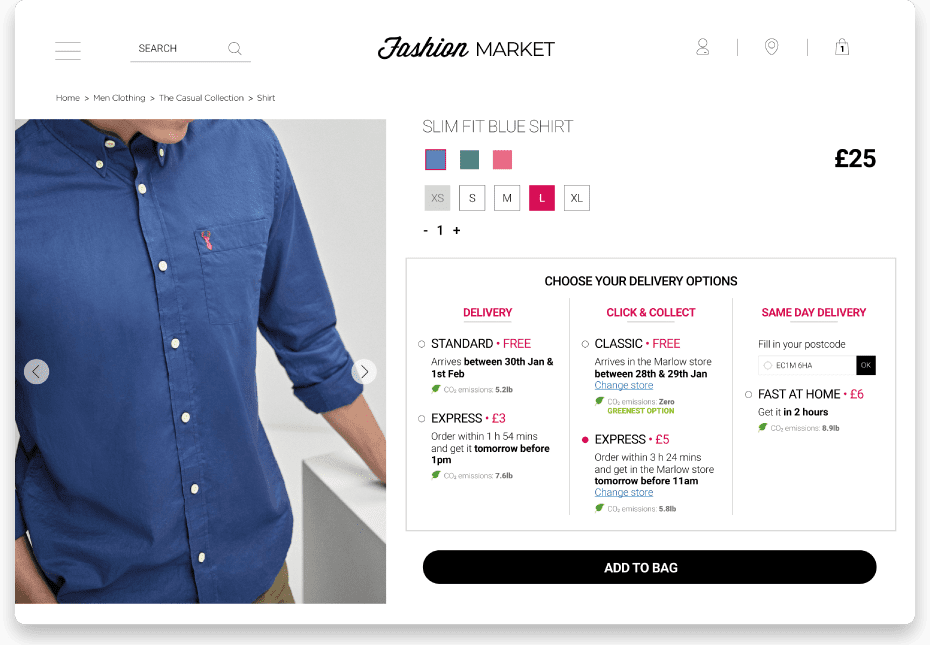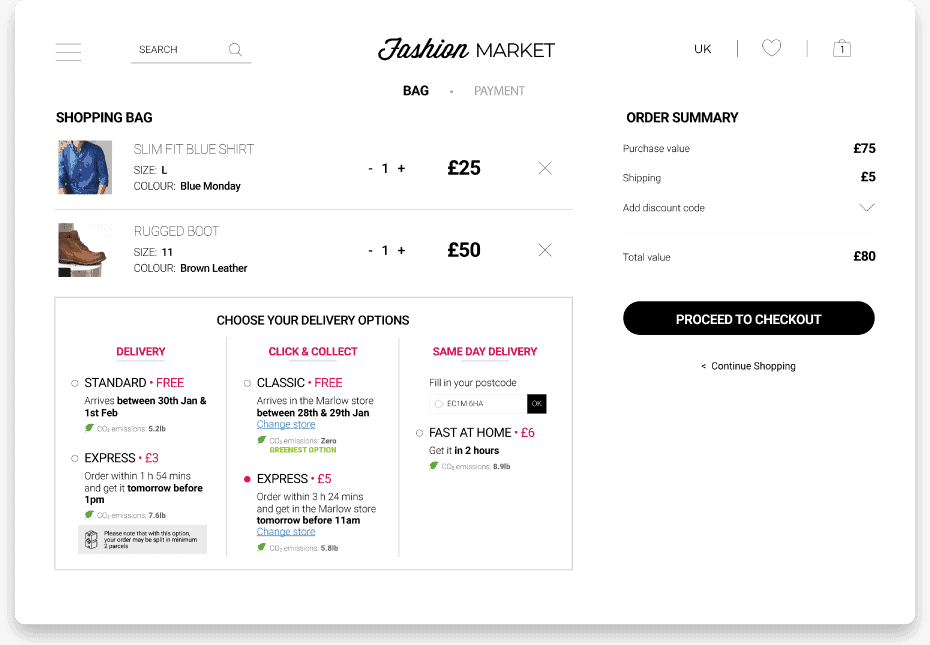 Unique
features
Fully integrated Delivery Promise based on order size and weight
OneStock is the only solution provider to offer a fully integrated Delivery Promise that takes into consideration an order's size and weight. The solution selects the best carrier available to transport the items and communicates an exact date of delivery to the customer.
Same Day Delivery
OneStock's Delivery Promise ensures a frictionless shopping journey with a same-day delivery option.
Offer your customers more delivery options than ever before
FAQ
What is Delivery Promise?
This is an omnichannel solution providing reliable and accurate information on a brand's website – even before checkout – detailing a product's availability, possible delivery methods and times. It can be seen as the ultimate in customer-centric engagement, as it gives consumers visibility on all logistics operations – providing a buying experience aligned with customers' expectations.
Do I need a specific omnichannel tool to implement Delivery Promise?
Yes, this is an additional module of an
Order Management System
.
In order to show customers available delivery methods and associated delivery dates and times for products in their basket, the Promise needs to have real-time information on existing stock levels, by item and stock point. To offer a true Promise you need to have all the information (price, delays, SLAs, constraints, product categories that they can or cannot transport) of every carrier serving the brand, and your order management system must be able to process all of this data in order to estimate the delivery terms and options for your customer at a particular point in time.
What information is shown to the customer with Delivery Promise in place?
From the product description page, this omnichannel solution allows the customer to see all the delivery options available: Standard, Express, Same Day Delivery,
Click and Collect
, Express Click and Collect etc. The product page also delivers reliable stock information, enhanced by a dynamic display of the available delivery options based on the size selected by the customer.
The customer is informed of the remaining time they have to benefit from the Delivery Promise shown for each delivery option (ETA – Estimated Time of Arrival). They can then choose the delivery method according to the: delivery time, delivery cost, carbon footprint. On the shopping basket page, the customer can check or change the delivery option before finalising their purchase.
Why is Delivery Promise relevant?
Customer experience is one of the main challenges for today's omnichannel retailers and B2B companies. Calculating a correct Promise is important for the retailer in order to make the right decision when choosing which point of stock will fulfill that order and which carrier will be best. Displaying a correct Promise to the customer is even more important because:
● 43% of customers will use social media to share their disappointment about a poor delivery experience
● 60% of customers will buy from a brand's competitor if they offer better delivery options
What are the retail benefits?
The solution allows retailers to benefit from:
● A better brand experience when displaying delivery times…even before checkout, leading to higher conversion rates
● The opportunity to push delivery options of your choice for example sustainable options, Click and Collect options to increase store visits
● A modern omnichannel service, desired by customers
What are the benefits to your customers?
A reliable Promise has a strong impact on the customer experience:
● A better online shopping experience from the product to the cart pages
● A greater choice of delivery options and an ability to compare it easily
● Reliable, real-time delivery times displayed