Dynamic Store Fulfilment
Leverage your physical retail stores to fulfil omnichannel customer orders
Dynamic Store Fulfilment is a cutting-edge capability of OneStock OMS, designed to streamline order fulfilment by sales staff by optimising pick and pack routes and ensuring reliable order tracking. Inspired by warehouse processes, Dynamic Store Fulfilment seamlessly adapts the best stock preparation methods to retail stores, considering their unique typologies.
When is it useful to have stores fulfilling orders? 
When companies are asked to lower overall buffer stock
When central warehouses don't have enough stock to fulfil a whole customer order

When stores need to clear stock at the end of the season
When customer orders require stock to be in store (e.g. for Click and Collect or Reserve and Collect)
When sending orders internationally from a central warehouse is too expensive or too long due to border procedures, compared to shipping from local stores
To support CSR initiatives by lowering distance between stock location and customer and offering eco-friendly delivery options instead of standard processes from the warehouse
Key benefits of OneStock's Dynamic Store Fulfilment
Easy-to-use app
Your store teams will be provided with an intuitive app that accompanies them through all phases of picking, packing and shipping orders.
Gamification
Stores will compete against each other to claim orders in the Store App, motivating users to fulfil orders faster, while being recognised for their work through contributions to their sales targets.
Flexible orchestration rules
You have access to hundreds of configurable orchestrations rules that can be easily modified based on store capacity.
Tailored operations for greater flexibility
Store operations aren't a 'one size fits all' approach. Dynamic Store Fulfilment offers the flexibility to effortlessly add or remove steps, to tailor picking, consolidation, packing, sorting and other processes to each retailer's specific criteria and procedures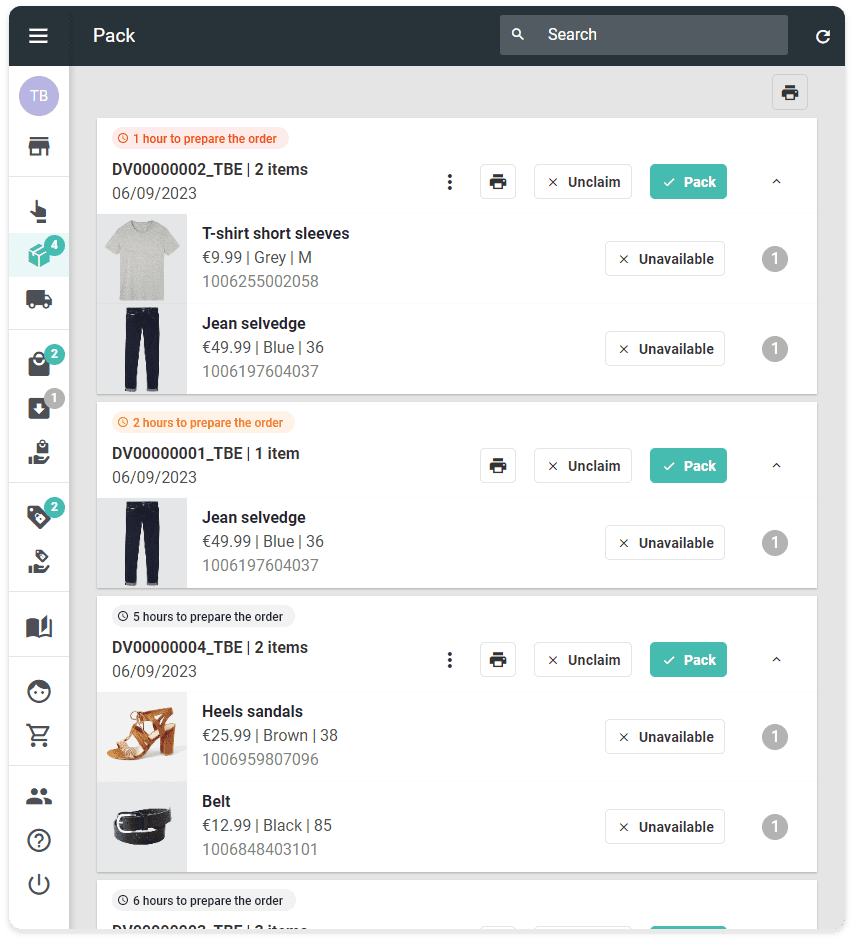 Dynamic Store Fulfilment adapts to store processes and network typology, not the other way around! This is a very important point to emphasise, because normally the networks have to adapt to the solutions, which is not the case for OneStock. On average, our clients reduce their preparation time by three for large stores.
How does Dynamic Store Fulfilment support store efficiency?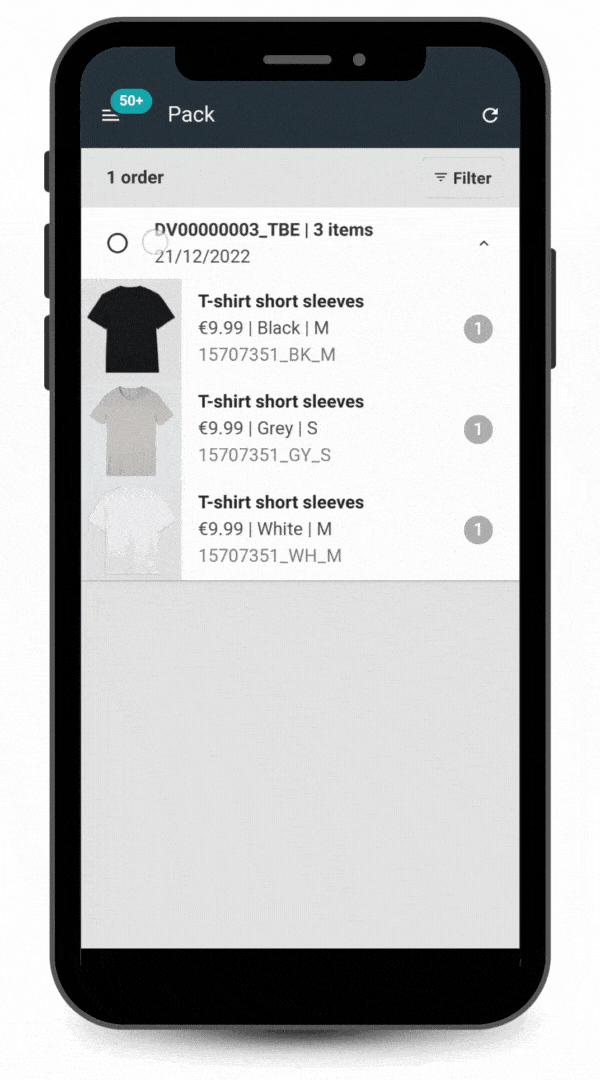 1. Optimise the picking phase
To maximise store efficiency, Dynamic Store Fulfilment provides staff with all the information they need about the orders to be prepared directly on the listing page. Orders can be sorted by various criteria such as department, category, item type, order type (Ship from Store, Click and Collect, Reserve and Collect), delivery method and volume (single or multi-item orders). This ensures that your staff follow an optimised picking path, resulting in increased speed and accuracy during preparation.
2. Streamline consolidation for better traceability
Once all products have been collected, the consolidation phase begins. Store associates scan each item with its corresponding carton, ensuring that each carton contains one order. This consolidation process provides traceability and ensures that each order is prepared.
3. Simplify packing processes
Packing ship-from-shop orders is a breeze with Dynamic Store Fulfilment. Sales staff can effortlessly print delivery notes and carrier labels in just two clicks. The interface also makes it easy to differentiate between Click and Collect orders that are sent from the warehouse or another store, and Express Click and Collect orders that require direct packing.
4. Manage shipping and pick-up
The need for a dispatch/collection area depends on the size of your store and specific retailer processes. It can be beneficial to add order storage for some shipment types. For example, for Click and Collect orders, the store associate can scan the delivery bag and then scan the designated storage area (cabinet, drawer, closet, etc.), making it easy to identify orders and minimising customer waiting time.