Order Orchestration
Thanks to Order Orchestration, optimise every order process and take full advantage of multiple sales channels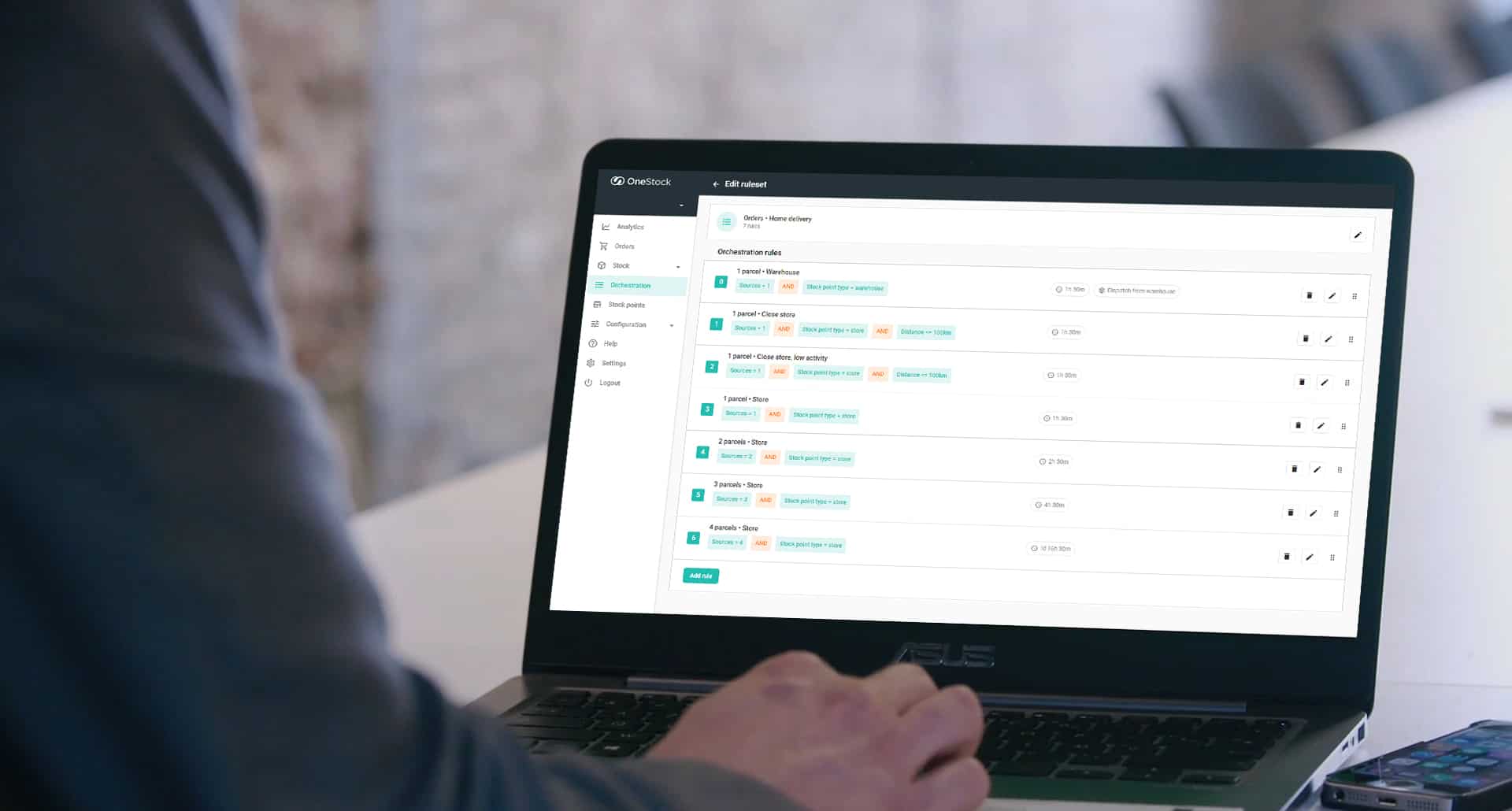 Unifying stock enables the sale of all products, wherever they sit and at every touchpoint (warehouses, stores, subsidiaries, suppliers, distributors etc). When it comes to optimising every order and increasing your profitability, there is only one solution: Order Orchestration.
Stock unification, the starting point of Order Management
Your customers want to buy from anywhere and be delivered to anywhere. By providing a unified view of all storage points, OneStock's Order Management System (OMS) allows you to quickly deploy all of your omnichannel solutions for a seamless customer journey:
Ship from Store
Eradicate stock-outs by making store stock available for online sales
Click and Collect
Drive store traffic and increase sales of complementary products
Order in Store
Offer customers the ability to order products unavailable on your store shelves
Reserve and Collect
Increase your conversion rate by allowing online shoppers to reserve items in the store of their choice
Why choose Order Orchestration?
Once your omnichannel scenarios are deployed, Order Orchestration gives you the ability to easily optimise all your shipment processes:
Improve customer experience by avoiding stock-outs
Reduce your carbon footprint by selecting optimal delivery routes and sustainable transport
Balance stock and reduce end of season markdowns
Increase margins and maximise profitability
Order processing optimisation
By combining self-learning algorithms and highly adjustable business rules, OneStock's OMS drives order processing in real-time based on:
Transport costs and delays
Number of parcels and shipping points
Custom rules adapted to your own business' needs
The ideal settings can be adjusted at any time during the season thanks to KPI monitoring that is focused on turnover growth, margin preservation and customer journey enhancement.
An example of Order Orchestration
1
The customer places an order containing two different products
2
OneStock algorithms analyse the availability of the items across all storage points
3
One of the two products is no longer available in the central warehouse dedicated to online orders but is still available in several stores
4
Rather than sending the order to the customer in two separate packages, OneStock's OMS identifies the most suitable store to ship the package from. In this particular case, a store where both products are in stock and closest to the relevant delivery address.
5
The customer receives their order as usual, without knowing that their order was shipped from a store.
In this example, you save a sale AND reduce your shipping costs.
Expert team in Order Orchestration
Our team of omnichannel experts will assist you throughout the implementation of your Order Orchestration project. From the consulting phase, defining the scenarios relevant to you and your business, to writing the user manuals for your store teams, we'll guide you according to your business' objectives.
Find out how to better orchestrate your orders?
Learn more about Order Orchestration