Order Management System:
Orchestrator, optimiser & experience enhancer
Think of the OMS as your business orchestrator: managing the complexities, decisions, communication and tracking involved in every existing and potential order; optimising every interaction between customers (through any sales channel), stock (across any location), fulfilment teams (in stores or distribution centres) and carriers (for any delivery method); and, all the while, making your customer journey more rich and rewarding.
OneStock's Order Management System: Functional architecture in a nutshell
OneStock's Order Management System is a pure SaaS suite based on one core product: our Order Management Centre. This is your window into the internal operations of our OMS, supporting the entire order lifecycle, with a number of optional products and modules that enable omnichannel experiences.
Our Order Management Centre centralises all core functionalities, including:
Stock unification • Order orchestration • Workflow configuration • Customer service • Returns management • Business reporting
Three other products can complement the Order Management Centre: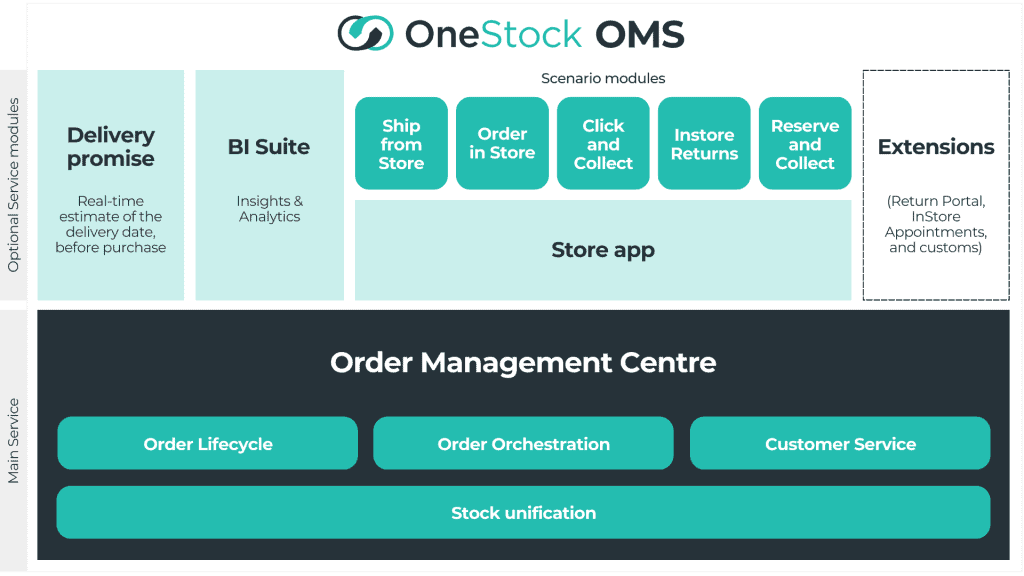 For real-time estimation of the delivery date, before purchase.
For advanced analytics and insights..
For omnichannel order management by store associates. The Store App enables a multitude of modules that break down silos between your brick & mortar stores and digital sales channels.
Main capabilities of OneStock's Order Management System
Accurate, real-time information about the availability and location of stock across your network, including future stock that is in transit or on order.
Understand what's working and what's not, so you can take advantage of opportunities for sales growth, and improve order processing for increased operational efficiency and better customer experiences.
A full range of return options to meet all customer needs, regardless of the sales channel used to place the order.
Consistent shopping experiences for online and in-store customers, including reliable delivery promises, omnichannel fulfilment and return options, and centralised customer support.
Highly customisable orchestration rules and machine learning algorithms ensure your order fulfilment processes are effectively optimised to fit customer specificities and business strategies.
Leverage your network of physical retail stores to fulfil omnichannel customer orders faster.
Explore our omnichannel solutions
Why choose OneStock Order Management System?
SaaS platform that is updated monthly
Simplest omnichannel solutions to integrate on the OMS market
User and business oriented orchestration rules
Access to all of our omnichannel solutions via a single, ergonomic interface
Advanced business intelligence tool available for all omnichannel solutions
European technology, hosted in European data centres. Your customers' personal data will never be transferred outside Europe
Team of experts in Order Orchestration to support you throughout the implementation of your OMS project
Find out more about OMS
FAQ
What is an Order Management System?
An Order Management System (OMS) is a software solution that manages, automates and optimises the entire order lifecycle. It encompasses order creation, stock allocation, order fulfilment, shipping and returns, ensuring orders are processed accurately, efficiently, and in line with customer expectations and business objectives.
How does an Order Management System work?
When an order is imported into the OMS, it follows a configurable lifecycle through state diagrams. The specific stages of the lifecycle may vary depending on factors such as whether it is a B2B or B2C order, the delivery method (home delivery vs. Click and Collect), and the sales channel (e-commerce vs. marketplace). The OMS handles the order from import to fulfilment, relying on company-wide inventory visibility to effectively orchestrate each order.
What is inventory visibility and why is it important?
Inventory visibility is a company's ability to have a clear and accurate view of the stock available across its network. It involves consolidating detailed inventory information from each stock location, including warehouses, stores, suppliers and dropshippers, to create a unified view of stock. This visibility gives companies a comprehensive understanding of the stock available to sell for each sales channel and the information needed to optimise order costs and lead times.
What is order orchestration and why is it important?
Order orchestration is the process of selecting the optimal stock point to handle the sourcing and fulfilment of a customer order in an efficient and cost-effective manner. It analyses inventory and stock location characteristics to apply configured business rules with the goal of optimising each order's processing to meet the customer delivery promise while minimising its cost.
What digital solutions can be implemented with an Order Management System?
An OMS gives businesses the inventory visibility, order management and fulfilment capabilities they need to integrate a multitude of digital solutions, including:
● Ship from Store: Source and fulfil online orders from stock in stores
● Order in Store: Place customer orders to be fulfilled by other stores or warehouses
● Delivery Promise: Dynamically display accurate, reliable fulfilment times and costs pre-purchase
● Unified Click and Collect: Purchase a product online and pick it up in-store
● Reserve and Collect: Reserve a product online and try it in-store before checking out
● In-store appointments: Book a specific time slot for an in-store personal shopping appointment online
● Mobile POS: Check out anywhere in store via a mobile or tablet device
● In-Store Returns: Return a product purchased online to a store
Is an Order Management System only relevant for retail and e-commerce?
While Order Management Systems are widely used in the retail industry, the solutions it enables are also relevant for B2B organisations. For example, an OMS allows businesses to consolidate available stock, connect with 3PLs, provide reliable delivery information, and optimise inventory management and fulfilment processes. OneStock has partnered with various B2B clients to help them transform their logistics operations, and gain a competitive edge through customer-centric solutions driven by market-leading consumer brands.
What are the key benefits of an Order Management System?
When implemented effectively, an OMS offers a range of benefits for businesses:
● Accelerated sales growth through improved product availability and fulfilment services
● Increased profitability and rapid ROI due to optimised order processes
● Faster fulfilment with higher accuracy and lower costs
● Enhanced omnichannel services for a competitive customer experience
● Higher employee engagement for improved job satisfaction & retention
● Better sell-through minimising discounting and residual stock
● Reduced waste and carbon emissions throughout the supply chain
Why should I choose OneStock over another Order Management System?
OneStock is Europe's leading OMS used by 80+ retailers, e-commerce brands and B2B organisations in 25 countries. Our advanced Distributed Order Management solution is built on modern and flexible MACH principles (Microservices, API-First, Cloud-Native SaaS, Headless) so you can adapt quickly to changing market dynamics and future-proof your tech stack with best-in-class solutions. Our user-centric interface and no-code approach ensure high adoption rates with low IT input.