Order Management System Integration
OneStock OMS is a robust foundation for both your commerce and supply stacks
OneStock OMS is an agile platform designed to seamlessly integrate with existing information systems while affording a high degree of customisation.
Recognising the unique nature of each project, OneStock OMS offers the distinct advantage of an exceptionally adaptable and open system, thereby significantly shortening integration timelines (approximately 3 to 6 months).
Order Managament System: an easy integration and customisation
Out-of-the-box OneStock OMS
Intuitive interface
is easy to use with minimal training required
Easy integration
facilitated via connectors via APIS otherwise
Easy extensions
via our Extension tool-kit
Direct access to microservices
Access the services you need
SOAP APIs
Custom integration
with your IT system or app
A MACH-certified solution
Built on Microservices, API-first, Cloud-native SaaS and Headless principles.
Ideal for companies with standard to advanced needs
A flexible solution that natively allows a variety of use cases without additional development.
Possibility to customise or extend capabilities for Enterprise needs
Extensions can be developed for additional customisation.
Many connectors already available
To facilitate Order Management System integration, OneStock offers connectors and accelerators with main systems, including front-ends, ERPs, WMS and last-mile carriers.
APIs and more
APIs (access our API Guide here), Files, SFTP, ETL tools – OneStock adapts to your constraints.
Integration with OneStock APIs/files
Use of native OneStock APIs and/or files in standard OneStock format via SFTP
End-to-end adaptation
OneStock adapts to the format and constraints of your information system. Use of existing file/format, available APIs or custom developed.
Global philosophy of our OMS: A no-code approach
With OneStock, you'll only need to code very custom extensions.
Otherwise, we'll provide you, or your SI partner, a configuration tool that allows you to set up the solution according your needs in just a few clicks. These configuration options are accessible via the standard interface of our OMS and are modifiable by the users of the solution.
A dedicated team & network of certified SI partners for seamless integration
A dedicated and proficient team is imperative for the seamless integration of your Order Management System. At OneStock, we possess the capability to support the project's overarching vision and collaborate harmoniously with you or your chosen Systems Integrator.
OneStock's delivery team and our certified SI partners adhere to a well-structured methodology, encompassing four essential phases – Design, Develop, Test and Launch – all of which are meticulously executed to ensure a smooth integration process.
1. Design phase
Understand the unique business requirements, technical infrastructure and integration objectives. This involves the formulation of a robust architectural framework and the meticulous planning of project milestones and timelines.
2. Develop phase
Crafting the OMS integration in strict accordance with the requirements defined during the design phase. This phase also encompasses rigorous testing procedures, aimed at identifying and addressing any potential issues that may arise in relation to existing systems. Regular reports and reviews are conducted to maintain a high level of quality and adherence to project objectives.
3. Test phase
Comprehensive testing protocols are applied to verify the functionality, compatibility and reliability of the OMS integration, ensuring that it aligns seamlessly with existing systems and operational requirements.
4. Launch phase
OMS integration is deployed with precision, culminating in the eagerly anticipated go-live stage. This marks the moment when the integrated solution becomes fully operational, enhancing your business operations and paving the way for continued success.
OneStock OMS within a global architectural framework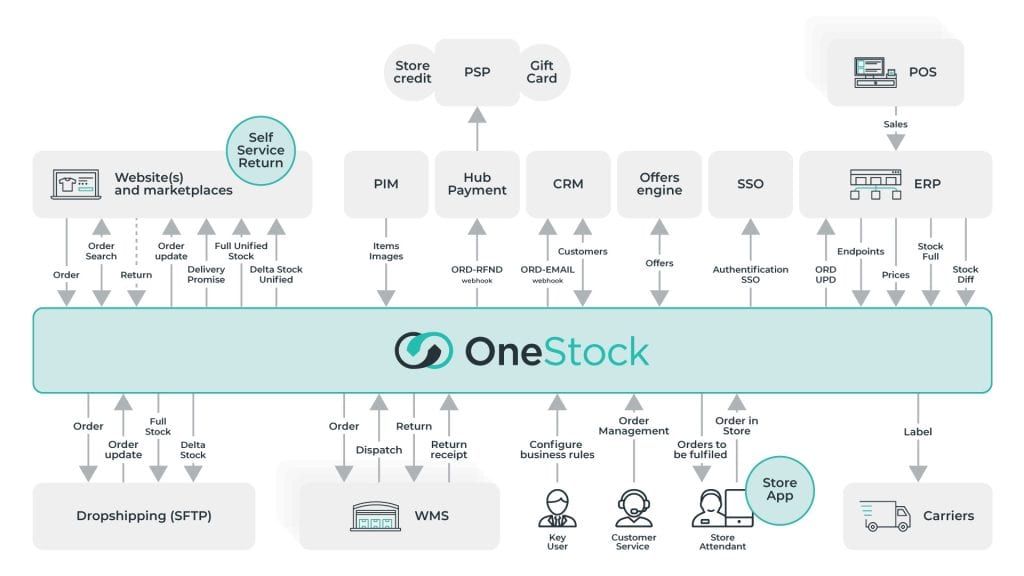 This diagram outlines the potential interactions of an OMS within an IT infrastructure. Recognising the inherent diversity of IT stacks, it is essential to note that your specific configuration may vary from this – however, our commitment lies in the adaptability and customisation of our solution to seamlessly integrate with every unique IT architecture. Your system's characteristics will be considered and accommodated to ensure a tailored integration process.
Our existing integrations
Regardless of your IT architecture, OneStock can interface with all major retail ecosystem solutions via workflow exchanges or API calls. Here are some of the solutions we have connected with.
Ecommerce
Carriers
ERP
WMS
Payment systems
Marketplace solutions
PIM
Can't see your solution in this list?