Order Management Centre
A powerhouse of efficient order control & omnichannel excellence
Order Management Centre is the control tower of OneStock's Distributed Order Management system, managing in near real time all data about your existing and future stock, customer orders, stock locations and carriers. It provides powerful omnichannel functionalities and allows supply chain, retail, customer service and management teams to assess key performance indicators to seamlessly optimise the entire order lifecycle.
The core capabilities of Order Management Centre include: stock unification, order lifecycle management, order orchestration, customer service, omnichannel returns management and operational admin features (alerts, notifications, configuration settings and robust analytics tools for effective operational management).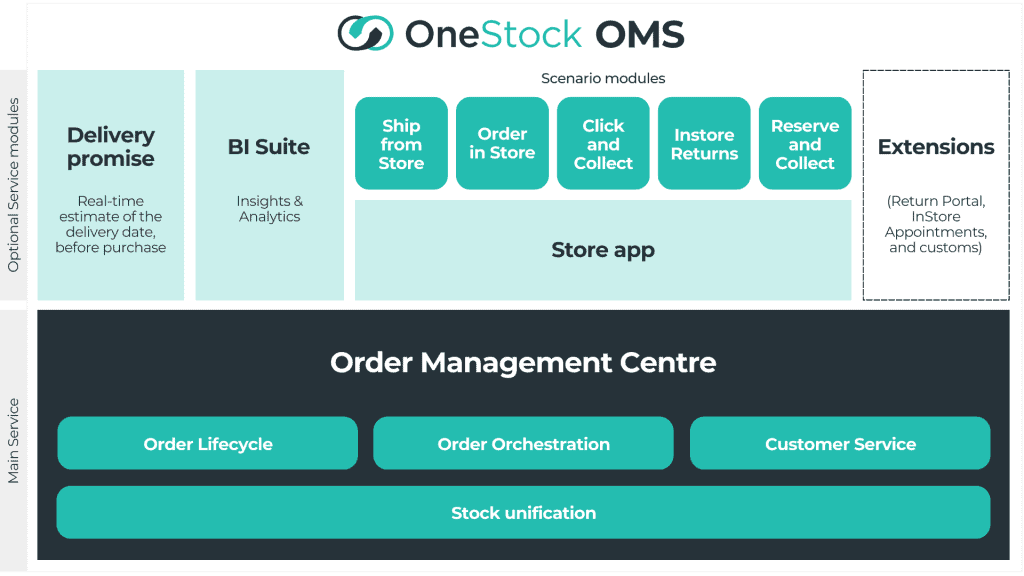 Distinctive features of OneStock
Distributed order management
Business-oriented rules are highly customisable and combined with self-learning algorithms to perfectly orchestrate the fulfilment of your customer orders across all stock points, sales channels and omnichannel services.
Highly configurable
Order Management Centre is designed for business users, not tech teams. You can easily set up and modify order orchestration rules, reduce buffer stock, or add new carriers – no code or IT support required.
Intuitive interface
Within a single, easy-to-use interface, users can effortlessly navigate and monitor omnichannel activities with precision.
Main Order Management Centre capabilities
Centralised stock information
Our Order Management Centre provides a unified view of stock across your entire business, allowing management to access real-time data on inventory and sales. This comprehensive view empowers strategic decision-making and facilitates the monitoring of overall business performance.
Efficient order orchestration
It's easy for users to create and modify the orchestration rules that automate allocation of each incoming order. Our solution optimises processes, ensuring orders are fulfilled seamlessly and efficiently.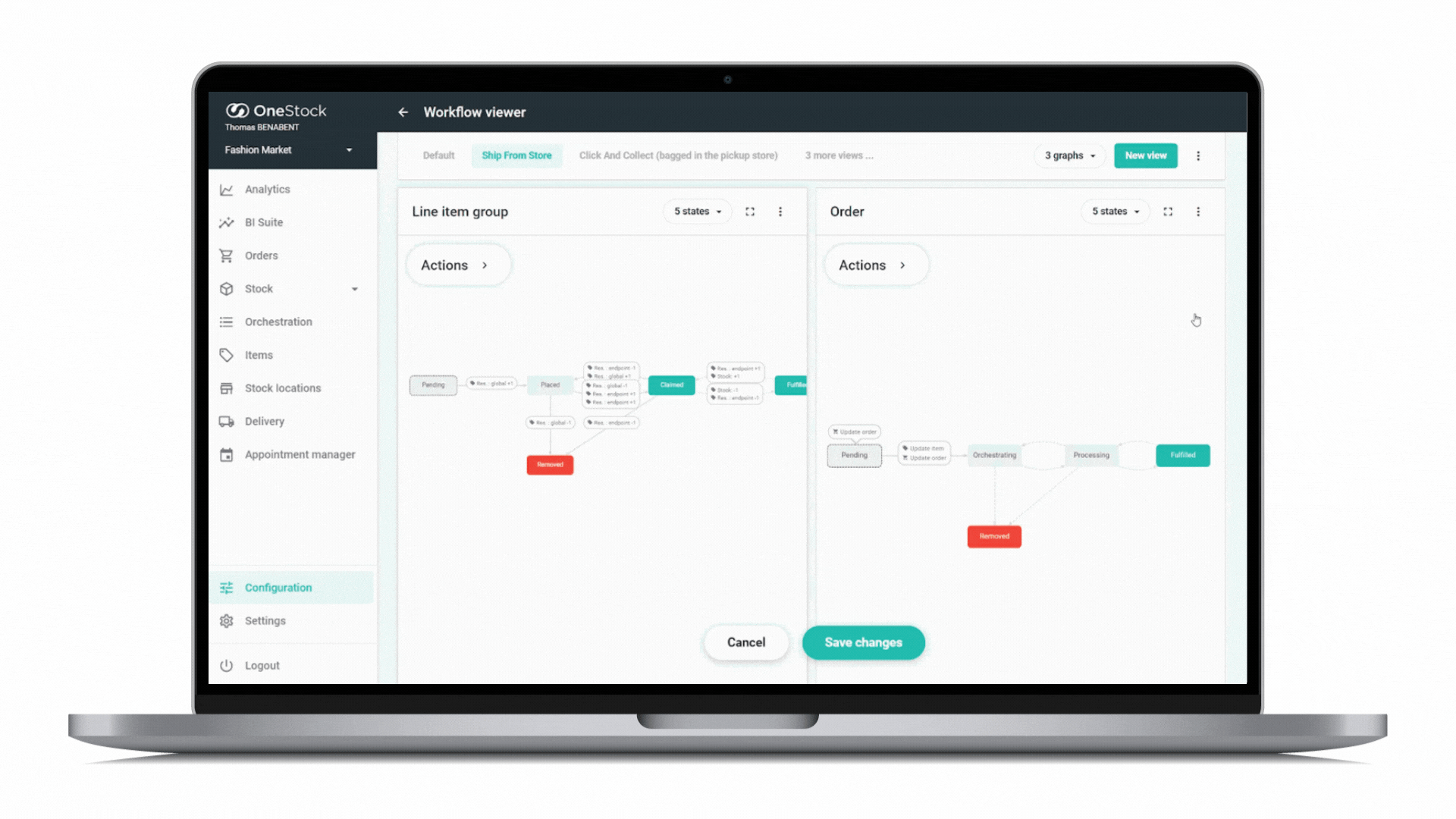 Order lifecycle management
Design and track the exact customer experience you want your brand to offer with end-to-end management of the order lifecycle, from order receipt and fulfilment through to aftersales communications and returns. The solution provides a visual representation of an order's entire journey, helping users to monitor, identify bottlenecks and manage the entire process efficiently.
Performance insights
Robust reporting and analytics capabilities of OneStock, particularly when complemented by the BI Suite, provide valuable insights into KPIs and trends. This aids in the identification of strengths, weaknesses and opportunities for continuous improvement.
Customer service
Customer data, order history and communications are all recorded in Order Management Centre, allowing customer service representatives to access relevant information quickly and provide personalised support.
Streamlined returns management
The system simplifies the management of returns, ensuring efficient handling and reducing customer frustration.
The central tool for management, supply & customer teams
Order Management Centre for Management teams
Management teams benefit immensely from OneStock's inventory management and order orchestration capabilities. With Order Management Centre, key business users can achieve:
Minimisation of sales losses due to stockouts
Optimisation of order fulfilment to maximise company profitability and produce exceptional customer experiences
The solution provides a range of reporting capabilities useful to all key users to support businesses in monitoring and optimising their order processing and fulfilment operations.
Order Management Centre for Supply Chain teams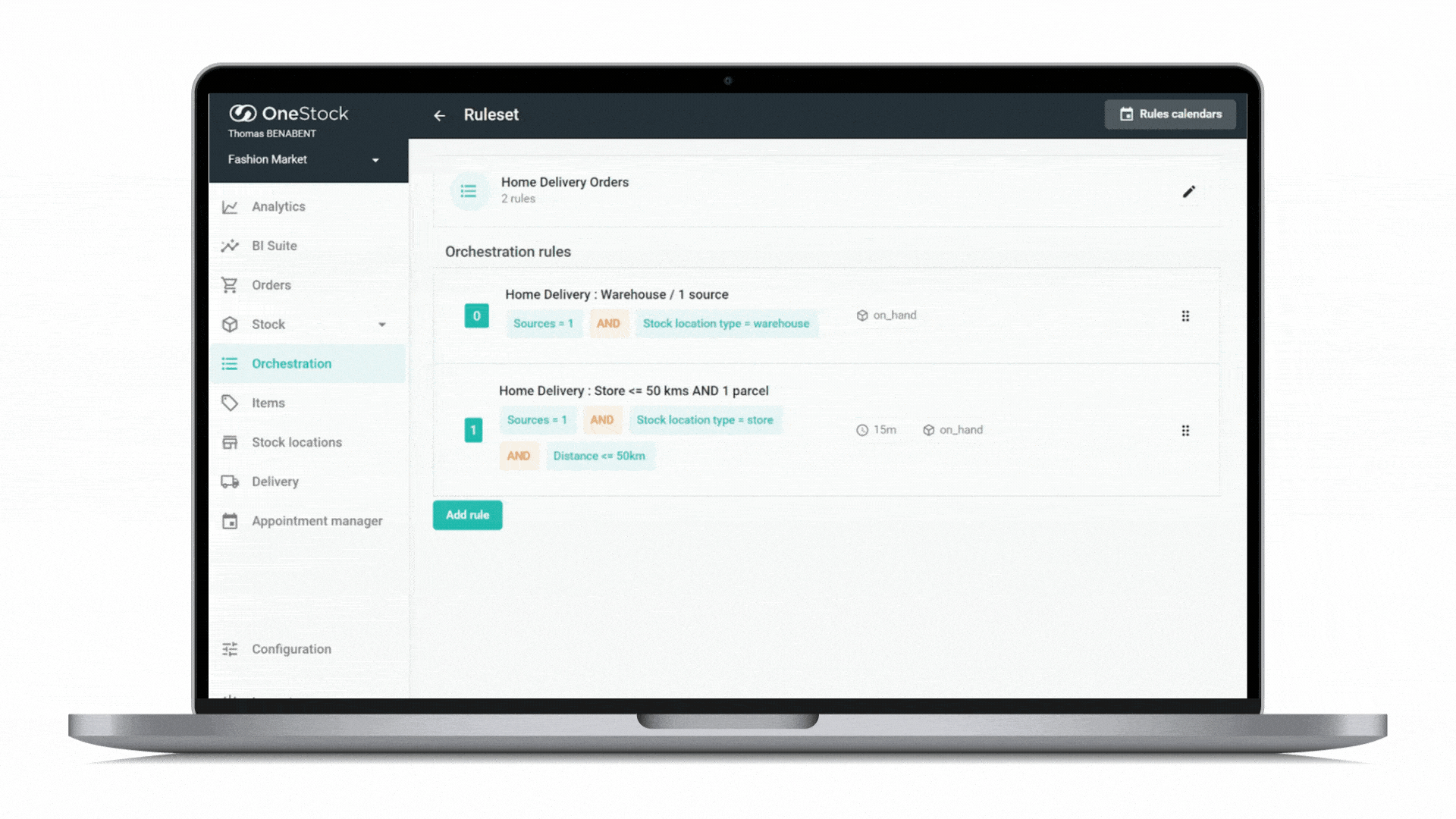 Order orchestration is the art of directing each order to the ideal fulfilment point. OneStock simplifies and automates this complex task, enhancing efficiency for supply chain teams. It allows them to easily view and modify order orchestration rules based on predefined criteria, such as inventory levels, shipping methods, customer location and staff capacities. With over 100 customisable business rules available, scalability is assured.
As businesses expand into new sales channels or markets, the system adapts seamlessly, ensuring efficiency remains uncompromised.
Supply chain teams will also appreciate Order Management Centre's Dynamic Store Fulfilment capabilities, which enable store associates to efficiently handle orders as if managed by central warehouse teams.
Order Management Centre for Customer Service teams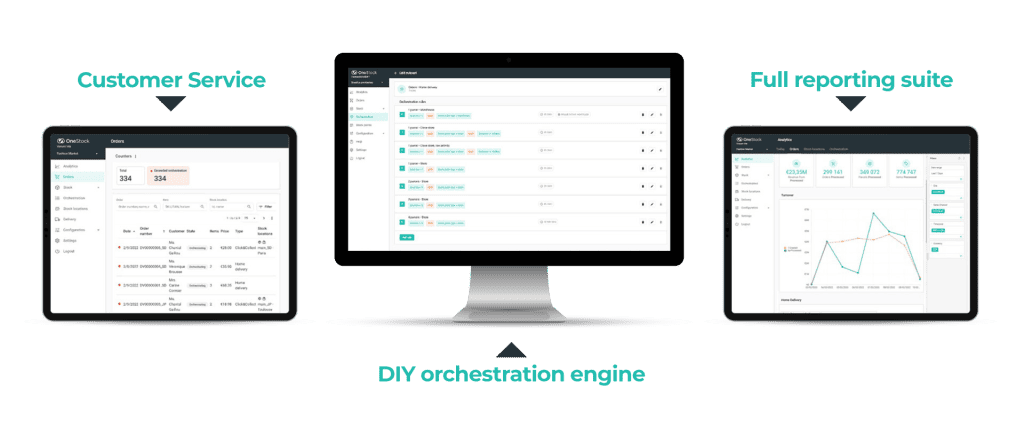 OneStock streamlines support operations to elevate the customer experience. Customer service representatives gain access to real-time information on the status of orders managed by the OMS, including those associated with alerts. Whether customers need to modify orders or encounter issues with their purchases, customer service teams can respond efficiently, reducing wait times and enhancing customer satisfaction. The system also simplifies the returns process, ensuring the timely validation of returns and refunds to minimise customer frustration.