Order in Store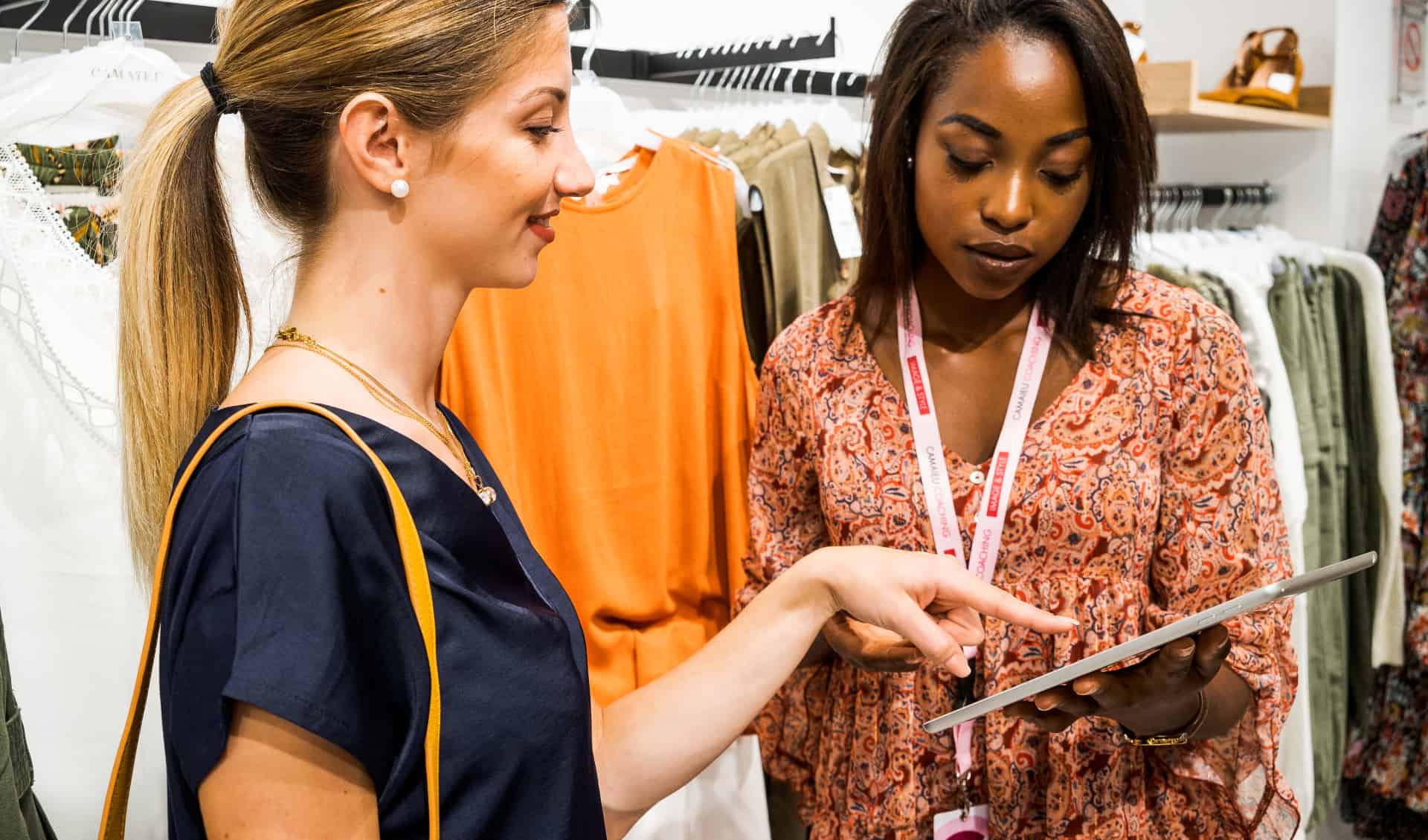 The implementation of Order in Store is a real asset for our smaller shops, which can now sell our entire catalogue. We plan to continue Figaret's omnichannel development with the aim of facilitating access to our clothes across all points of sale to offer the best possible shopping experience."
Why should you implement Order in Store?
12%
12% increase in store turnover
in the first 6 months
Boost store turnover and customer satisfaction
A comprehensive product offering for in-store customers, from any location, even if the item is missing from the store's range
7%
of all orders come from Order in Store
in fashion retail
Order in Store overview
Deliver an amazing in-store shopping experience
Make your entire stock
available in every store
Empower your store teams with a powerful solution
Endlessly expand your stores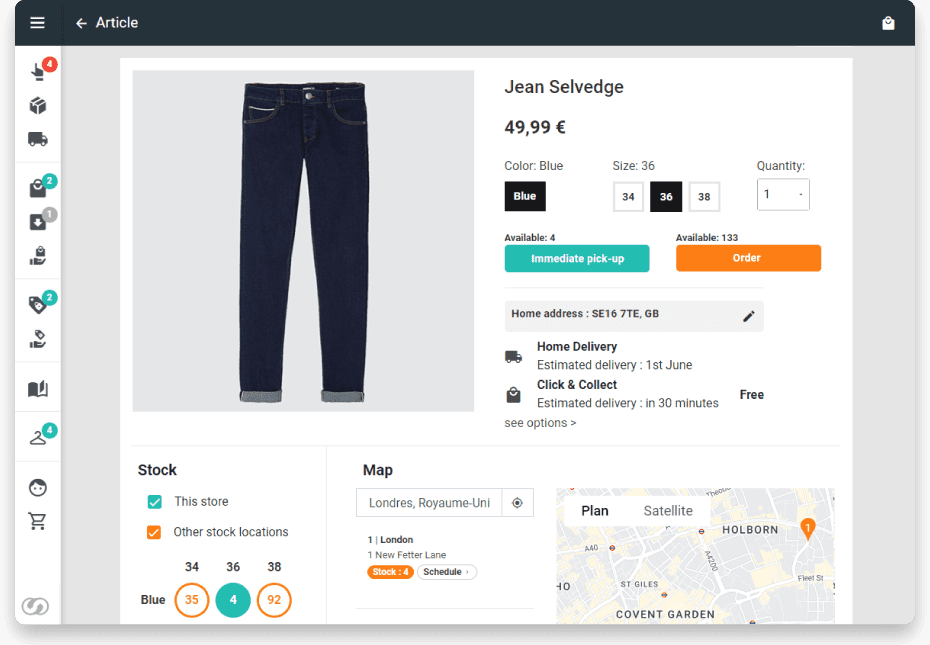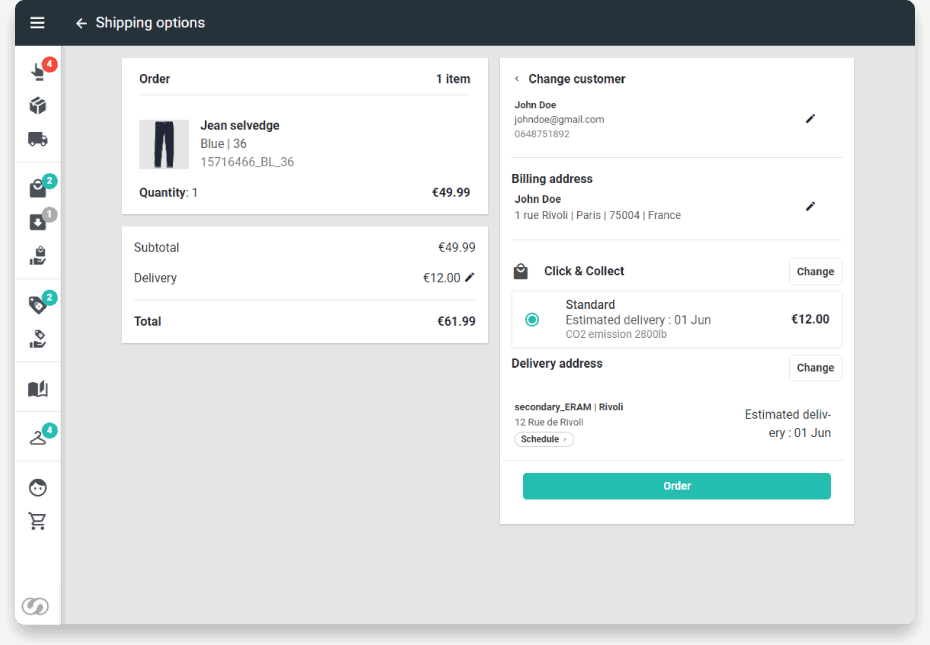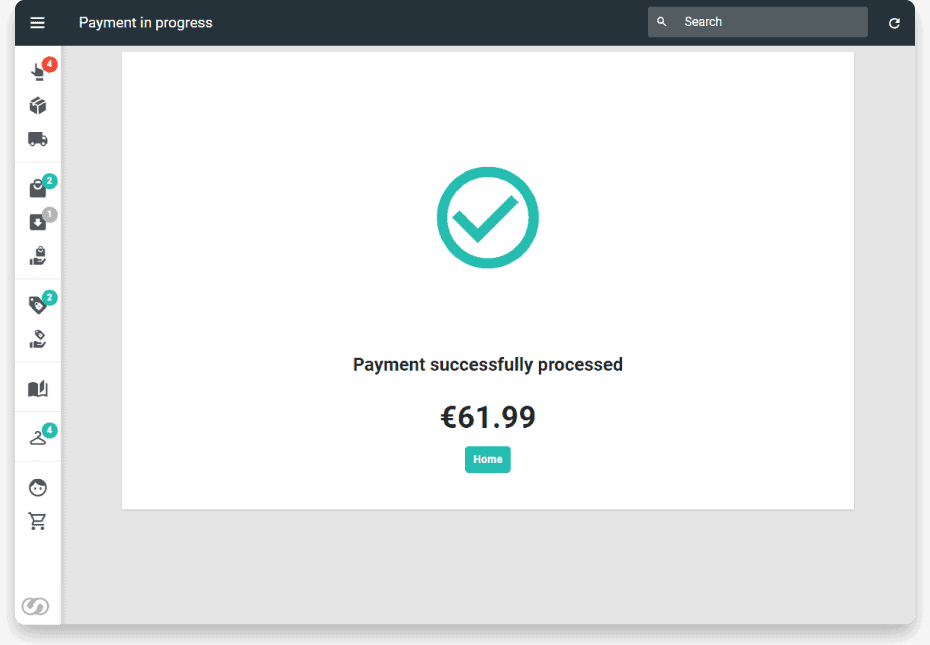 Unique
Order in Store features
Optimised ergonomy
OneStock's solution is extremely easy to use because its interface is very user-friendly. It is also remarkably simple to launch as you don't need to install an app and it works on all devices. Order in Store is, as for our entire suite of solutions, part of our vendor interface (all solutions available on one interface).
Pay by link
Pay by link is a new generation payment solution that is simple and secure. Your sales staff simply send the payment link to the customer by email, SMS or WhatsApp so that the customer can place the order. It couldn't be easier.
Mixed carts
Limiting Order in Store orders to items that are not available in-store would make the purchasing process more complex. That's why, with OneStock, you can create mixed baskets as part of a store order. In this way, customers can order both items that are available in-store (which they will leave with) and items that are missing.
FAQ
What is Order in Store?
This is a key Store to Web solution that enables your store associates to order any reference even if it's not available in store! How? By using unified stock whenever the item is available elsewhere in the sales network (website, stores, etc).
The solution is a key feature to implement in your stores. It truly improves the customer experience thanks to several benefits:
● the ability to find a specific article or size even if it isn't available on the shelves
● an in-store experience and advice based on the clients' needs
● a better and more personalised experience with the brand
What's the difference between Order in Store and having the customer buy from their mobile phone on the e-commerce website?
The solution cannot be compared to a customer buying the product on the e-commerce site themselves for several reasons:
1 – Many customers come to a store because they don't like the e-commerce channel (maybe older generations, or young people without a credit card…)
2 – It doesn't only allow customers to buy a product online and get it delivered to their home. It also allows them to check if the product is available in another store for them to collect immediately.
3 – It gives the store associate flexibility, as they can, for instance, offer a home delivery free of charge if required
4 – It has many more payment options than e-commerce: customers can pay in-store with cash, or via credit card on the POS…
What's the difference between this solution and having the store associate buy the items on the website via their tablet?
This is not a viable scenario as customers would need to add credit card information to the associate's tablet, and for security reasons, we can assume that they would not be willing to do that.
Why does Order in Store create a stronger relationship between my store associates and their clients?
It plays a strategic role for your sales team! Indeed, your store staff become real personal stylists or advisors and can offer alternatives during the shopping process. Having an item ordered from a store can be seen as a 'special favour' showing that the store associate is very active and helpful when it comes to your client's search.
Do I need a specific omnichannel tool to run my Order in Store strategy?
To benefit from our solution, you need to implement an Order Management System first. To allow your store associates to order from a store, they need to have access to all your available inventory for several reasons:
● To be aware of whether the warehouse has the requested product
● To be aware of whether some of the stores nearby have the requested product
How does Order in Store help to fight stockouts?
The solution offers your customers access to endless aisles. With this solution, you can sell all items, colours and sizes, even those that aren't in-store. You save the sale, avoid stock-outs in-store and avoid having your customers leave without finding what they are looking for.
Do I need specific equipment to implement the solution?
Order in Store is effortless to implement. You will need to have IT equipment (tablet, telephone, laptop) and wifi to use our Vendor Interface but most of the time, you already have this type of equipment so you don't need to buy anything else!
How does Order in Store work for store associates?
From their tablet, smartphone or any terminal, the associate benefits from a powerful tool to help their client search for an item, whether it's available at the point of sale or not. After reviewing the unified stock, the salesperson can place an order using the OneStock application and have it delivered to the clients (home delivery, click and Collect etc).