In-Store Returns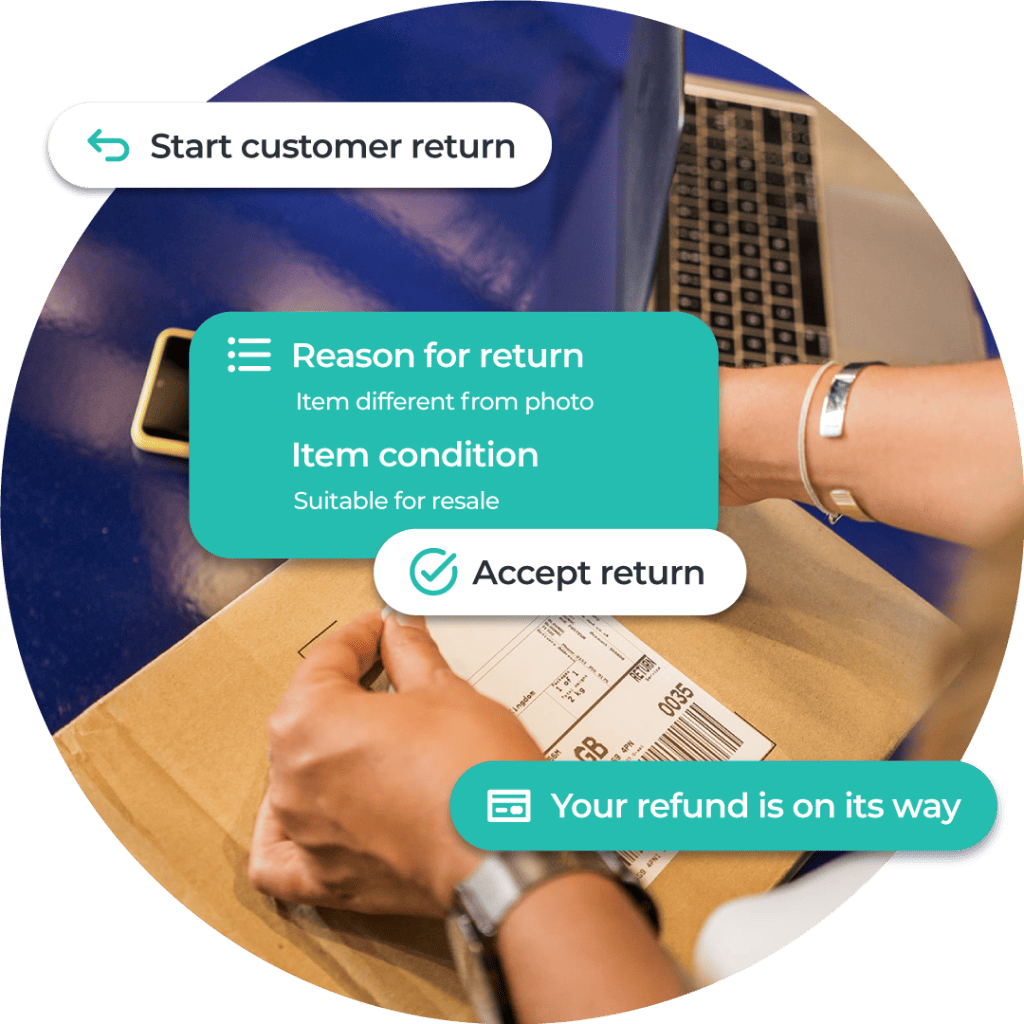 In-Store Returns overview
In-store returns refers to the practice of customers physically bringing back products purchased in-store or online to a retail store for the purpose of seeking a refund, exchange, or store credit. This process allows customers to address issues with their purchases, such as defects or dissatisfaction, in a physical store setting, providing convenience and often facilitating a quicker resolution compared to online returns. In-store returns are a common service offered by retailers to enhance customer satisfaction and maintain positive customer relationships.
While other return methods are natively managed by the Order Management Centre, In-Store Returns is a dedicated module, which optimises in-store processes and facilitates a seamless customer experience.
Why should you implement In-Store Returns?
Enhanced customer convenience
The solution allows for quicker issue resolution and boosts customer loyalty. Customers can immediately receive refunds, exchanges, or assistance, and are more likely to continue shopping with a retailer that offers a hassle-free returns process.
Improved customer insights
In-store returns provide an opportunity for retailers to gather valuable customer feedback and insights. Retail staff can engage with customers, understand their reasons for returning items, and use this information to improve products or services.
Reduced shipping costs
Retailers can save on shipping expenses associated with processing online returns, which can be substantial. In-store returns help manage return-related costs more effectively.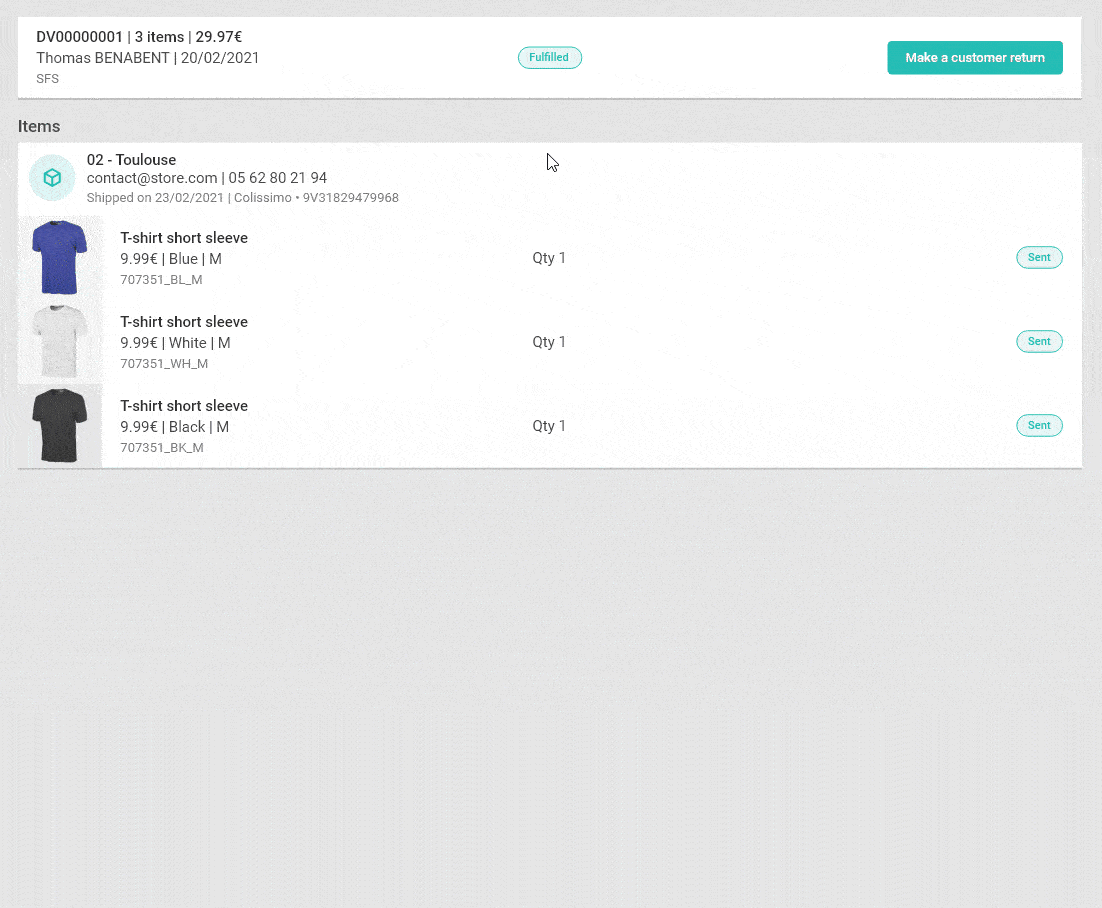 In-Store Returns benefits for customers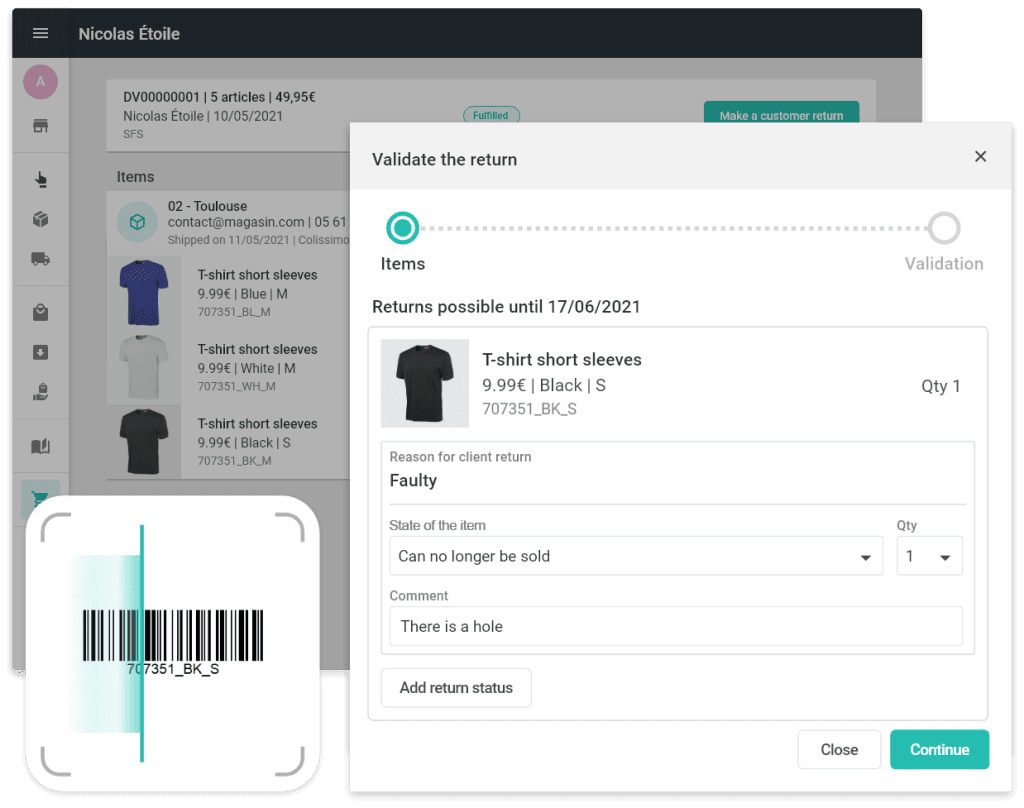 Streamlined returns process
Customers opting for in-store returns do not need to print labels, pack items for shipping, or schedule courier pickups. This simplifies and expedites the return process.
Immediate confirmation
Store returns provide customers with instant confirmation that their return has been accepted, fostering trust and transparency in the transaction.
Cost savings
Customers are typically not charged return fees when returning items in-store, eliminating potential return shipping costs or restocking fees.
FAQs
How does In-Store Returns work?
The solution involve customers physically returning purchased items to a brick-and-mortar store. Customers present the item, receipt, or proof of purchase to store staff. The staff member verifies the item's condition and processes the return based on store policies. This method streamlines returns, reduces shipping costs and provides an opportunity to convert the return into an exchange, improving customer satisfaction, inventory management and, potentially, store sales.
How will it change the daily workload of store staff?
The solution impacts the day-to-day activities of store staff as it involves additional tasks, including verifying returned items, processing refunds or exchanges, updating inventory through the OMS and engaging with customers. This added responsibility can both increase staff productivity and create more customer interactions, which, when managed efficiently, can lead to improved customer satisfaction and sales opportunities.
How does an OMS handle in-store returns?
An OMS provides a comprehensive platform for tracking and processing in-store returns, enabling store personnel to initiate, document and manage return transactions efficiently and seamlessly.
What information does the OMS capture during an in-store return?
The OMS captures essential data, including customer information, order details, return reason and the condition of the returned item. This information aids in processing returns and managing inventory.
How does the OMS handle refunds and exchanges for in-store returns?
The OMS can facilitate refunds or exchanges according to the retailer's policies. It automates the financial transaction and updates relevant records accordingly.
Can the OMS integrate with other systems, such as Point of Sale (POS), for in-store returns?
Yes, OMS integration with POS systems streamlines the return process by seamlessly transferring data between the two, minimising manual entry and errors.
Are in-store returns the only type of returns managed by OneStock?
OneStock's OMS solution effectively manages a comprehensive array of returns options:
● Store Returns: Facilitating the return of online purchases directly to physical store locations, promoting convenience and immediate resolution.
● Customer service returns: Streamlining returns initiated through customer service interactions, enhancing customer support efficiency.
● Mailbox returns: Managing returns sent via postal services or mailboxes, with a focus on secure, trackable and organised handling.
● Warehouse returns: Managing returns processed through central warehousing facilities, ensuring efficient handling and inventory management.
● Blind returns: Handling returns where the item is sent back without prior notice or specific instructions, often used in supplier or vendor return scenarios.