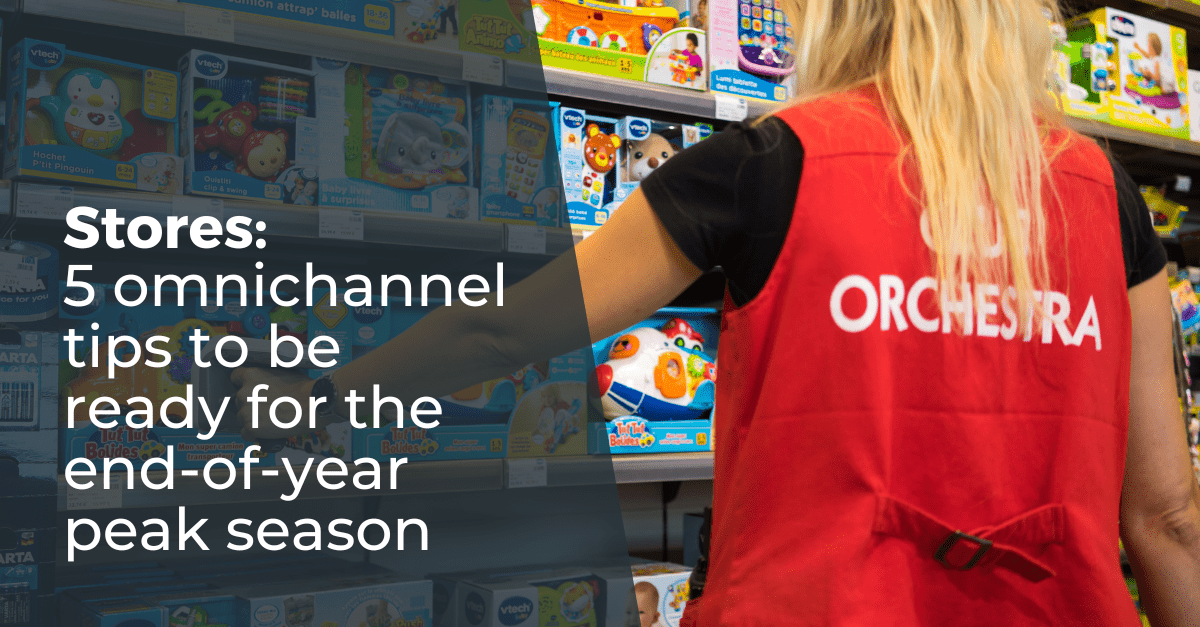 7 min
Stores: 5 omnichannel tips to be ready for the end-of-year peak season
The Covid-19 crisis has accelerated the growth of e-commerce and purchasing behaviours have changed dramatically. 66% of people plan to shop mainly online for the end-of-year celebrations but 57% still want to combine offline and online. So how can omnichannel help stores prepare for an unusual end of the year?
Julie THIERRY-VOIRIN, Jules' Omnichannel success coordinator, agreed to share with us the strategy that Jules and Brice are deploying in their stores to deal with the end of the year peak. Reliable stock information, quality over quantity, organisation of available space… This retailer's feedback confirms the importance of careful preparation in order to meet all purchasing requirements, whether online or in-store and to respect Delivery promise and customer commitments.
Stores are facing strong competition from online websites and are struggling to establish lasting relationships with more volatile consumers. To support online growth while remaining a privileged point of contact for their customers, they must have a logistical organisation that is as good as an Amazon dark store and a reception and advice capacity worthy of a department store.
Here are 5 tips to integrate into the omnichannel organisation of stores for this end of year peak season.
Omnichannel tip #1: Separate the roles of salesperson and picker
Welcoming customers and responding to the flow of web orders (Ship From Store) is a difficult or even impossible mission for store staff during the end of year peak season. The stores end up abandoning the Ship From Store tasks, believing that another stock point will take the order. The deadlined for web customer orders get longer and customer experience is thus negatively impacted. To avoid this drift, we recommend separating the role of sales associate from that of order picker according to 2 options:
Separate roles based on time for small stores. Before the store opens, all Ship from Store items are removed from the shelves, packaged and ready to be handed over to the carrier.
Separate roles by hiring a dedicated picker for this mission in large stores.
Ideally, stores will have carried out an inventory of the most wanted items in order to properly review their stock and trigger replenishment before peak. Ship from Store, Click & Collect orders in less than 2 hours or Reserve & Collect will thus be allocated to the right stores and no time will be wasted looking for unavailable items.
It is also essential to tidy up the stores regularly so that each item is in its place and to have a clear plan so that an interim picker knows where to find the items he needs for the orders.
Omnichannel tip #2: Rearrange spaces to process a larger volume of orders
The back shop must be arranged to accommodate the preparation of web orders. There should also be a gift corner for end of year gift wrapping. At the very least, the necessary equipment must be accessible in sufficient numbers in the event of a lack of space.
The space in which packages are stored while awaiting pick-up from carriers must also be optimized.
In shopping centres, it is possible to request a room to drop off Ship from Store packages, that a delivery person will then come to collect. This avoids cluttering the back office with a pile of packages. Players such as Mercialys offer this service, while others offer a centralised Click & Collect point or a drive for customers to collect their parcels from any of the shops in the shopping centre at a given location.
Omnichannel tip #3: Advise customers remotely in the event of low in-store footfall
There are a lot of tools available that allow store staff to stay in touch with their customers and advise them from a distance. If more people are buying online this year rather than going to the store, we must utilise the sales force with this in mind.
Better than an automated chatbot on the e-commerce site, real in-store salespeople can respond to customers live and leverage their product expertise. Stores can also get in touch via instant messaging such as WhatsApp to communicate with customers, send them photos of products on the shelves and the corresponding references on the e-commerce website.
Making a virtual appointment with a store is another option. On Google Meet or Zoom, customers join, alone or in groups, a videoconference with an advisor to ask questions and share their ideas. Ikea, for example, is continuing its remote decoration coaching service that was launched during the confinement.
Finally, French retailers are also starting to experiment with live shopping. In China, this already brings together more than 500 million internet users, 900 platforms and 10 million active hosts. Even if to date it is mainly influencers or former presenters of local TV channels recruited by the brands who organise these rare shopping sessions, this is a trend that cannot be ignored in Europe. In the long term, we could imagine that shops could hop on this trend and present experienced salespeople commenting on a selection of fashion items for Christmas gifts or on the use of a range of household products directly on social media.
Omnichannel Tip #4: Emphasise Experience and Personalisation
The time consumers spend in-store has significantly decreased. 63% of French people surveyed by the Mood Media study in September 2020 say they spend less time in stores because of the health crisis. Securing and reengaging with consumers is essential for enhancing customer experience.
The store must become a stage where everything is prepared behind the scenes to make it welcoming, safe and orderly as soon as the customer walks in.
In order to achieve this, the customer must be taken care of quickly by a dedicated adviser. The latter can consult the shop's stock via a tablet to provide the customer with information quickly, reserve a cabin for them if necessary and use personalisation tools to better direct their advice. For example, the client's preferences and past purchases can be found in the clienteling tools and relevant items can be recommended using a recommendation engine.
Technology is also used to create a unique experience. In the luxury sector, Gucci will be launching mini websites for each new collection release, like virtual showcases. Aesop offers a guided tour of its stores and their services on their website to make customers want to visit. The brand makes a visit to their store feel like a special event and enchants their customers.
With the holiday season fast approaching during this unique period of crisis, using the services offered by luxury brands is a must in transforming a trip to the store into a sensory experience, a media of the brand instead of a simple point of sale. This will help promote in-store footfall. Going to the store should be an event, an outing, like when we go to the cinema or to the museum.
Omnichannel tip #5: Encourage in-store returns
The increase in online shopping naturally leads to an increase in returns. With unified inventory, it is already possible to encourage online customers to exchange a product in-store rather than returning it by mail. Depending on the reason for the return (size too small / too large), it is possible to offer an exchange in the nearest store with the product in stock. For other reasons of dissatisfaction, consider establishing a direct relationship with a salesperson, as the discussion may lead to a store visit or the purchase of a more suitable product. For web returns, relying on the expertise of store staff is also important for customer satisfaction and retention. As explained previously, the crisis is slowing down visits to stores, so we must focus on services that restore customer confidence and re-enchant the online and offline experience.