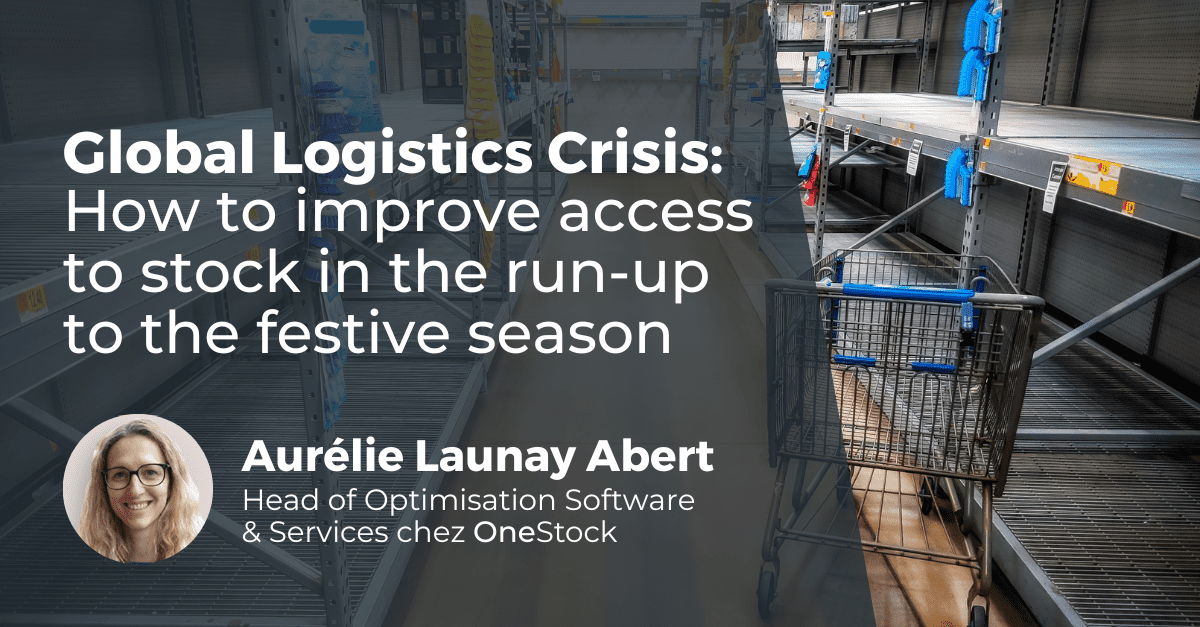 5 min
Global Logistics Crisis: How to improve access to stock in the run-up to the festive season
Following a year that was heavily impacted by the health crisis, 2021 has been characterised by a rebound in world trade (+11.4%*) driven by the economic recovery. However, a new problem is emerging: transport and supply chains are under extreme pressure.
Retail recovery and the explosion in demand are leading to a sharp increase in the cost of imports. And that's where the problem lies! Retailers need to replenish their stock quickly and have an accurate view of their future stock to give their customers a reliable and accurate delivery promise.
However, this is being disrupted by tensions over supplies and transport. Remember, for example, the recent obstruction of the Suez Canal by the Ever-Given in March 2021. This highly publicised event is merely a reflection of a global disruption. Due to bottlenecks in sea freight, shortages of containers and difficulties in recruiting staff, transport times have doubled.
Here are a few telling examples of the logistics crisis:
Nike announced at the end of September that some of its products would be unavailable for a short time.
The toy industry has anticipated product deliveries in the run-up to Christmas and has 20% more stock in stores than last year**.
In this context and in the run-up to the peak season, what measures can retailers take to satisfy customers and meet demand?
1. Include future stock to online stock view
One of the main challenges of this crisis lies in the impact on customer satisfaction and loyalty, especially for web customers. During this period of logistical difficulties, it is strategic to put the future stock (including items in the process of being restocked and in transit) on sale. This will give retailers the ability to fulfil customers' buying intentions and, above all, avoid having them turn to retailers' competitors to make their purchases.
Future stock is available for delivery within 15 to 20 days after leaving the containers. Having this extended delivery time displayed on the product page will allow customers to change their minds or continue their purchases. In any case, the delivery promise will be clearly displayed and tracked over time with appropriate notifications (order preparation, shipping, delivery).
The management of future stock can be done directly via an Order Management System (OMS) that unifies this stock with all other available stock and orchestrates the orders once the products have been received.
2. Make all unified stock available to stores
Let's face it: if you're having supply problems, you're likely to disappoint people this holiday season! It is, therefore, necessary to rely on omnichannel solutions to increase the number of references available in stores.
In this context, Order in Store is the ideal in-store solution. By connecting stores to all available stock (warehouses, stores, suppliers, future stock, etc.), Order in Store enables store staff to provide better assistance to customers. If shoppers are looking for a product that is missing in-store, store staff can check its availability thanks to an endless aisle solution that gives them a unified view of stock. They can then order the items directly for the customer using a store associate app. The process is so simple that the customer can have the item delivered directly to their home or pick it up in-store as soon as they receive it! Everybody wins:
The most cautious customers, who plan their Christmas purchases ahead of time, will be the first to be served from the unified stock, and their loyalty will only increase.
Smaller stores can take advantage of Order in Store to considerably expand their range and satisfy their customers. For example, our client ba&sh has seen a 6% increase in-store sales!
3. Leveraging omnichannel capabilities to help customers prepare their purchases
Omnichannel provides a range of solutions allowing customers to be well informed before they visit a store. It is important to anticipate their needs: "Will the item I'm looking for be available in store?", "I like this pair of shoes, but I'd like to try them on in two sizes before buying. I don't want to make a mistake", "I want to buy a present for my girlfriend, but I don't know where to start. What's on-trend at the moment?"
Omnichannel solutions can answer each of these needs!
"Will the item I am looking for be available in store?" Accustomed to the immediacy of the web, customers like to have all the information they need to prepare their visit to the store, especially for their Christmas shopping. To improve the shopping and omnichannel experience of your customers, your website must allow them to consult store stock before making the trip to the store. This feature is becoming a must-have as Google has just added it to its search results with the 'in stock' status.
"I like this pair of shoes, but I'd like to try them on in two sizes before buying. I don't want to make a mistake." This is almost a textbook case as it is a very common occurrence. The aim is to guarantee customers access to the products they are looking for when they come into the store and, ultimately, to facilitate the sale. Reserve & Collect allows customers to reserve one or multiple products in the store of their choice without prior payment. The items are set aside specifically for them and can then be tried on without waiting.
"I want to buy a present for my girlfriend, but I don't know where to start. What's on-trend at the moment?" This is also a common situation in the run-up to the holidays. Making an appointment in-store allows for a personalised shopping experience. Shoppers can discover new products, try different styles, get advice for a gift… This is the best way to guarantee the customer can be assisted by a dedicated store associate and find the perfect gift!
* Global Outlook for Autumn 2021: A patchy catch-up, French Ministry of Economy, Finance and Recovery
** Jacques Baudoz, CEO at JouéClub, for RTL, on 05 october 2021