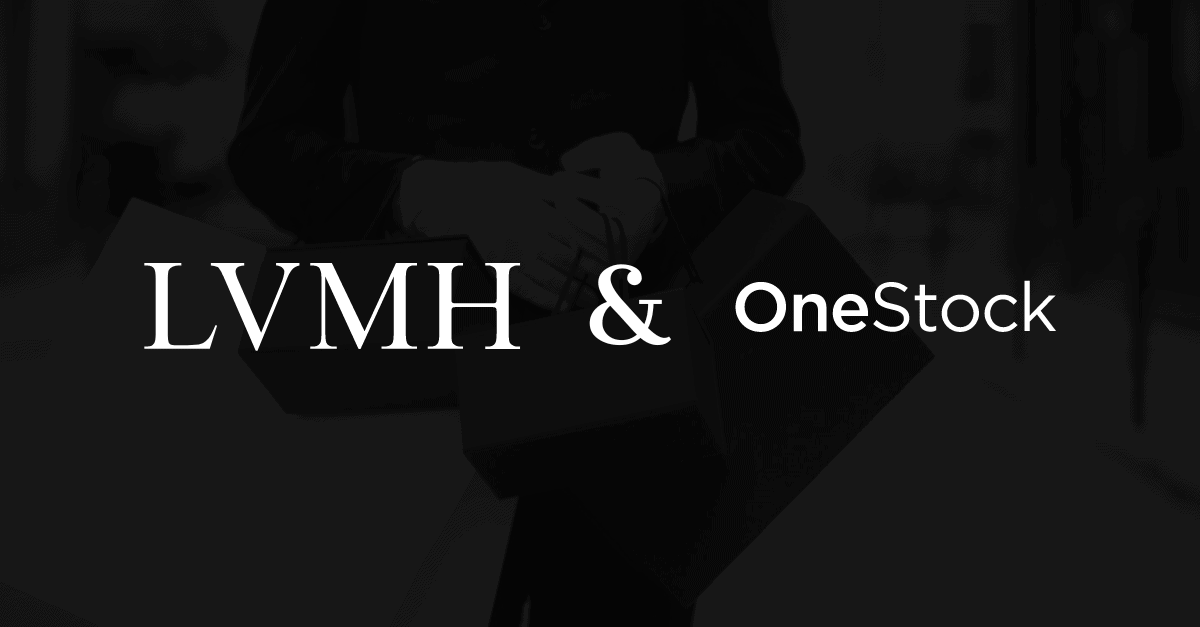 4 min
LVMH house chooses to unify its stock with OneStock
OneStock expands its OMS Delivery Promise and takes on the luxury market with LVMH
As an expert in order orchestration and stock optimisation, OneStock is the chosen technology partner for many fashion brands, including Ted Baker, Radley, Monsoon, Accessorize, Whistles, Phase Eight and Jigsaw. Our reliability and experience have allowed us to identify the luxury market as one of our development priorities.
OneStock has recently been selected from amongst more than 1,000 startups and scale-ups to be part of the LVMH startup accelerator opportunity for businesses, known as La Maison des Startups, and work together with the luxury group.
The luxury sector is particularly keen to offer a unique customer experience to its clients. The first group to focus on being omnichannel, LVMH is using a new solution from OneStock's Order Management System (OMS), the Delivery Promise, which has been developed to meet the requirements of one of its houses. Launched a few weeks ago, this solution comprises features fully adapted to the specificities of the luxury market.
The Delivery Promise in real time
Thanks to both the Delivery Promise and algorithms that are able to identify the position of stock in real time, luxury fashion houses can now offer a better high-end service and an online shopping experience that meets their customers' high expectations.
This means:
Delivery methods and associated deadlines can be seen directly on the product description page with specific information about the product availability and the Delivery Promise: standard, 'white glove' delivery (same day delivery) or pickup in store in under two hours.
Reliable stock information shown on the product page and a range of delivery options based on the items selected. The online customer is made aware of the time left to benefit from the Delivery Promise shown (ETA- Estimated Time of Arrival). The delivery method can be chosen based on the delivery time, cost or carbon footprint.
The customer experience: the first priority in the luxury market
In the luxury market, a shopping experience must be a successful ceremonial experience on every sales channel. The customer experience must be at the heart of the digital strategy for luxury retailers and especially for those wishing to develop new omnichannel services (Web to Store, Store to Web). In this context, it is crucial that the customer can access the whole collection regardless of the sales channel chosen, but also that they can benefit from services that facilitate their purchase and reinforce their experience with the brand (delivery options, online appointment booking, wishlist, etc). Re-inventing the shopping experience, both online and in store, will, in no time at all, become a real competitive advantage for retailers.
Certain topics are particularly relevant in the luxury sector. The personalisation of the customer experience and the in-store experience are two areas that we want to make exceptional and where we want to improve the e-commerce services that we offer.

Laetitia Roche-Grenet – LVMH Business Synergies Director
Taking into account all sectors, studies show that:
39% of customers don't return to a website after a negative experience.
43% of customers share their opinions on social media in the case of a negative delivery experience.
50% of customers abandon their online basket when the delivery options shown are not satisfactory.
Luxury is a very specific sector that is fully aware of what being omnichannel can mean for growth and profitability. However, this digital transformation, or rather phygital (physical and digital) transformation, must be done in a way that guarantees a unique online experience. This is why, in order to respond to those specific needs, we have developed our OMS Delivery Promise solution, hand-in-hand with a prestigious luxury house. Furthermore, OneStock's software has always progressed by responding to the needs of its most innovative customers.

Jerôme Piccolin – Sales Director at OneStock
In the luxury sector, products are often rare as they are made in a limited edition and this is why it is essential to understand the global availability of a product.