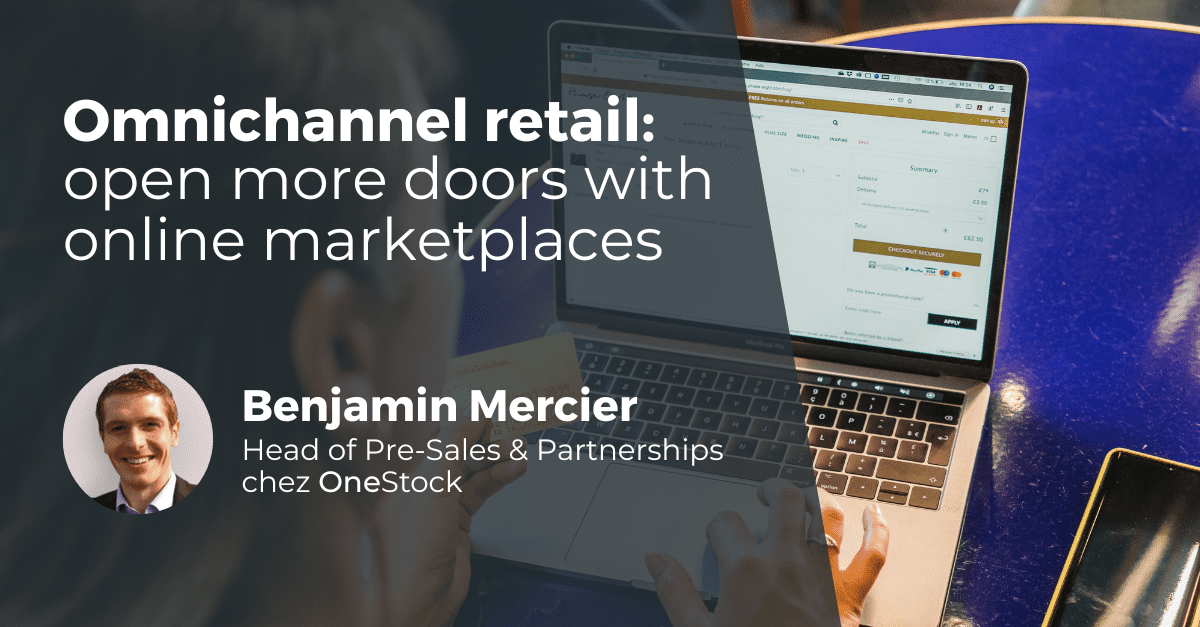 4 min
Omnichannel retail: open more doors with online marketplaces
At present, the growth of retail is strongly linked to the explosion of e-commerce. Opening stores is no longer enough to boost business and increase turnover. Conquering the web is now essential and requires careful consideration, from strengthening your showcase site to creating traffic, to encouraging conversion… But that's not all! Similarly to the need to be present in large shopping centres to be as close as possible to the customers, being present on online marketplaces also allows you to connect with digital consumers.
These web platforms that put brands and buyers in touch with each other are becoming increasingly important and account for a large proportion of internet traffic. Farfetch, for example, has reported a 49% increase in sales in 2020, while Cdiscount has reported a 23% increase, and the ManoMano platform has doubled its turnover in 2020!
Online marketplaces: growth is just a click away for omnichannel retailers
By selling your products on marketplaces, you can give your brand visibility and take advantage of the traffic on these marketplaces to make yourself known to new customers. The important thing is to identify in advance the most appropriate marketplaces to convey the desired brand image and target the right customer profiles.
There also needs to be a good balance between the e-commerce site and sales on marketplaces. It is important to ensure that direct sales are maintained while taking advantage of the marketplaces' audience. By planning your strategy well, the risk is limited and the benefits immediately visible!
Consumers strongly expect brands to be present on marketplaces and this must be integrated into the omnichannel strategy. Omnichannel is also about allowing customers to buy wherever and whenever they want.
OMS, the orchestrator behind marketplace orders
The first step in creating a space on a marketplace is to send the information relating to the sale of products. An integration then ensures that the saleable quantities are sent and the orders are received so that they can be managed by the Order Management System (OMS) in the same way as all e-commerce orders. It is possible to define specific management rules for marketplaces orders, in order to respect the constraints imposed by each one.
The OMS plays a vital role in this process and:
maintains a link in real time between each marketplace
ensures easy processing of all the orders, no matter the sales channel
shows the stock available on each marketplace: retailers can choose to make available for sale only warehouse stock, or also store stock
Marketplaces are a particularly relevant sales channel for selling off residuals. It is possible to sell products from previous seasons through certain marketplaces. This makes it possible to maintain the brand's image on the e-commerce website and to sell off stock in the stores without having to cut prices or set up heavy and complex return flows. In this context, the shop dispatches marketplace orders to customers when they arrive, following Ship from Store procedures.
European examples of online marketplaces
Marketplaces are increasingly establishing themselves among e-commerce leaders. On a European scale, the Cross-Border Commerce Europe company has drawn up a ranking of the 20 best performing marketplaces.
Today, marketplaces are expanding across all retail verticals:
–    Luxury – Fashion: Farfetch, Mytheresa, Zalando, Net A Porter, Lulli on the Web, Matches Fashion, Asos, …
–    Home – Gardening – DIY: Wayfair, ManoMano, Houzz, Not On The Hightstreet, Blokker …
–    Mass merchants: Amazon, Etsy, AliExpress, Fruugo …
–    And many others …
The opportunities linked to marketplaces are huge. Some solution providers are specialising in supporting retailers in marketplaces deployment. Among the leading European providers, we can mention Mirakl, Izberg or Milango.
Thanks to good SEO and in line with new purchasing habits, marketplaces are becoming a must-have sales channel to increase your web turnover while attracting new customers.