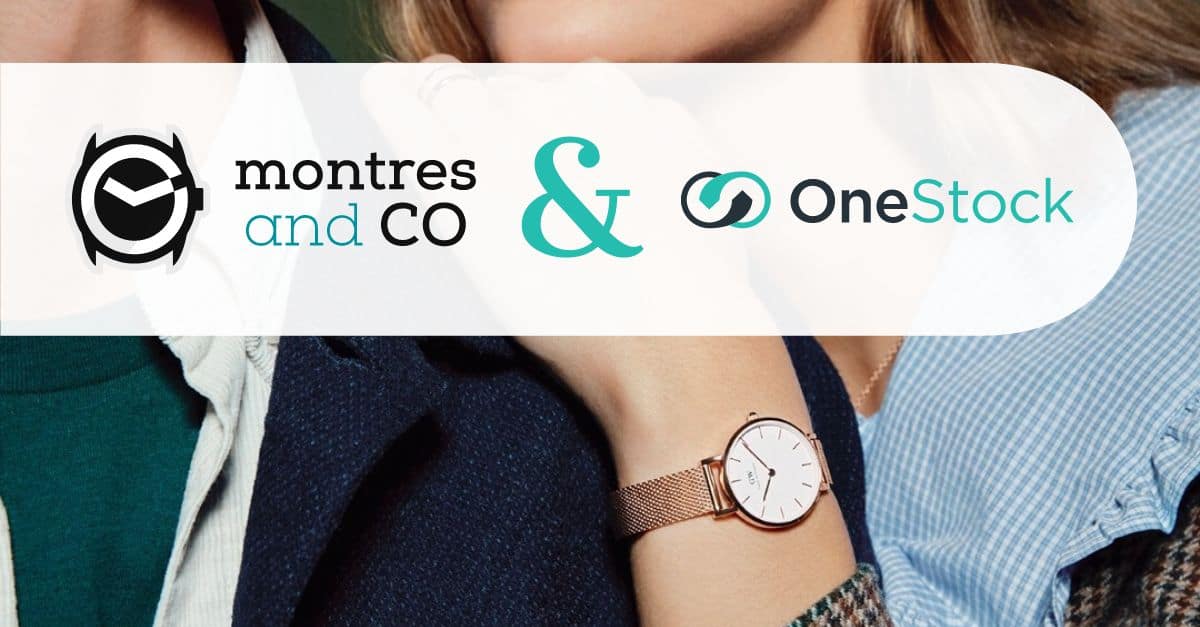 5 min
Montres and Co: the evolution from pure player to omnichannel retailer
The cooperative group Synalia and its independent jewellery and watch brands, Julien d'Orcel, Guilde des Orfèvres and Montres and Co, have accelerated their digital transformation by implementing the OneStock Order Management System (OMS).
We take a look back at Montres and Co's transition from a pure player to an omnichannel retailer to cope with changing customer behaviour – with the help of OneStock OMS.
From pure player to omnichannel retailer
Created in 2007, the watch website Montres and Co merged with the network of shops Heure & Montres in 2017. For Heure & Montres, which did not have a website, the acquisition of an established e-commerce platform represented a real opportunity to stand out from its more traditional competitors. Its points of sale could now rely on an ultra-powerful online catalogue and offer a wider range of products than those usually available in-store. For Montres and Co, the marriage with Heures & Montres has brought a real guarantee of credibility.
Heure & Montres was a thriving network, but the lack of a website gradually began to erode its aura. The Montres and Co website at the time of its merger with the Heure & Montres network had over 2m unique visitors per year. This represented over 3m sessions and over 30,000 orders. The merger between the two brands was therefore an obvious choice for both.
A complete omnichannel strategy for Montres and Co, starting with Click and Collect
Bringing its omnichannel strategy to life through its 'Phygitalia' project, Syanlia has always been intent on never denying the unique identity of each of its independent stores. The stores play a full role in the customer's shopping experience and the website is intended to work for the stores. Between a desire to share wealth and to respond to customer needs, the implementation of unified commerce with OneStock OMS was obvious.
A network of shops backed up by a website is a real factor of reassurance and credibility. Physical shops that are able to offer a product/service combination are the new winners. Our customers are looking for local services and expertise close to home and thanks to the implementation of an omnichannel strategy with OneStock, we are better able to respond to customer needs and there is a real consistency between what our customers can find in store and on the website.
It is therefore with the aim of responding to the new needs of customers and promoting the shops via digital, that Montres and Co began its omnichannel transformation with the implementation of standard Click and Collect and 2-hour Express Click and Collect. Since launch, the share of turnover achieved through Click and Collect has increased from 5–10% to 15–20%.
Speed of implementation, ease of use and the expertise of the teams were determining factors in the choice of OneStock OMS. For the Montres and Co network, the deployment of an omnichannel strategy has several objectives. On the one hand, to increase in-store traffic with Click and Collect, and on the other hand, to generate more revenue and improve stock rotation thanks to Click and Collect, and soon, Ship from Store.
The challenge of omnichannel development
Beyond the technical aspects of such a project, one of the biggest challenges for the cooperative was to ensure each store and employee considered the website as an ally and no longer as a competitor. A nationally recognised website gives credibility to the salespeople in the eyes of the customers, and this change of attitude has been achieved through numerous discussions between the members of the cooperative and the creation of a common commercial policy.
With a network of independent stores, another challenge was to get the employees on board – to train them and help them take on board all the tools offered by OneStock. Montres and Co set up video training, a start-up kit explaining the Click and Collect process in detail, a PDF manual and a sales tablet to help the teams adopt the OMS.