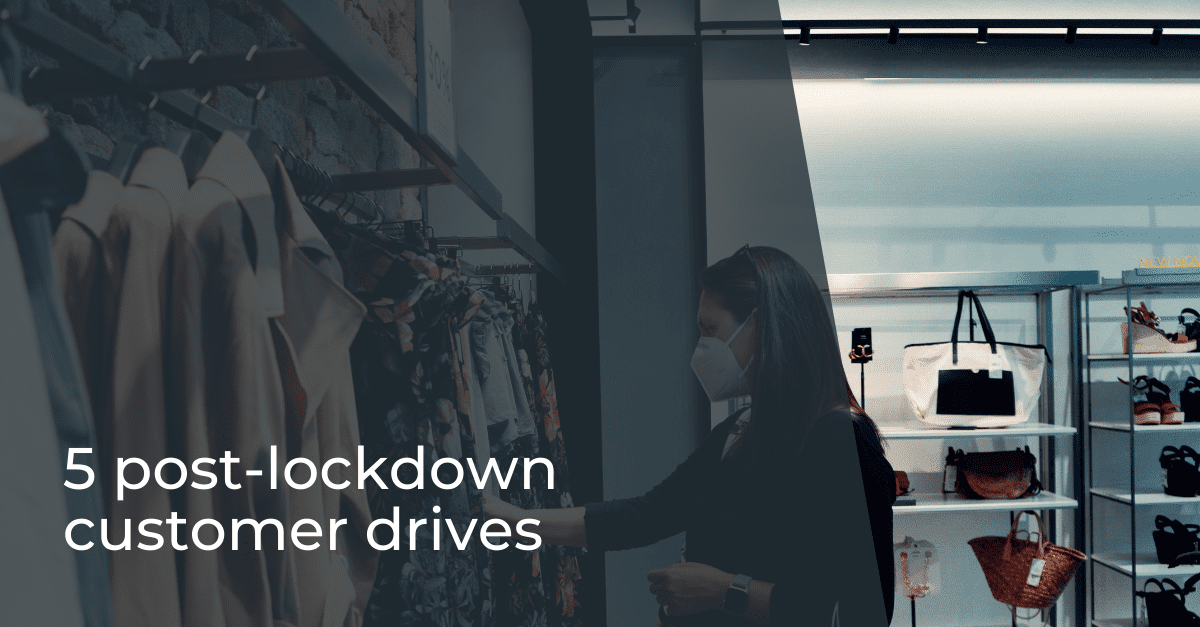 4 min
5 post-lockdown customer drives! Re-open your stores thanks to tactical solutions deployable in under six weeks.
The re-opening of stores is finally starting to take shape, bringing in a new form of business operations combining health security and making up for lost time economically. This exceptional situation has given rise to new emergency priorities for retailers.  These are clearing all the pre-lockdown stock, responding to peaks in online orders, and ensuring the safety of both customers and staff, all this, whilst generating the maximum income in the minimum of time.
To better understand these retail challenges, we are focusing on five tactical omnichannel scenarios that can be deployed in less than six weeks.
1. Scheduling in-store appointments
By making in-store appointments (also called Personal Stylist appointments), you can control the flow of customers in the store, re-invigorate the customer experience with your brand and offer a personalized service. In just two clicks, your customers can book online an appointment in the store of their choice, at the time of their choice.
This solution is particularly suitable for post-lockdown, because it will allow your customers and your store staff to benefit from a safe and relaxed purchasing experience. You can even add some questions to the booking process (body measurements, style preferences, items the customer is looking for), so that your in-store team can prepare a selection of items that perfectly match your customer's requirements and tastes.
2. Drive through Click & Collect
A plan put in place and magnified as a consequence of lockdown, contactless collection outside of the store allows stock to be sold (in particular with the option to prioritise store stock) whilst also protecting customers, who collect orders outside the store at a prearranged time.
Providing customers with the option of contactless order collection after lockdown will allow you to protect your sales staff and customers, clear pre-lockdown stock, and better anticipate store visits. Indeed, by using this solution, it is possible to make only a part or all of your range available for contactless order collection.
3. Fulfilling orders from store
The preparation of online orders in store (Ship from Store) allows stores to be used as storage  points, and, above all, as shipping points. Putting in place Ship from Store regulates the activity of in-store staff and increases the number of items sold.
At the end of the lockdown, retailers will have a lot of stock to sell, with the risk that current collections, especially in fashion, will end up unsold. Selling in-store stock to fulfil online orders through Ship from Store is therefore imperative.
4. Easy returns with home try-on
Try at Home is a personalized solution to make shopping easier for customers. Following an online shopping session, customers can select and receive Try at Home items. They then have a few days to try the items on and choose the ones that they prefer. They will only be charged for the items they choose to keep, and the remaining ones will be returned directly to the store or by a logistics carrier.
Customers of your brand who do not want to go out shopping as soon as stores reopen will be won over by this service. Easy to deploy, this solution is fully customizable. You can define the maximum number of articles eligible for Try at Home, the period that a customer has to try them, and the methods for returning items.
5. Assisted remote purchases
The personal video assistant is a highly personalized omnichannel solution that creates proximity between the brand, the sales staff and the end customer. It is a video conference meeting between a customer and a sales assistant, who has to advise and suggest articles that match the tastes and requirements of the customer.
The personal video assistant solution allows you to present trends and new products to customers who do not want to visit a store. These virtual meetings can take place during time slots that you set out in advance and they will improve your customer knowledge.
Customer journeys after lockdown must be planned for now. Meeting customers' expectations, reducing the impact of the crisis, boosting sales, these are the emergencies that OneStock's agile OMS and omnichannel scenarios can respond to.
You can activate one or more of these solutions by country, by region or even by store. Our OneStock experts remain at your disposal to discuss the solutions that are best suited to your situation.