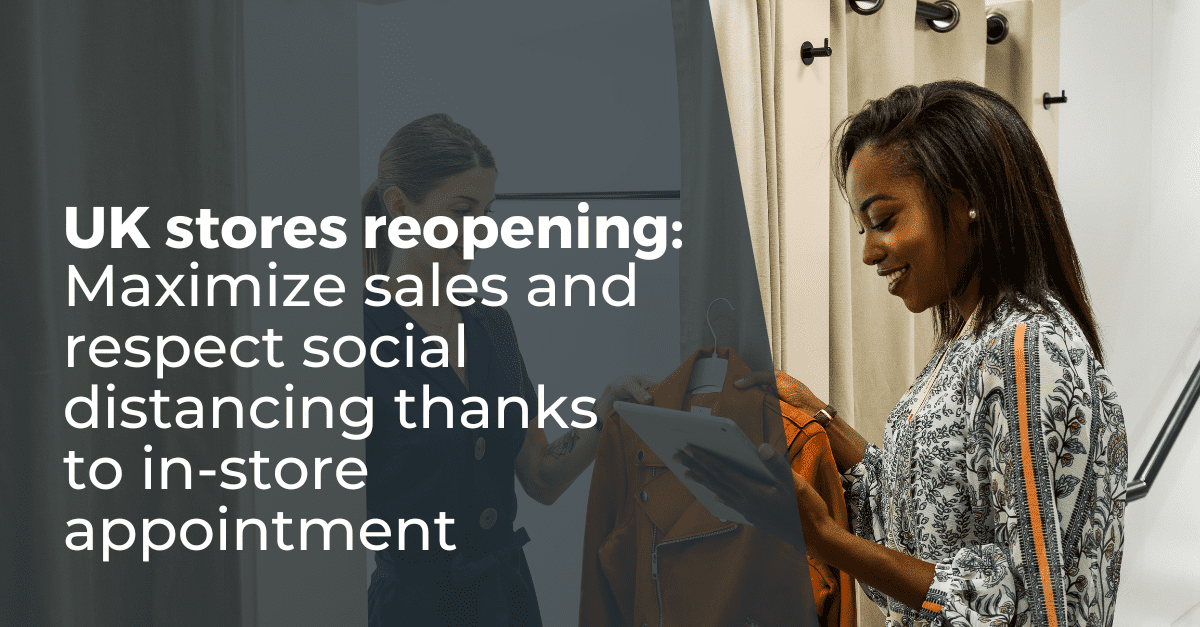 3 min
UK stores reopening: Maximize sales and respect social distancing thanks to in-store appointment
After the announcement by Prime minister Boris Johnson that non-essential stores will reopen on June 15, retailers should consider the effect the Covid-19 crisis will have on customer shopping habits and requirements for a safe store visit. Here are solutions to keep shopping a pleasant experience, while ensuring the safety of both customers and employees.
Social distancing : the new rule to reopen stores
To ensure customers and sellers safety, the UK government shared guidance that concerns:
Social distancing: The number of people in-store must be limited, a safe queuing area must be available, respecting social distancing will help manage the flow of shoppers. Sellers will also have to maintain a 2 meter physical distance from customers.
Fitting rooms: Will be closed where possible in order to limit contact between sellers and customers. In some instances, for example, the buying of protective clothing, fitting rooms may be opened however clients will not be able to receive any fitting assistance.
Returns management: Once an item has been returned, the item must be placed in a secure area or container for 72 hours after which it must be cleaned before returning to the shop floor. The UK Government has also advised retailers to extend the return period for customers.
How in-store appointment can help to maximize sales post lockdown
Your customers won't be able to come to your stores as previously. Even after lockdown, customers will continue to shop online. By creating an omnichannel customer journey thanks to OneStock's in-store appointment you will help your brand to maximize its sales during the reopening period. Here is some advice on how to reach this goal:
1. Take advantage of the whole range during in-store appointment
The new shopping guidelines will change customer habits, brands must unify their stock to maximize their sales. During an in-store appointment, an Order Management System will enable the sellers to make additional sales by offering items corresponding to the tastes of customers. However, they may ask for a product, in a specific size or color, that may not be available, the sellers can then use two OMS features to meet customers' requests:
2. Manage the flow of visitors in-store
In-store appointment is an omnichannel scenario which can assist in keeping both your customers and your employees safe, maintaining footfall and driving revenue after lockdown. It makes it possible to safeguard the purchasing process in store, it is fully customizable allowing you to anticipate the flow of people in store. In-store appointment offers:
Practical meetings: exchange or return items, collect a package, all without waiting
Appointments to make purchases: go to the shop alone or with family, by defining a maximum number of people for a better management of visits
Virtual meetings: to discuss with the seller about the items we are interested in, even to compose a basket and finalize the remote purchase
Book in store meetings: go to the shop to try an item, example as below:
"In this context post lockdown, the objective is to comfort customers and sellers, ensuring their safety by controlling the in-store traffic. Don't forget that before the COVID-19 crisis, most retail purchases were made in store and that not all customers will easily convert to digital sales channels" explains Aurélie LAUNAY ABERT, Head of Optimization Software & Services at OneStock.