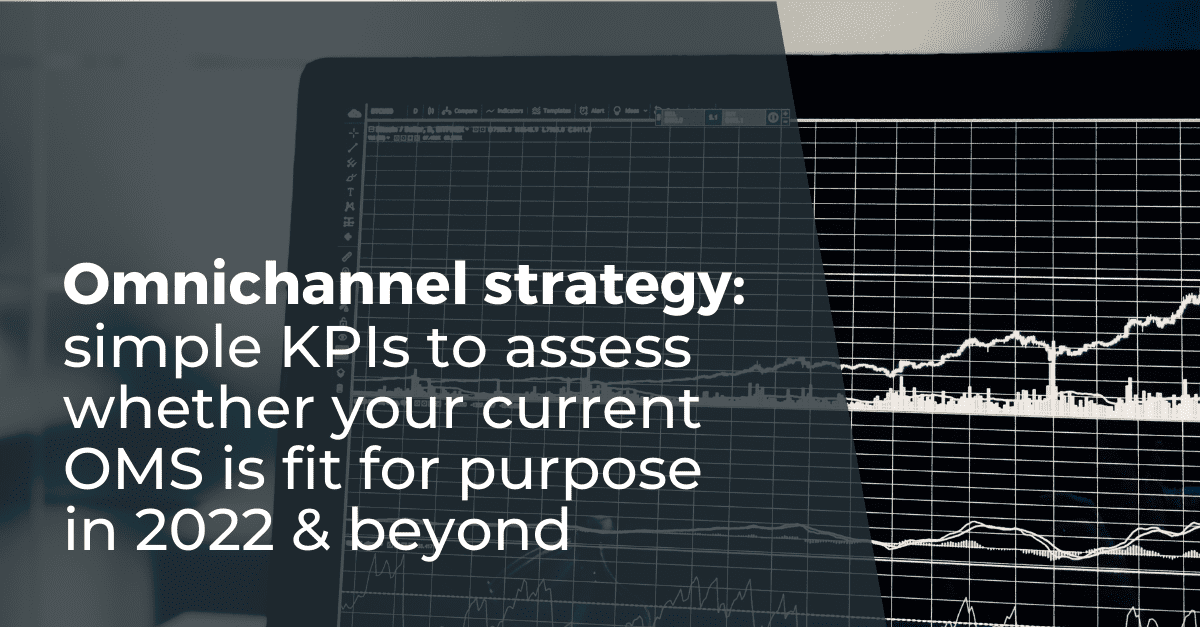 5 min
Omnichannel strategy: simple KPIs to assess whether your current OMS is fit for purpose in 2022 & beyond
At OneStock we talk with potential prospects on a daily basis to try to understand, among other things, how they view the ongoing omnichannel digital transformation of their business and what tools they are using to help them succeed.
Omnichannel is nothing new. What is new – let's say since the Covid-19 pandemic began– is the importance Omnichannel strategies have taken in retailers' roadmaps. You may be facing the limits of the Information System you put in place when getting started with omnichannel scenarios and this may be hindering your current acceleration phase.
Some retailers have in-house solutions, others had their integrator develop some specific custom workflows which unfortunately are not flexible or only offer, for instance, low-level Ship from Store & Click and Collect capabilities. Other retailers are just starting out in their omnichannel journey.
Understanding when you need a best-of-breed OMS SaaS instead of an in-house solution
The challenges that retailers tend to face with the systems they hastily put in place are the following:
On-premises software: despite SaaS solutions being dominant throughout many industries, some retailers still have some of their IT hosted in-house and usually supported by a third party. This software is expensive to maintain and difficult to make evolve.
A patchwork of different solutions that aren't necessarily interconnected and/or that do not communicate well with other solutions. An OMS impacts all other tools you may have, both your front-end (the interface that is visible to your potential customers) and your back-end (all tools you use to manage operations, from logistics to accounting to refurbishment). It is therefore essential that data flows among all these systems smoothly, in a trust-worthy environment and of course in real-time, which is unfortunately not always the case with existing implementations.
No or inaccurate Delivery Promise: The "Delivery Promise" should be the centre of your customer-centric omnichannel strategy. Your customers want complete transparency on stock levels. They want to be empowered and have visibility on delivery delays, delivery options and information like the availability of the items they are considering purchasing in their local store, to try/see/touch these products. Above all, they want all this information to be precise and accurate. The standard message stating that their items will be delivered within 3 to 6 days no longer meets customer expectations.
No accurate view of stock: At the heart of any omnichannel process, including Delivery Promise, is the need for an accurate, real-time and precise view of your entire stock, including, warehouse, store, drop shipper, franchise and future stock. It is only with such visibility that all your operations can be streamlined and all the omnichannel services that you are deploying will bring the expected ROI and customer satisfaction.
Limited analytics capabilities:  Without extensive information and data on your omnichannel performance, you will not be able to understand how successful these OMS-like solutions are. Your ROI will be complicated to measure and your overall omnichannel strategy will be near-impossible to justify. Data insight is almost more important than the data itself. You need an OMS that gives you insights into your data and processes so that you can draw clear conclusions and improve your operations.
Multiple platforms for multiple solutions: When different scenarios are not managed by a single platform nor by a single app on your in-store tablets, your store associates will end up constantly juggling between apps for different tasks (Order InStore, Ship from Store, Mobile POS, Clienteling, InStore Appointments..). Your store associates already have a heavy workload and technology should be a help, not a hindrance. One of the prerequisites of having a successful store digitalisation is that store staff be able to manage all their additional tasks within a single app, with a very intuitive user interface.
Is your OMS a success or a work-in-progress? Some simple KPIs to find out
Let's take some very practical examples by focusing on some of the flagship Omnichannel solutions you are likely already using: Click and Collect, Ship from Store and Delivery Promise.
The following KPIs and questions can help current OMS or OMS-like solution users challenge themselves and help them understand if their current setup could be improved or not:
What is the ratio of items that are sent from your central warehouse to the store chosen by the customer as the place where they want to collect the order?
If it's higher than 50% you clearly have a problem unless this is a declared strategy on your side as you are combining sophisticated replenishment logistics and Click and Collect orders from your warehouse to decrease carrier cost and keep the most sellable items on the shop floor for non-web customers.  If this is the case please contact us anyway as we will probably manage to prove to you that this strategy is actually not optimising your supply operations/costs.
Do you have some sort of business intelligence giving you insights into your operations? Just as an example, can you analyse the ratio of split orders?
Ship from Store:
What is the ratio of your stores' order cancellations caused by incorrect stock information?
If it's higher than 5%, your Ship from Store service is not set up correctly or not performing correctly.
What's the availability rate, item per item, on your ecommerce site? This obviously varies depending on the type of items you sell and the time of year (peak vs off-peak period) but if you regularly have a 20% or 30% unavailability rate on your ecommerce site, you again have some (easy) improvements ahead of you.
How accurate is your Delivery Promise? Do you know the promised time for your deliveries vs the actual delivery times? Can you tell customers exactly when they'll receive their items as soon as they place their order, or even before they do? If not, you have some room for improvement.
Want to know more about OneStock's best-of-breed OMS?
Get in touch now!