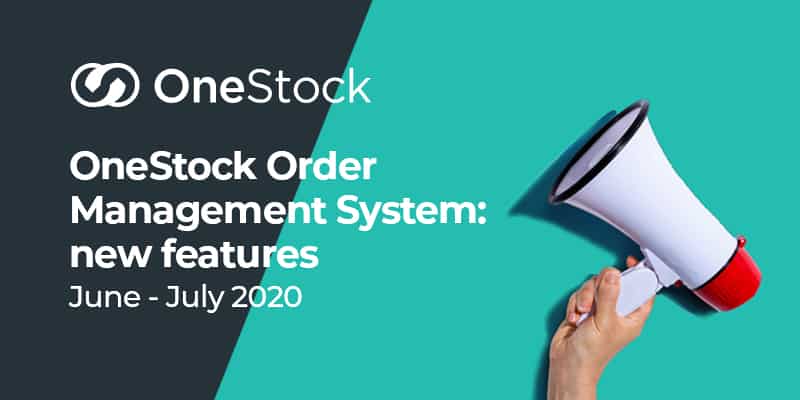 2 min
OneStock OMS: June-July new features
OneStock is significantly increasing its R&D investment this year to accelerate developments and offer more and more features while managing more and more customers.
To build on a solid foundation and prepare for the future, we have decided to rebuild entirely the part of the software that manages stocks. This change brings new functionalities but more important ones will be coming soon!
In addition, OneStock is enriched with an additional tool to display alerts on the POS when actions are to be taken by the store!
Stronger foundations for stock management
As our name suggests, stock management is at the heart of OneStock. We decided to rewrite and rebuild this part of the software entirely to make it both stronger and more flexible.
More solid: to manage more and more volume with good performance. The number of brands and retailers using OneStock is increasing rapidly and with it the number of stores and warehouses that need to manage their stock, in real time. The new stock management service is more efficient for managing large volumes and is of course fully scalable, as are all OneStock services.
More flexible: for more possibilities now and, above all, to integrate important new functionalities in the future! Stock buffers can now be managed at any level of granularity according to needs. Stocks can be assigned to different stock dispositions, which allows, for example, to block part of them in certain sales channels.
Other new and very useful stock features will be coming soon, stay tuned!
An alerter to notify the stores
Stores are a critical part in all omni-channel scenarios. OneStock offers a new tool to alert them when they have an important action to do.
This tool is installed on a Windows desktop, usually the cash register, and displays a pop-up when the store is solicited. Even if the store does not regularly look at the OneStock window, it will be notified that there is an action to take.
With this alert, stores can stay focused on their work while being responsive when a customer order needs to be processed!