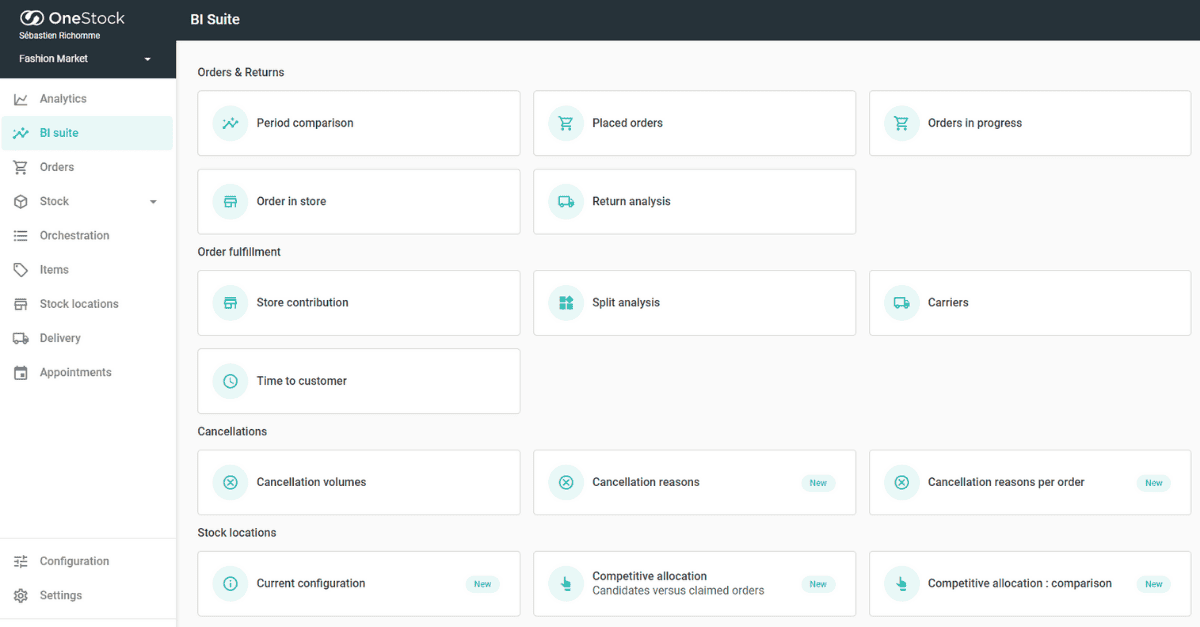 4 min
OneStock BI Suite: the strategic management tool for omnichannel brands
Because there is no one way to do omnichannel. Because just having the services in place is not enough. Because return on investment for an Order Management System is critical. This is why OneStock has launched our BI Suite, dedicated to data analysis and strategic management for all businesses operating an OMS.
When it comes to order management, it's important to understand what is being done and how we're performing, because there is a lot at stake in terms of productivity and customer satisfaction. The BI Suite is a performance tool that, thanks to clear reporting, makes order preparation processes more fluid.
OneStock BI Suite: a new ally to optimise strategic management
OneStock BI Suite enables operational management of the omnichannel order lifecycle and facilitates optimisation of your OMS project from a business perspective. The module provides a strategic view of your current OMS usage and performance to enable you to adjust your order management strategy.
The BI Suite provides concrete answers to your questions and puts them into perspective with respect to your previously set objectives. For example, you can monitor the achievement of your e-commerce growth objectives by analysing the e-commerce turnover achieved following the implementation of OMS and then, going into detail, by consulting the rate of store contribution to web order preparation.
In the BI module, you will find:
A set of turnkey reports around business indicators: cancellation rate, store performance, preparation time, Click and Collect order details, etc.
Indicators grouped into several pillars: orders, stock points, items, delivery promises, inventory, etc.
The ability to access the underlying data store to build custom reports
Exportable reports in various formats: PDF, image, etc.
The ability to define alerts on the values of certain indicators. For example, if your cancellation rate goes from 2% to 4% on the first day of a sale, you are automatically alerted. Utilising the available reports, you can quickly determine the reasons for these cancellations.
OneStock BI Suite: the business-oriented management tool
The BI Suite is an easy-to-use turnkey tool, which does not require input from your IT department. It is not intended for IT users either – it is a business tool above all. Here is a non-exhaustive extract of the data to which your various business departments will have access:
General management: reports dedicated to the visualisation and understanding of all data related to orders, e.g. volume, value, best-performing stock points, distribution of store vs. warehouse stocks.
Supply chain management: reports dedicated to a better understanding of the supply and anticipation of the load of orders to be prepared, e.g. analysis of the most requested carriers to deliver the orders, detailed view of the location of stocks used, KPIs on speed of fulfilment.
E-commerce management: reports dedicated to the optimisation of digital operations, e.g. alerts on problematic orders created and orchestrated but not processed, cancellation rate, preparation time.
Retail management: reports dedicated to a better understanding of store performance, e.g. additional store sales generated through the OMS, stores having processed the most orders over a given period, web-to-store and store-to-web performance.
To simplify the sharing of this data, it is possible to set up custom rules and alerts, such as the automatic sending of one or more reports to a list of recipients. But our system goes even further. It is possible to set up alerts to be sent when specific indicators pass a certain threshold, for example, if the cancellation rate suddenly jumps.
Finally, to support your various business departments, our BI Suite already includes a number of standardised reports and is regularly enriched with new ones, giving users the opportunity to create their own reports from scratch, or simply make our pre-built reports their own.