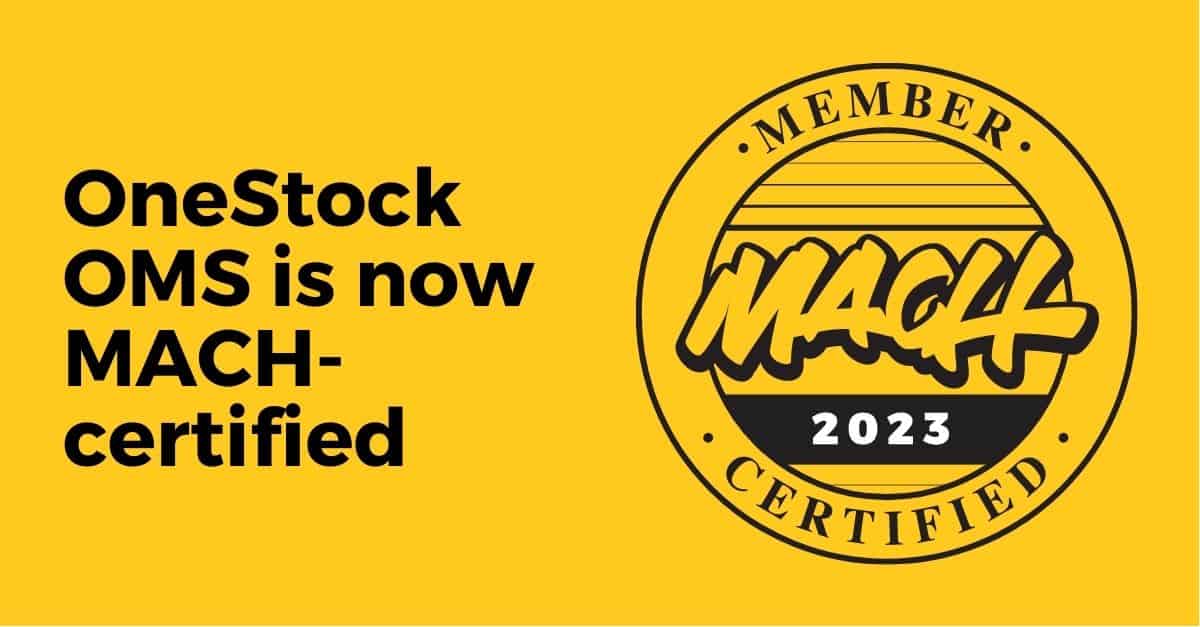 4 min
OneStock OMS is now MACH-certified
Industry recognition is important to OneStock. That's why we're excited to become certified members of the MACH Alliance, a not-for-profit group advocating best-of-breed enterprise technology systems.
If you've never heard of the MACH Alliance before, or you're not sure what MACH architecture is, don't worry. Here are the essentials you need to know:
A quick introduction to MACH architecture
If you're new to MACH architecture, here are the basics.
MACH is an acronym, and it stands for:
Microservices-based
API-first
Cloud-native
Headless
With a MACH approach, technology solutions are developed, deployed and managed independently, integrated through APIs and hosted/run via the cloud to create a cohesive digital infrastructure. Rather than tying companies to a single solution and bolting on new functionality made by the same vendor, MACH architecture gives businesses the freedom to compose their own technology stack.
Moreover, the four technology principles that underpin the MACH approach encourage companies to build agile, customisable, scalable digital operations. Businesses can optimise each operational area using specialist technology like OneStock's distributed retail order management system.
Because of this best-of-breed approach, MACH-based solutions are framework agnostic. Systems are built using open architecture to integrate with other software. No more compatibility issues!
Another benefit of MACH architecture is its flexibility: it's easy to add new features and functionality as needed. As companies grow, they can integrate new systems and upgrade existing software without huge technical complexity or needing to start again from scratch.
Learn more: why modern B2B and B2C companies are switching to MACH.
MACH's moment has arrived
Interest in MACH architecture has grown steadily as companies move away from the outdated idea that one solution should do everything.
In the next few years, the business world will see more and more solutions built using MACH architecture. Eight in ten companies plan to increase their MACH investment in the future, according to the MACH Alliance, with customer experience, speed and privacy being the top motivators for change. 
The companies investing in MACH today aren't just experimenting with the latest approach to digital transformation. They understand that cloud software has greater longevity than the unwieldy on-prem solutions that used to be considered best practice. Moving to a MACH model will help more businesses future-proof their operational infrastructure.
The MACH Alliance: creating a fair and open playing field
Early adopters of MACH architecture have already seen the benefits of a headless, API-first approach to technology. But, more importantly, they want to share those benefits and promote the MACH model as a better way to build operational solutions.
As a result of this desire for future-proof development, several leaders of the MACH movement grouped together in 2020 to launch the MACH Alliance: a vendor-neutral industry body dedicated to helping companies embrace MACH architecture.
The MACH Alliance educates and supports people in the technology industry to implement agile business systems using MACH architecture. Its members include software vendors, systems integrators, agencies and individual experts.
Learn more about the MACH Alliance.
Certified MACH Alliance members need to meet strict principles to gain official recognition. Selective criteria ensure that members truly embrace the MACH approach and offer their customers MACH-certified services.
Working with a certified MACH Alliance vendor gives companies the confidence that their partner is committed to cutting-edge practices. But, more importantly, their partner is focused on optimising the performance of one specific area in harmony with other vendors optimising other areas.
A MACH Alliance-certified company is far more interested in maximising the value of its specialist solution than trying to upsell an awkward end-to-end system to its customers.
Why OneStock uses MACH architecture
Creating a robust, modern SaaS platform for distributed order management has always been OneStock's goal. We continually highlight the importance of using a specialist retail OMS to manage and allocate stock – rather than relying on a bolt-on ERP module.
Microservice architecture has enabled us to create sophisticated order management technology that integrates into brands' and retailers' wider digital infrastructure. And we're delighted that MACH Alliance certification connects us with other vendors thinking on the same wavelength.
Retail excellence relies on strong alliances, and MACH architecture has opened new doors to best-of-breed technology working cohesively to enhance customer experiences.
Request a OneStock demo to discover the benefits of a MACH-based solution.