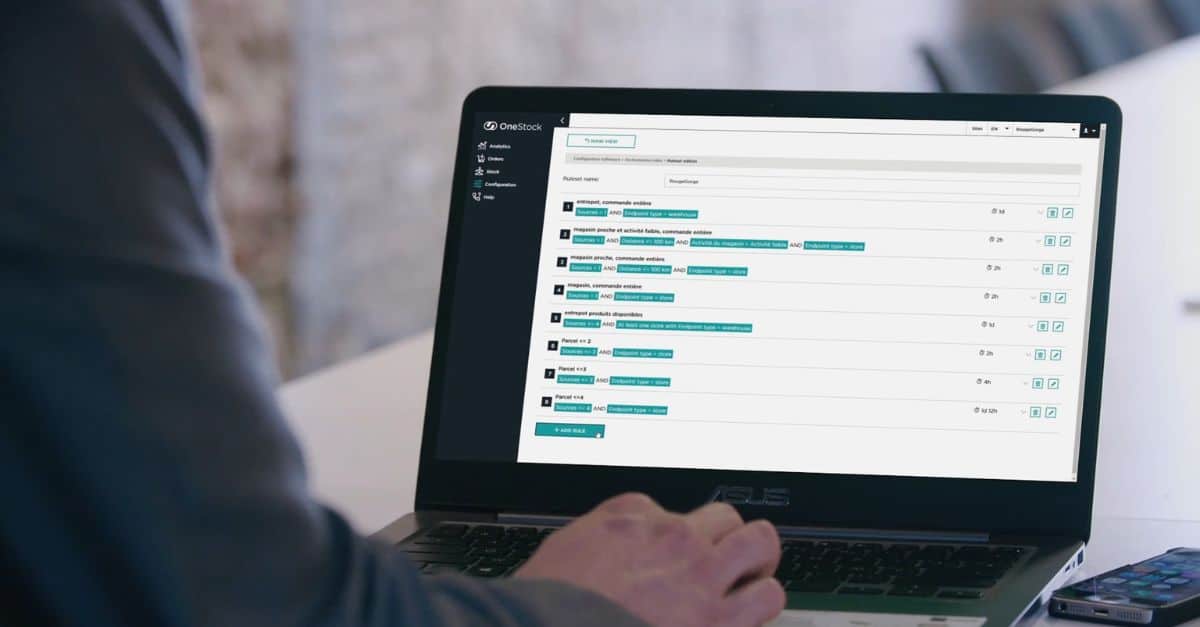 5 min
OMS RFP: 5 reasons to choose OneStock
With so many Order Management Systems to choose from, putting out an RFP can seem daunting. Here are 5 ways OneStock makes choosing an OMS easier.
1. Choosing OneStock means choosing the leading OMS
OneStock has extensive experience in implementing omnichannel solutions and is the only OMS solution with such a large number of customer success stories. Our solution can be deployed in any industry (culture, luxury, B2B, children's accessories, fashion, etc).
OneStock is a comprehensive solution that offers an Order Management System and its core components (stock unification and order orchestration) as well as a wide range of omnichannel solutions that can be deployed subsequently, including Ship From Store, Click and Collect, Reserve and Collect, Order in Store, Returns Management and Delivery Promise.
Working with the leading OMS provider means choosing an easy-to-integrate solution with truly business-oriented orchestration rules to enhance your performance.
After over a year of use, OneStock has proven to be a tremendous way for us to reduce the depth of markdown, increase margin and greatly improve sell-through. Another benefit of the solution is that we now have visibility of the true potential of our brand!

Josh Towb – Business Transformation Manager at Jigsaw
2. Choosing OneStock means trusting the top Ship From Store expert
OneStock's reputation is also based on our ability to eradicate stock-outs with our Ship From Store solution.
Use your network of stores to fulfil customer orders, and take the pressure off your warehouses. With stock unification and order orchestration, market the stock that is actually available and optimise your logistics costs and processes by choosing, for example, to ship an order from the store closest to your customers.
OneStock's Ship From Store solution is the most successful on the market today. It has also proven to be very effective, with an average increase in web sales of 25%.
OneStock's Ship from Store solution enables us to accelerate the digital transformation of our brand, turning it into a fully phygital company. This is a huge internal upheaval, as some of our stores already shipped more products than the DC warehouse did.

Matthieu Pellet – Chief Digital Officer at INTERSPORT
3. Choosing OneStock means getting access to cutting-edge technology
Our Order Management System is the technological foundation of your omnichannel strategy, which is why over 50% of our team is dedicated to R&D. Our engineers are continuously working on adding new features and modules to our SaaS solution.
Our roadmap is constantly evolving and is based on our research and analysis as well as feedback and suggestions from our customers. This means that by choosing OMS you are sure to have a tool that truly meets your needs and is always up to date.
We are working on new functionalities in line with industry expectations but also and especially with shoppers' expectations. Our OMS is updated every month and our customers learn about our new innovations through our Release Note, which is also sent out monthly. Our roadmap is still very strong, and some great features are coming soon.

Vincent Vila – Chief Product Officer at OneStock
4. Choosing OneStock makes change management easier
One of the major challenges when implementing an OMS solution is getting your teams to embrace it. OneStock is a simple, ergonomic and all-in-one solution. Our interface has been designed to meet business needs with ease, both at headquarters and in stores.
Our tool, available in many languages and with a customisable interface, includes all our omnichannel solutions: Ship From Store, Order in Store, Click and Collect, Reserve and Collect, In-Store Appointments, etc. This makes training your teams much easier.
Our store teams are always telling us that the product is great. We don't often have teams saying that our tools are great because our store teams are very demanding, they are in direct contact with our customers and have no room for error. The tools are really aimed at end-users, so we're simply very happy!

Mathilde Watine – Omnichannel Transformation Leader at IDKids
5. Choosing OneStock means being guided through your OMS project
Last but not least, as people are at the heart of our business, choosing OneStock means ensuring your OMS project is secure. Our teams put their technical expertise and industry knowledge at the service of your project.
From your discussions with our sales team to your onboarding to 24/7 support, we continuously provide you with advice on the best strategies to deploy in order to maximise your profits thanks to our OMS. Entrusting us with your project means you can be sure of a 100% personalised service.
With an NPS (Net Promoter Score) of 63, our solution is highly valued by our best ambassadors: our customers.
The OneStock team's guidance and reactivity are very much appreciated. The teams not only answer all of our requests but they do so very quickly, which helps us a lot. We also appreciate their good humour, it's really a pleasure to work with you!

Alexis Bouton – Digital and omnichannel project manager at Générale Pour l'Enfant
Want to know more?
Make an appointment with one of our sales representatives on +33 5 62 80 21 94 or request a demo here.