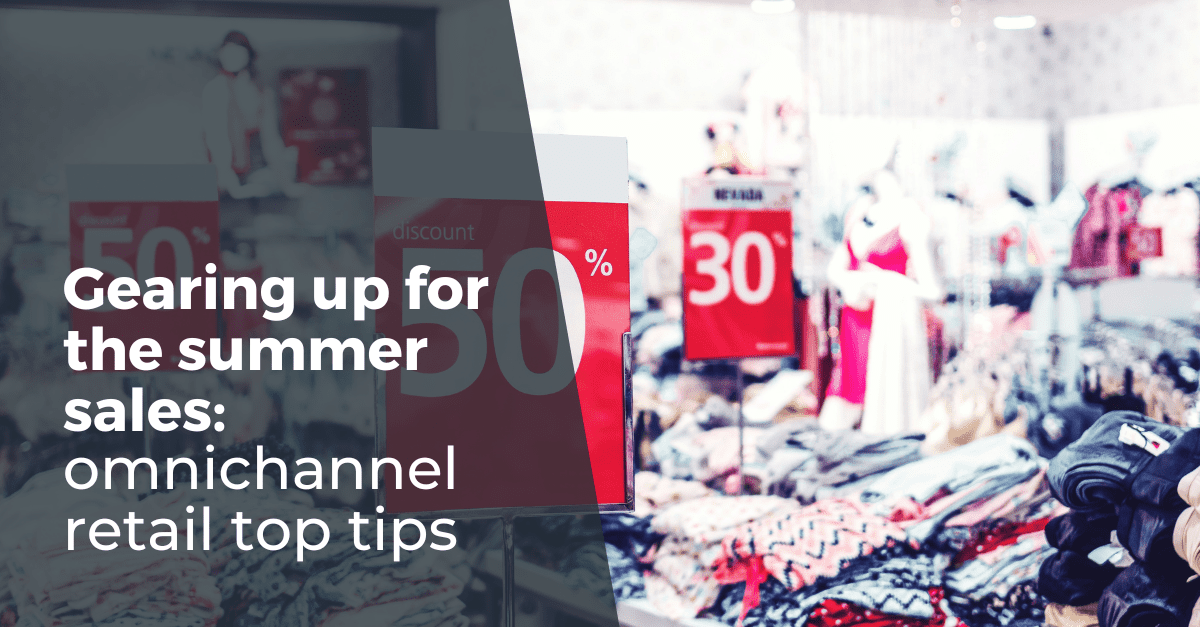 8 min
Gearing up for the summer sales: omnichannel retail top tips
With the summer sales just around the corner, retailers and sales teams are on the starting blocks.
Over the last months, amid the global health crisis, consumer habits have changed drastically. Many have hopped online for most of their shopping, have tried to limit their spending and, more than ever, have turned to second-hand.
These changes are particularly noticeable through their purchasing intentions. An Atos study of 963 consumers reveals that 34% of consumers are reluctant to spend their money during the summer sales. Even more significantly, 24% of respondents intend to take full advantage of this consumer moment to go on a shopping spree and make the most of the low prices.
The summer sales remain a crucial moment for retailers. It is more important than ever to clear stock. Omnichannel needs to be the top priority for all sales channels to make the most of the summer discounts.
Stores will be particularly impacted as they receive their first peak in traffic of the year after months of closures and limited capacities. What do you need to remember? Are your shops ready for the sales? Here the checklist of must-haves for this year's summer sales
1. Boost productivity in-store with well-defined tasks for store associates
Both permanent and seasonal store staff must have a clear vision of their priority missions. When the shop floor is busy, it's easy to lose sight of your to-do list.
Who will be in charge of helping customers and giving advice on the sales floor? Who will be keeping the changing rooms running? Who will be at the checkout? Who will be in charge of the mobile POS? Who will be in charge of exchanges and returns? Who will pick and pack Click & Collect or Reserve & Collect orders? Who will provide the personalised shopping sessions?
How will you organise everyone's activity (by day, by half-day, fixed missions during the entire sale, etc.)? How can you integrate omnichannel (preparation of Click and Collect orders, Reserve and Collect, Ship from Store) without affecting the responsiveness and availability of the sales staff in-store?
Defining your store staff's tasks with precision will allow you to gain efficiency during this key period. To respect the customer promise, we would suggest that you separate the role of salesperson from the role of picker/preparer. Good organisation and communication will also enable your sales staff to cope with the influx of visitors while having a clear view of their objectives. For the customer, the experience in the stores will be all the more pleasant.
2. Unified commerce tools for your store staff to improve shop performance
We all know those situations where we like the item, it's on sale… but it's not the right size. Or THE bargain that a friend or family member recommended is no longer available by the time you get to the store. To limit frustration, Order in Store is the most relevant unified commerce solution.
By equipping your store staff with an Order in Store solution (endless aisle), you will enable them to dramatically improve the customer experience by offering an immediate solution to out-of-stock items in stores. If the sales assistant notices that the item is still available in another stock point, they can then:
order it for their customer,
search for his loyalty advantages,
deliver it to the shop or the place of his choice,
proceed to the payment.
Here's another scenario! Customers sometimes get discouraged when out on a shopping trip during the sales. Some thoroughly dislike the hustle and bustle and overcrowded stores of the sales season. Don't risk losing these customers. Why not offer them personalised in-store shopping appointments? By taking into account their needs, tastes and sizes, your sales staff can put together a selection of items for the customer, or the shopper can simply choose specific items to try on. After the selection process, there is a try on session with advice (size, colouring, etc.) from the sales associate. This personalised experience reinforces the feeling of attachment to the brand. And from a benefits point of view, the average value of the customer basket is multiplied by 3 during a personalised meeting, so don't miss out on this opportunity!
Keep in mind that all the omnichannel solutions you implement during the sales season must be customer-centric and fit naturally into the tasks of your sales teams.
3. Change the layout of your stores by integrating areas dedicated to omnichannel orders
Today, stores are no longer just sales areas. Order Management Systems (OMS) and their associated digital solutions have transformed stores into mini-warehouses that capture, prepare, pack and dispatch orders.
During busy periods, allocating a specific area to each omnichannel solution will allow store staff to be better organized and thus gain efficiency. Setting up specific order preparation areas is particularly relevant for:
Click & Collect orders: customer satisfaction always comes first! Offering a 100% Click & Collect area will help store staff know where to prepare orders and customers will immediately know where to go for the pick-up. This is a delivery method favoured by shoppers for its proximity, its cost and above all, its speed. Shoppers wouldn't be happy to have to wait in line at the checkout to pick up their package!
Reserve & Collect: once again, customer satisfaction is the key! Customers placing Reserve & Collect orders may have doubts about the items they've selected (size, colour, details, etc.). Placing a Reserve & Collect counter close to the changing rooms could be a great idea to subtly encourage them to try the item if they have doubts.
Ship from Store: during the sales period, we can legitimately imagine that e-commerce will continue its crazy growth. More web orders mean more orders that could be picked up and prepared by the stores. In this case, a dedicated area must be set up so that Ship From Store orders can be quickly identified and temporarily stored while awaiting collection (carriers).
4. Simplify in-store returns
More sales are recorded during sales periods. So it makes sense to expect a higher number of returns.
More and more retailers are working on their Returns Policy and encouraging self-service returns. With 25 to 40%* of items ordered online being returned (according to a Salesforce Research survey) and even more when you add in store-bought items, it is essential to organise a way of simplifying returns in store!
Here, one of the solutions that we suggest, if your organisational system allows it, is to free up one of your checkouts for exchanges and returns. This has two advantages:
it reduces the waiting time for customers making a return
it avoids frustrations from customers who have come to make a purchase, who would wait longer before being attended to
Returns are an integral part of the customer journey. Unfortunately, it is not uncommon for customers to be confronted with teams who are not prepared to make returns, who have to call a manager, thus blocking the checkout, or who are dissatisfied because, and I quote, 'returns are a drain on my shop's turnover' (true story)… Make sure that you define the role of your team members, and that the person dealing with the returns has all the necessary information they need. Finally, emphasise the importance of interpersonal skills at this stage.
5. Track sales performance and stock levels
Keep track of your stores' performance and stock levels daily.
This will allow shop managers to highlight the achievement of different targets with their teams and to put a spotlight on certain items. For example, an item that is not meeting sales forecasts can be put forward by being placed on mannequins or in shop windows.
On the other hand, knowing the bestsellers will enable sales staff to anticipate customer demand for these items. For the management of omnichannel scenarios such as Ship from Store, it would be interesting to set up a safety threshold to guarantee the presence of a few bestsellers in store. It is also relevant to give the retail manager the ability to activate/deactivate a store based on traffic to free up the store staff's time to deal with store customers as opposed to shipping web orders.
We recommend that you monitor performance and stock levels regularly. Sharing this information with store staff is just as important as tracking it. As always organisation + analysis + communication = efficiency!
6. Organise your storerooms for greater efficiency
Last but not least, the storerooms!
Between receiving orders, sending Ship From Store parcels, Click & Collect… the organisation of storerooms must be carefully considered. Choose a storage logic that will enable your sales staff to be more efficient!
For example, for web orders, separate Reserve & Collect and Click & Collect orders to be collected by customers from Ship from Store orders to be handed over to carriers.
For orders to be collected in shops, differentiate between Reserve & Collect and Click & Collect and then sort these two categories in alphabetical order. Control the pick-ups and schedule customer reminders for orders that have not been collected for more than 7 days.
For the rest of the stock, you can imagine a Reference > Colour > Size arrangement for quick picking.
Despite the high activity due to the period, insist on the need to keep the stockrooms organised. Easy access to the different references and the logic of storage will enable sales staff to be more efficient!