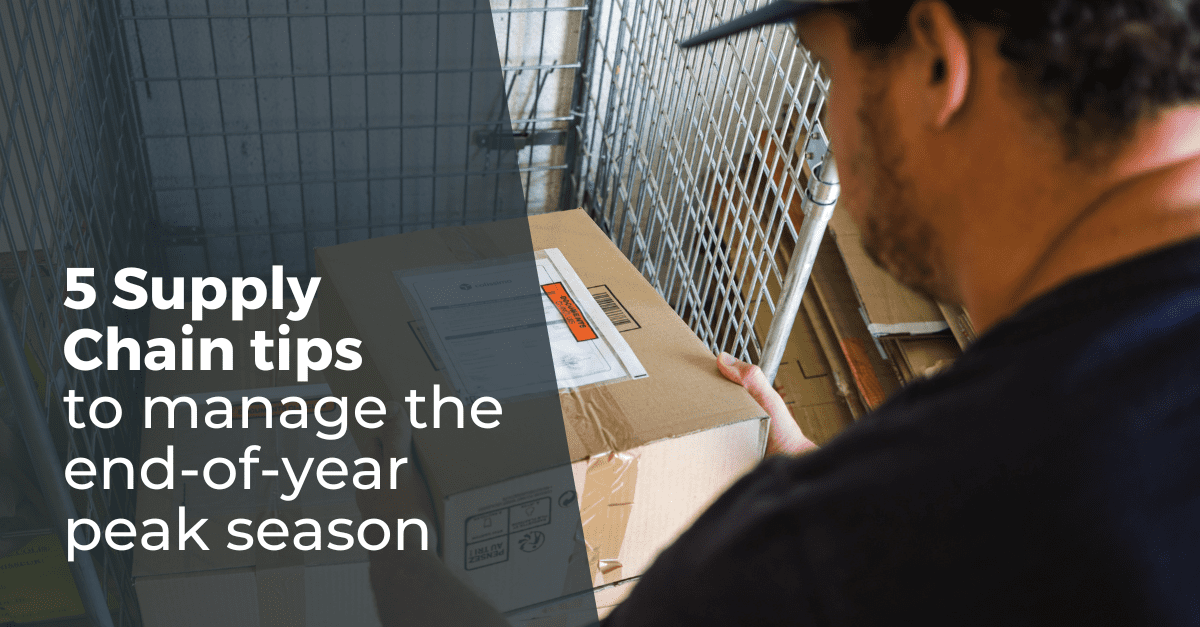 5 min
5 supply chain tips to manage the end-of-year peak season
The end of the year comes with mounting pressure for the retail industry. Each service is highly impacted by sale and order peaks, from Black Friday right up until Christmas. This is then immediately followed by the January sales.
This year, the coronavirus is reshuffling the cards and causing a lot of uncertainty.
In-store activity is likely to be very impacted whilst e-commerce should play a bigger role and experience higher peaks over this period. Deploying an Order Management System (OMS) seems more essential than ever in order to be prepared for this strong period of activity.
Supply Chain must prepare for this intense peak season. Creating a unified commerce experience allows retailers to anticipate while remaining flexible in order to adapt to different events.
Tip 1: add dropshipping to the Supply Chain
During peak periods, distributing the load of work as effectively as possible is essential. Retailers must be able to know where the stock is, whether that's in warehouses, in stores, in transit, just ordered, in drop shipper's storage locations…
Retailers must play to their strengths to be as efficient as possible during this period. Dropshipping can be an important asset. The stock can stay at the supplier's warehouse thus freeing up storage for the retailer whilst giving all the handling responsibility to the drop shipper. Thanks to stock unification, it is possible to keep part of the stock in warehouses and in stores while also relying on dropshipping for some specific orders or in case of stock-outs or work overload the warehouses.
An inventory of the available forces should be carried out well before peak season. This means the assessment of capacities and potential bottlenecks at all levels of the supply chain.
Tip 2: Anticipate and optimize warehouse picking
Warehouse picking capacity is usually one of the major limitations during peak season. This results in a large number of orders waiting to be processed, which will take several days of work and will lengthen shipping times.
As for e-commerce, it is important that the total preparation capacity is as closely aligned as possible with sales forecasts.
Ideally, teams should be strengthened, adequate training should be provided and the working environment needs to allow for this. Coronavirus does not make things easy, especially with the physical distancing measures that are imposed.
If the picking capacity does not allow the peak to be fully absorbed, some orders may be processed within a longer time frame. This additional time is not always an obstacle for the end customer, but it can be, particularly in the days leading up to Christmas. Delivery Promise is the key!
When the delivery time for each method is clearly indicated, the customer can better make his choice. Some customers will simply abandon their cart if they cannot be delivered quickly, especially just before Christmas, but at least they will not be disappointed with unrespected deadlines. Customers who are unhappy with their delivery experience usually stop ordering from the retailer in question and talk about it on social media! This proves the importance of providing a reliable Delivery Promise to the customer.
Tip 3: Take into account carrier capacities
Carriers will also experience peaks and will have difficulty keeping up with the increase in demand. They will not always be able to collect all the packages sent out, nor deliver them on time.
Retailers must anticipate this limited capacity and contact each carrier to guarantee a volume of packages transported during peaks and adjust the expected delivery times.
Working with a wide range of carriers will allow retailers to be more agile in the event of a problem with one of them. It must be easy to change carriers when the capacity negotiated with one of them is reached.
It is key, during these peak periods, that the customers know the delivery times before making their purchases.
Tip 4: Integrate future stock and pre-orders
Beyond the ability to pick and ship, stock can also run out. To continue selling the season's surprise bestseller, a new order can be placed with the supplier as soon as possible and the forecasted stock can be put up for sale in a short time-frame.
Thanks to the Order Management System, the item remains for sale on the website, only the delivery time will change. If the customer is willing to wait, the sale will be saved!
Pre-orders can be another way to keep control of the orders to prepare. Rather than selling everything with a Delivery Promise based on an immediate shipment, some items can be pre-ordered. For example, during Black Friday, it is possible to offer an interesting promotion on a pre-order bestseller, which will be delivered on a specific date in December.
This way, the sale will be made during Black Friday but the warehouse will not have to prepare it immediately, leaving the teams time to concentrate on the rest of the orders.
Once the pre-order sales process is over, the warehouse will know the exact volume of orders to be prepared with this item and can then organise operations over one or more quiet days to prepare these orders and dispatch them on the scheduled date. During those days, the warehouse can organise itself to optimise the preparation of orders that all contain the same item.
The volume to be processed is smoothed and anticipated, thus allowing the optimization of preparation and shipping.
Tip 5: share a reliable Delivery Promise
Supply Chain has many levers to help anticipate and limit bottlenecks. The peak period can thus go more smoothly, but it will always be difficult to avoid any overflow of capacity.
The most important thing is to inform the customer of the delivery date before he confirms his order. Remember that displaying a reliable Delivery Promise is part of a unified commerce experience and allows retailers to:
Reinvent the online shopping experience and more generally, the customer experience
Increase the conversion rate
Offer modern omnichannel scenarios
Stand out from competitors