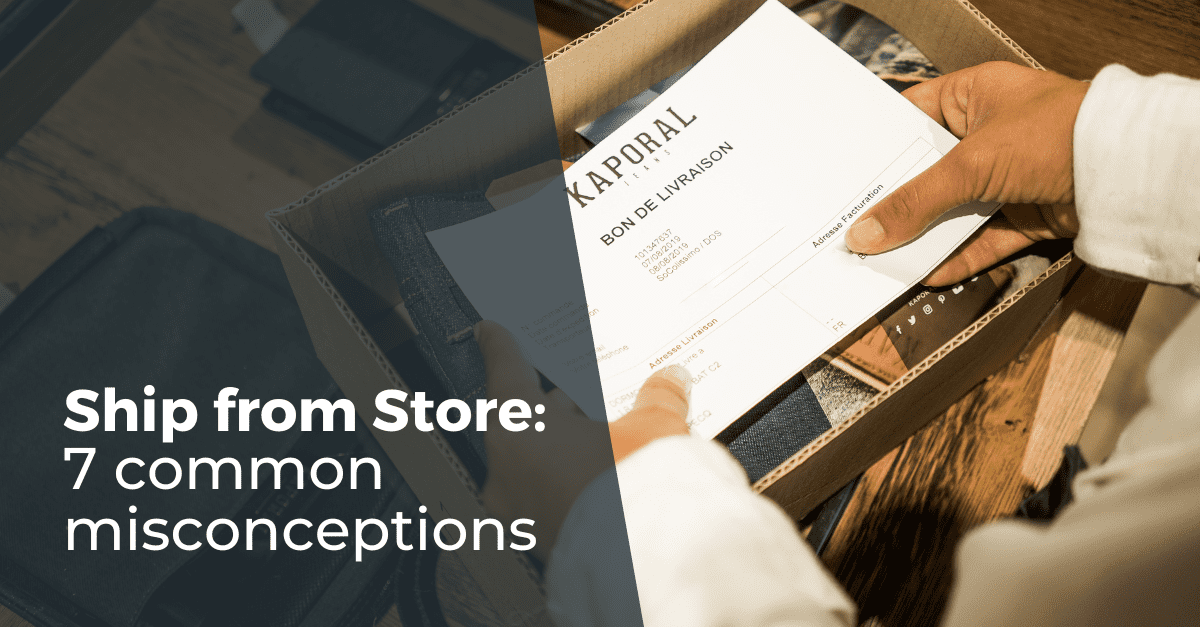 7 min
Ship from Store: 7 common misconceptions
Ship from Store is doubtlessly the best known and most widespread omnichannel service for retailers wanting to break silos between their digital and retail businesses. It allows retailers' e-commerce site to indicate that an item is available even though it's out of stock in the e-commerce warehouse, at the simple condition that said item is available somewhere else in the retailer's network. For instance, if the item is present in a brick and mortar store it can be sent to the customer directly from the store.
If you haven't yet implemented this omnichannel solution it probably means that you are having some doubts about whether it's right for your business. Let's go over 7 common misconceptions about Ship From Store. This should help you understand if Ship from Store is a solution that fits, or not, your business needs and how it could help you increase your sales volume.
1. Ship from Store is expensive and long to implement
Implementing a Ship from Store solution not only requires acquiring very little equipment, but the process itself can also be very fast. At OneStock, we have implemented Ship from Store solutions in as little as 11 weeks and have had clients reach an ROI in just 3 months. This omnichannel solution leads to an immediate boost in online sales after the activation of Ship from Store thanks to the increase in stock availability and the improved delivery options. On average, web turnover increases by 15 to 30%, but the record we've seen is a 300% increase! So not only is Ship from Store a worthy investment, but it also has an immediate impact on turnover.
2. Ship from Store was very useful during lockdowns but now that stores are open it is less interesting
Ship from Store has proven essential during the pandemic and the subsequent lockdowns that forced many stores to shut for weeks at a time. Allowing stores to fulfil e-commerce orders when the surge in online shopping put increased pressure on DCs, meant that retailers were able to use their store stock and resources despite forced closures. Many retailers have publicly stated that Ship from Store was the key solution when it came to surviving the pandemic.
That said, Ship from Store's flagship benefit, which is, as explained in the previous paragraph, to increase web turnover by 15 to 30% has nothing to do with lockdowns. It is in fact solving an issue that is a permanent fixture in the retail industry: the impossibility of always having stock available on every single item on sale via an e-commerce website! On average, at any given moment, 20 to 30% of items on sale on an e-commerce site are not available. As these items are unavailable in the DC but often still available in-store, Ship from Store allows retailers to save the ecommerce sales that would be lost by dispatching the order from somewhere else in their stock.
3. Ship from Store requires a lot of equipment & space
The only equipment required for Ship from Store is a tablet or computer connected to the internet, a printer – both of which most stores are already equipped with anyway – and packaging, which retailers already have an abundance of in their DCs. In short, nothing you don't most likely already have.
As for space, though Ship from Store may require a little reorganisation, we've generally found that stores already have the dedicated spaces required. Indeed, they can pick items on the shop floor, take them to the checkout for packaging and then simply place the prepared order in a dedicated space in the stockroom while it awaits collection from the delivery service.
"On average, web turnover increases by 15 to 30%, but the record we've seen is a 300% increase!"
4. Store associates will be too busy to deal with customers if they need to prepare Ship from Store orders
This is where a key feature of Ship from Store comes in: Competitive Order Allocation. This feature allows retailers to allocate an order to ALL the stock points that can fulfil it in compliance with business rules (for example, offer the order first to stock points within 50kms of the delivery address). Whichever store first claims the order gets to prepare it and it then disappears from any other stock points' listings.
As such, if your store staff is too busy with in-store customers, no worries! Your order will simply be fulfilled by another store.
5. Ship from Store will lead to empty shelves and unhappy shoppers
This couldn't be more wrong as Ship from Store improves stock availability and enhances customer experience. Indeed, thanks to a combination of self-learning algorithms and highly adjustable orchestration rules, OneStock can adapt order processing depending on geographic proximity, transport costs and time, number of parcels and shipping points, store traffic and, you guessed it, stock levels!
So, if our system sees you only have a few of a certain product left in some stores, those stores will automatically be excluded from any Ship from Store orders containing those items. Or not! You decide the rules and change them at any time so you can decide to opt stores with low stock in or out of Ship from Store at any time.
"OneStock implements Ship from Store solutions in as little as 11 weeks and have clients reaching an ROI in just 3 months"
6. Store associates won't want to take on the extra workload & won't be as efficient as the DC
On the contrary, with an intuitive and user-friendly store associate app, store staff are happy to add Ship from Store to their workload, especially as it can help them reach their targets. Indeed, as these orders are placed online but fulfilled in-store, retailers often implement a 50/50 split, with one half going towards the e-commerce turnover target and the other half going towards the store's sale target.
This, added to the gamified aspect of the competitive allocation and the limited time store staff have to prepare an order they have claimed – 30 minutes to 1 hour on average depending on retailer's orchestration rules – leads to orders being prepared and ready to be sent at record speed.
7. Stock errors will stop this system from running smoothly
Thanks to Stock Unification, retailers can have an accurate view of stock across all their stock points. OneStock does that by aggregating stock data from all types of stock locations: warehouses, stores, drop shippers, suppliers,… This stock is then consolidated and published to all the sales channels: website, marketplaces, in-store orders, etc.
Different levels of reserve stock are maintained at every stock location, including within the store network, in order to take into account variations in physical stock (faulty items, missing items, reserved items, etc) or to keep stock for display in-store. On top of all this, if a store associate notices an item is missing, faulty or otherwise unsellable, they can immediately add this information to the OneStock System.
So there are 7 common misconceptions about Ship from Store debunked! If you're still unsure or have any more questions about Ship from Store, Order Management or anything we've just gone over, be sure to get in touch with us HERE.