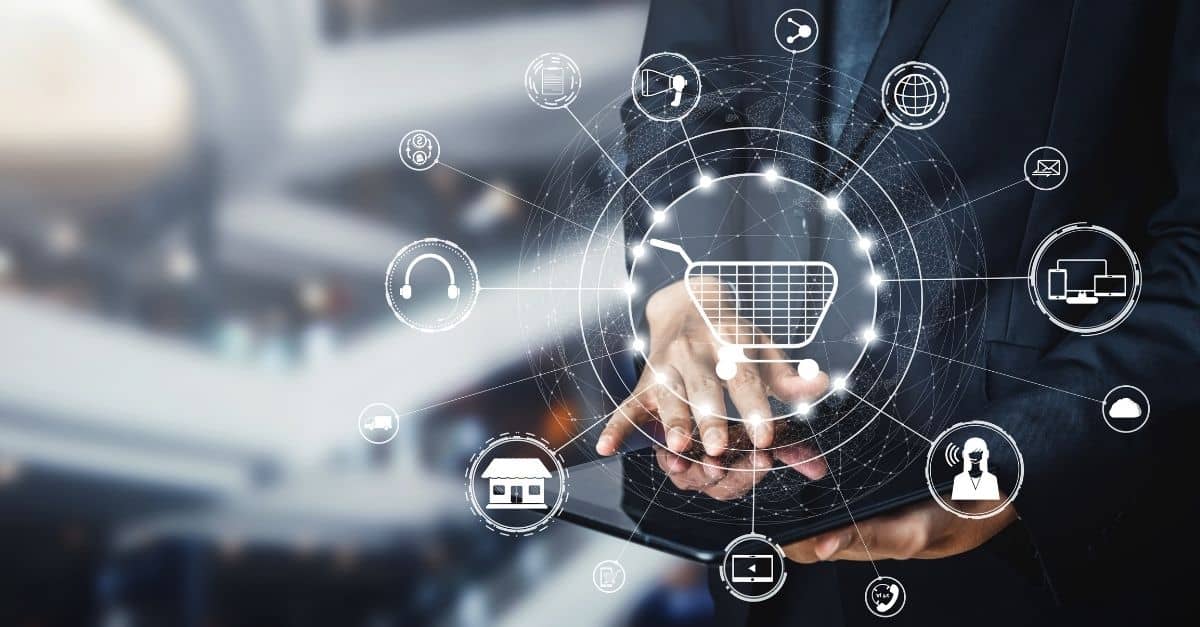 5 min
Retail order management is not a linear process
When it comes to customer journeys, we're obsessed with straight lines.
Funnels. Roadmaps. Workflows. Whatever you call them, we're all looking for the same thing—a quick way to connect the dots between intent, purchase and fulfilment.
But consumer behaviour is much less logical.
People hop between channels, browsing and researching products. And while retailers have created omnichannel strategies for the fact-finding stage, we still treat order fulfilment as a straight-line journey.
In a world where consumers can shop anywhere, anytime, we need fulfilment to be more dynamic. Order management is no longer a linear process. A distributed OMS model, driven by advanced technology, is the best way to meet multidimensional customer demands.
Traditional retail OMS can't meet customer expectations
Order management used to be straightforward: online orders were picked, packed and shipped from the distribution centre. Stores had their stock pools. 
Then consumers started blurring the lines between channels.
You can't run siloed stock when someone returns items bought online to the store. Or they want to shop online and then pick up their items in-store. Linear processes don't work in a world where click and collect orders make up 11% of all e-commerce sales.
This blurring happened simultaneously with the 'Amazon effect'.
Major online retailers decided they were happy losing money on deliveries to achieve speed, which raised customer expectations. 56% of consumers now expect retailers to offer same-day services as standard.
You might be thinking, "why are you telling me something I already know?"
Because most retailers still grapple with the practicalities of quick, convenient delivery. 42% of consumers have experienced delays with their online orders, according to a study by PwC. Meanwhile, 43% have been unable to buy an item they wanted due to out of stocks.
Traditional order management models can't keep pace: we need a more dynamic approach.
Distributed order management: the future of dynamic retail
Meeting the demands of a sophisticated customer requires a sophisticated response. Distributed retail order management is much more advanced than traditional pick-pack-ship processes.
Instead of linear fulfilment, retailers don't need to pre-determine which stock to use. Distributed OMS systems make decisions once customers have checked out.
Each decision is based on real-time insights, including:
Stock availability and position
Time/speed efficiency
Operational capabilities
Cost to serve
A distributed retail OMS uses business intelligence (BI) tools to analyse these factors and determine whether to fulfil an order through a DC, store or partner.
If circumstances change, so does the outcome. For example, if a DC is at total capacity, staff can 'turn off' new orders until they've caught up.
A distributed OMS model also enables retailers to contextualise information. For example, there's no point in offering a 1-hour click and collect service on an item that's out of stock.
Besides greater efficiency, distributed OMS technology allows retailers to roll out new services, such as green delivery options. 54% of consumers are willing to wait longer for sustainable shipping.
Finding a retail OMS solution for complex distribution
Using BI tools to select the best fulfilment location/method makes sense. But many retailers' current order management systems need help to deliver this capability. So what's the next step?
Some retail businesses are trying to meet complex fulfilment challenges with in-house solutions. They're customising their existing OMS technology with new business intelligence capabilities.
This approach is cost-effective, but it has drawbacks. For example:
A small group of people hold all the system knowledge. What happens if they're off sick or leave the company?
Working at speed means information isn't always documented. Future development could break the platform.
In-house OMS systems need a lot of maintenance; time that could be devoted to business growth.
You can read other considerations in our retail OMS: build vs buy guide.
The other route some retailers take is to invest in retail ERP systems with OMS and BI modules. This approach integrates data but with limited functionality. ERP systems aren't designed for the complexities of distributed order management.
The third option is investing in best-of-breed distributed order management software like OneStock. Our distributed retail OMS system unifies stock data and uses self-learning algorithms to orchestrate orders based on real-time, business-wide information. This empowers retailers to offer every possible purchase and return journey while optimising availability and cost to serve.
Building versus buying your distributed retail OMS
Meeting expectations will always be a game of cat and mouse between retailers and customers. Most retailers have done a great job of creating consistent journeys to purchase across multiple channels. Now, we need to do the same for fulfilment.
For most retail businesses, embracing a distributed order management model will involve a major tech upgrade. The main question is whether to buy specialist software or build something yourself.
If you're already set on buying your next retail OMS, you can book a no-obligation OneStock demo to learn more about our solution. However, we know many retailers are on the fence.
To help your decision, we've written a new guide: Retail OMS: Should you Build or Buy? outlining pivotal points to consider.
Download your free build versus buy guide for more information on what a future-ready OMS platform should be able to do, and what resources you'll need to build that functionality.