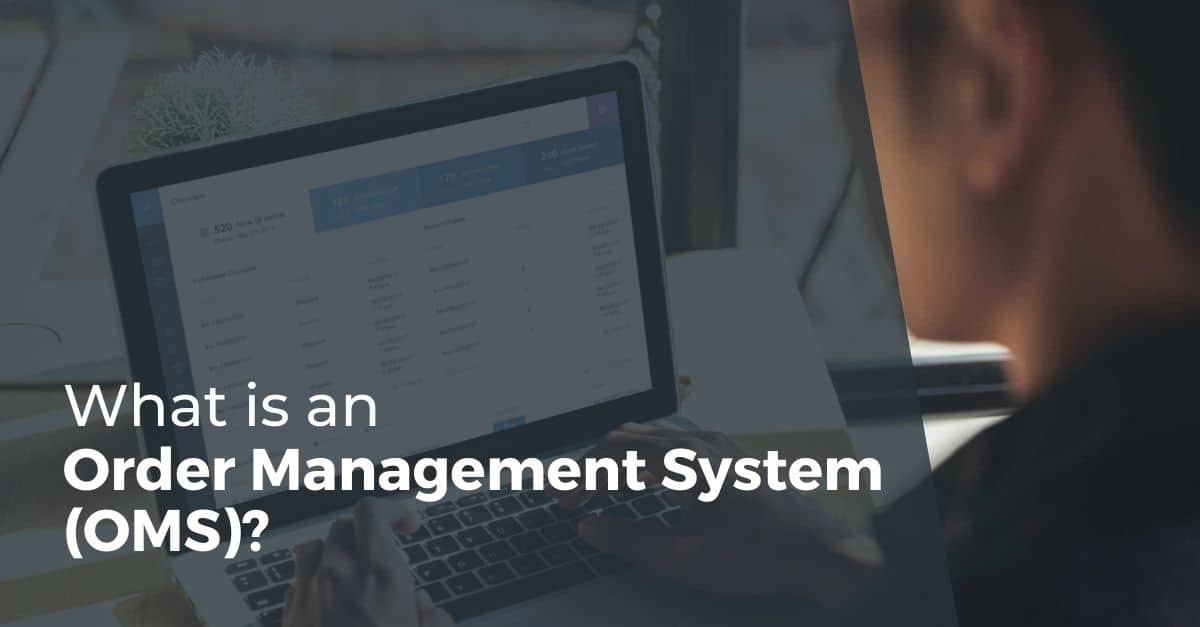 10 min
What is an Order Management System (OMS)?
Whether you call it an OMS or a unified commerce platform for omnichannel retailing, Order Management Systems are now an essential part of improving performance for any retailer.
As we read through various blog posts on this topic, we noticed that OMS is often described as a back-office tool whose main mission is to optimise logistics operations. As a software company, we are sometimes contacted for 'simple' stock management needs – "How much stock do I have?" "Given my sales forecasts, when do I need to order new stock?"
As Europe's leading OMS and unified commerce company, we would like to share our definition of an Order Management System. As we will explain in this article, an OMS is a solution that, in addition to its operations optimisation component, allows omnichannel retailers to offer new services. These have a strong impact on end consumers, whether they interact with you by visiting your stores or via digital sales channels. Thanks to its strong focus on the end customer, our OMS has become truly customer-centric!
So, let's go over what an Order Management System is, how it works, which integrated omnichannel solutions are available and what the associated benefits are.
Do you have questions? Would you like to speak with one of our OMS experts? Get in touch!
What is an OMS ? Exploring the Order Management System
An OMS is an all-in-one solution that aims to centralise and optimise the management of customer orders, from order taking to reception/collection.
To achieve this, the Order Management System relies on two fundamental functionalities: stock unification and order orchestration.
The Concept of Stock Unification in OMS
The Order Management System integrates stock data from all stock points (warehouses, stores, suppliers, distributors, future stock, etc.) and makes this data available to all sales channels (stores, mobile, web, marketplaces, social networks, call centres, etc.).
This unified view of stock provides a direct benefit: a clear drop in stock shortages in the network! The various stock points of a given brand then have a single view of the stock available for sale and connections can thus be made: a store can dip into the web warehouse stock to serve an Order in Store order, a web customer's order can be shipped from a store (Ship from Store), a store return can be directly reinjected into the unified stock, etc.
The intelligence linked to stock unification goes even further, as it allows the retailer to define, in advance, the quantity of stock put on sale on each sales channel. This means that the tool can integrate the concept of 'backup' stock for each stock point. This is particularly relevant for the physical network (stores) as it maximises on-site sales by integrating all the uncertainties linked to the store stock (defective items, late deliveries, items used for merchandising).
The practical outcome? A reliable view of available stock on all sales channels and increased customer satisfaction!
The Role of Order Orchestration in OMS
Once the stock information has been unified, order orchestration comes into play!
Based on a set of powerful, self-learning algorithms, order orchestration allows customer orders to be transmitted to the point of stock best able to fulfil the customer promise and meet business challenges.
Among other things, the business opportunities may be:
Economic, for example by favouring the stock points closest to the customer to limit transport costs
Ecological, for example by favouring stock points offering delivery methods with the lowest CO2 emissions
Logistical, e.g. by favouring the central warehouse to serve web and Order in Store orders
Retail, by prioritising stores with a high level of remaining stock that needs to be sold off quickly for example
A combination of all the above…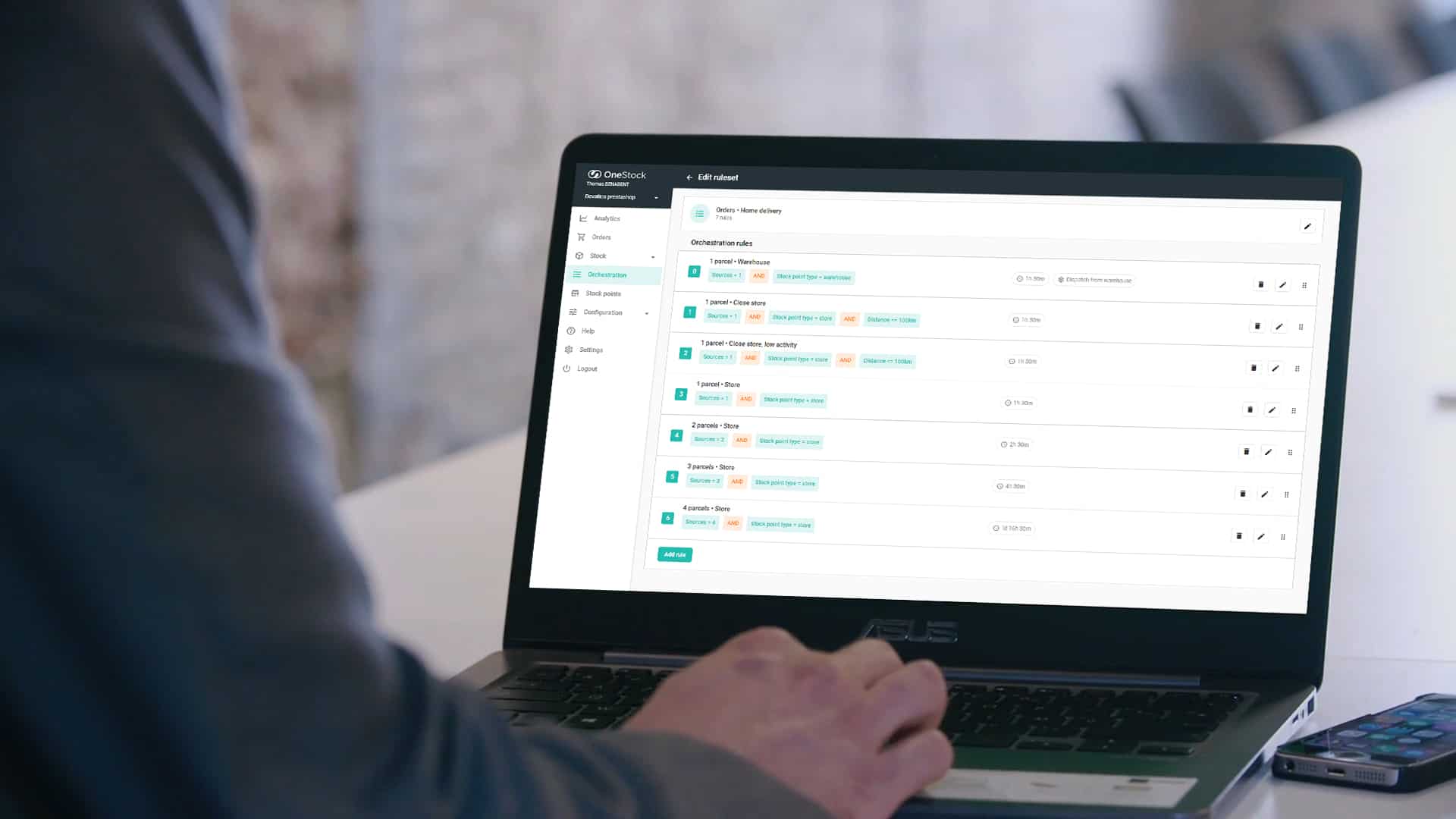 This intelligent order orchestration is the core intelligence of the Order Management System. By implementing it, retailers improve omnichannel order management and maximise the profits associated with the omnichannel solutions implemented (Ship From Store, Click & Collect, Order in Store, Reserve & Collect).
Practical Operation of an Order Management System
Let's go beyond the theoretical use of the tool and take a look at how an order is processed by the Order Management System in real terms. The process can be broken down into 6 main stages: creating the unified view of stock, receiving the customer's order, orchestrating it, payment and confirmation, shipping the items and managing returns.
1. Creating a Unified View of Stock in OMS
The Order Management System builds up a unified stock of available products, taking into account all of the company's stock points – warehouse, web, stores, suppliers, marketplaces, resellers, future stocks, etc. This stock is then aggregated before being made available to all sales channels with the delivery methods available for each product and then for each customer shopping cart. This means that retailers have more products available for sale at any given time.
2. Handling Customer Orders in OMS
There are two types of orders: online orders (from e-commerce websites, marketplaces, by telephone, etc.) and offline orders (Order in Store).
Online orders: if the desired item is available, the web buyer simply places an order and receives real-time information on the associated delivery methods and dates (Delivery Promise).
If the item is not available but a restock is already planned, the Order Management System sends this stock information to the e-commerce system. The web shopper is then informed that they will have to return to the e-commerce website at a later date to buy the item or, if the brand allows it, the shopper can pre-order the item whilst being forewarned of longer delivery times.
Offline orders: if the desired article is not available in the store. The customer can still order it directly at the point of sale (Order in Store). To do so, the store assistant, equipped with their tablet, takes a look at the unified stock and, ultimately, the availability or otherwise of this article in another stock point in the network.
3. Orchestrating Orders: OMS in Action
Meanwhile, the order is being orchestrated in a way that is completely invisible to the customer. The Order Management System selects the most appropriate point of sale to serve the order.
Several scenarios may emerge depending on the business requirements and the desired delivery methods:
For a Click & Collect order, it may, for example, be preferable to use the stock from the store where the item is going to be collected
For an item in high demand that's ordered online, the warehouse stock could be favoured in order to preserve store stock
Stock from another store can be used to fulfil an Order in Store order
 …
A multi-product order can even be fulfilled by several stock points. However, this can affect the Delivery Promise and as such the customer should be offered several delivery methods: collection or dispatch of immediately available items, home delivery or collection in store once the order is complete, etc.
4. OMS: Ensuring Order Payment and Confirmation
Once it is time to pay, the Order Management System communicates via API with the retailer's omnichannel payment platform.
The amount to be paid is displayed on the internet payment module or the EPOS in store. All the buyer has to do is enter/present their payment information, the transaction is then validated by the payment processor and the order is accepted by the OMS.
Once the order has been confirmed, the Order Management System assigns a unique number to the order that will allow tracking until delivery.
5. OMS and Shipping: Delivering the Promise
Depending on the delivery methods selected, the Order Management System then connects the stock point chosen to dispatch the order with the carriers. An API link with the various Warehouse Management Systems (WMS) allows preparation orders to be sent.
Simultaneously, the OMS facilitates easy printing of shipping and return labels, which is particularly useful for orders processed by Ship from Store. The OMS acts as an orchestrator and takes care of everything, while the store clerks only have to print and affix the labels to the packages.
Thanks to the previously generated tracking number, customers can follow every step of the delivery: handover to the carrier, delivery in progress, delivery completed.
6. Managing Returns: The OMS Advantage
Last but not least! The Order Management System simplifies returns processes following the returns policy set up by each retailer. This is called Reverse Logistics and orchestration is again a key factor.
Whatever the method of return (in-store, at the warehouse via a pre-printed label, via customer service,…), OMS makes it possible to:
Match returns to orders and trigger refunds based on the original payment method
Intelligently re-inject items into store or warehouse stock according to the rules defined by the retailer
Replenish stores that are out of stock on certain items
Above all, this omnichannel returns management allows for articles to be put back on sale quickly.
 What omnichannel solutions are directly integrated into the Order Management System?
The Order Management System, beyond the intelligence component (stock unification and order orchestration), integrates a multitude of omnichannel solutions arising from retail and customer needs.
These solutions can be categorised according to 4 goals:
No more missed sales and no more stock-outs
Order in Store: taking customer orders in-store
Ship from Store: shipping web orders from and using store stock
Future Stock: stock being replenished or in transit is considered as available for sale
Rethinking and improving the online shopping experience
Click & Collect: picking up web orders in-store
Delivery Promise: the real-time display of delivery information (price, delivery time, carbon footprint)
Reserve & Collect: reserve an item in-store, without prior payment
Self-service returns: processing customer returns via the channel of their choice
In-store appointments: personalised shopping sessions
Re-energising the point-of-sale experience
Mobile PoS: mobile checkout to reduce waiting time at the cash desk
Order in Store: taking customer orders in-store
Self-service returns: processing customer returns via the channel of their choice
Improving logistics operations
Store as a warehouse: optimise order collection and preparation in store
Optimising logistics flows: better stock management throughout the supply chain
 What are the benefits of an Order Management System?
In practical terms, it is estimated that the benefits of a unified commerce solution such as OneStock are quickly visible, with an average of 25% more web sales and an ROI achieved within 4 months.
Other benefits include:
Improved stock clearance by offering the entire product catalogue and making it available to all the network's sales channels
A clear increase in the number of sales, improved margins and a reduction in residuals at the end of the season thanks to stock unification
Increased customer loyalty and satisfaction through the display of reliable and accurate stock information and delivery times
A digitalized in-store experience in line with shoppers' expectations thanks to omnichannel solutions directly integrated into the OMS: Order in Store, Click & Collect, Reserve & Collect, In-store Appointments, etc.
Do you have questions? Would you like to speak with one of our OMS experts? Get in touch!