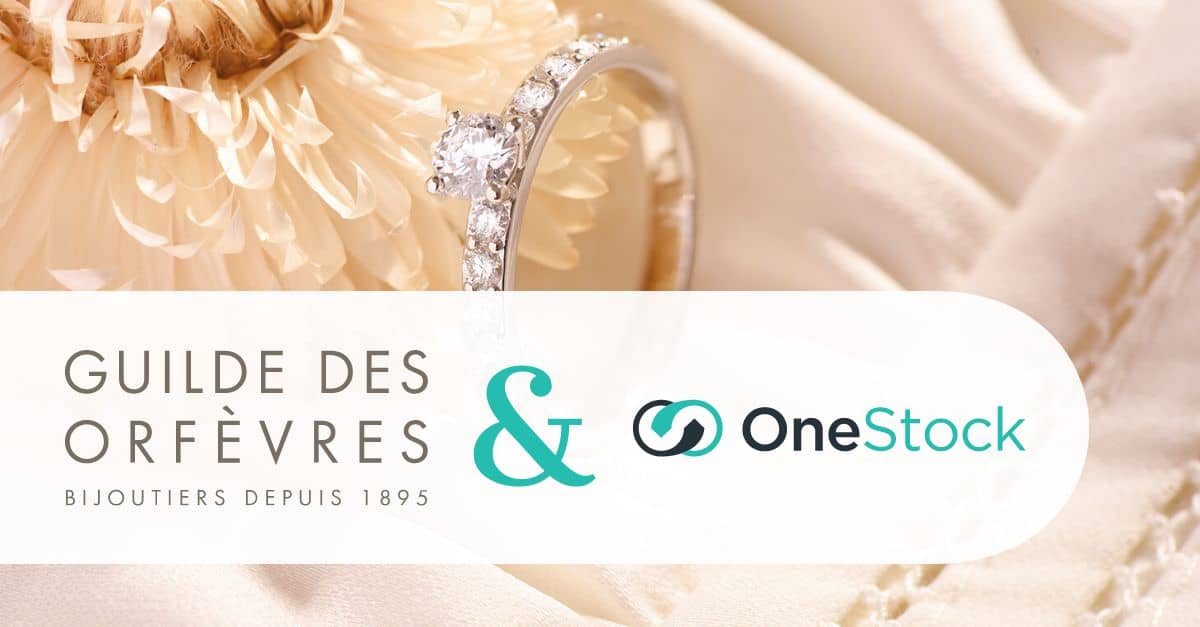 6 min
Guilde des Orfèvres: the challenges of omnichannel transformation
We're taking a look back at the omnichannel transformation of the cooperative group Synalia and its independent jewellery and watch brands Julien d'Orcel, Guilde des Orfèvres and Montres & Co.
Discover how Guilde des Orfèvres overcame the technical and human challenges of implementing an omnichannel strategy and launching Reserve & Collect with OneStock OMS.
Facing technical challenges in a cooperative context…
Digital transformation in a cooperative context is always complicated by the diversity of in-store technology and the independence of each partner. With a POS vendor who is the majority in the network, Synalia has been able to develop technologies that allow access to shop stock, thus making it possible to carry out 2-hour Click & Collect and Reserve & Collect, which rely on comprehensive knowledge of a shop's stock at the time the customer places the order online. The resources and technologies had to be shared across the three websites of the cooperative group's brands in order to increase the efficiency of the small teams at the central office, by improving the PIM or by developing a new API to be able to integrate with OneStock OMS, for example.
Synalia's Phygitalia project involves a large number of players, all of whom seem to be moving in the same direction, convinced of the value of each new piece we launch with them. Technically, these are also major advances for the cooperative, which open up other doors to fluidity in other areas. We are taking measured steps to ensure that the changes are properly assimilated and that everyone is convinced of the value of this project. OneStock is supporting us in this gradual progress, which varies from one store to another.
…as well as human challenges
Synalia and its brands have endeavoured to involve all employees in this omnichannel adventure. Remote training sessions (including demonstrations, case studies and Q&As) were set up to train salespeople in the OneStock software. In order to support employees, other training tools have been created, such as video recordings and guides, to be made available to sales staff at the checkouts. In general, the One Stock portal is considered simple and easy to use.
From stores in silos to a shared omnichannel strategy
With the pandemic driving the Synalia cooperative to deploy an omnichannel strategy common to all its stores, Guilde des Orfèvres was able to establish an e-commerce platform based on the omnichannel nature of its physical shops and not the other way around. Indeed, the Guilde des Orfèvres website was initially a showcase site intended to be a source for store information – an address book with some of the company's signature products.
Since November 2020, the website has taken on a whole new dimension. It now features an extensive online product catalogue, while remaining true to the brand's image. Jewellers can display their key products or brands online, even if they are not present in all Guide des Orfèvres stores. This provides improved visibility for those brands and at the same time improves the website's offering and commerciality.
Simplicity of use, speed of implementation and the high quality of the tool were key criteria in the choice of Onestock OMS. The implementation of Reserve & Collect is a real asset for the Guilde des Orfèvres shops as it meets the need of customers to pre-select jewellery online and to reassure themselves before making a purchase, as the jewellery and watches purchased in our shops are often linked to an important event in their lives.
Reserve & Collect, an obvious choice for Guilde des Orfèvres
Today, consumers prefer to research their purchases from home before going in-store, particularly for products that require a greater monetary commitment. Reserve & Collect was therefore an obvious choice for Guilde des Orfèvres as it allows customers to pre-select high-value jewellery, reserve it online, and then visit a shop to try it on and get all the necessary information and advice from an in-store advisor. Thanks to this web-to-store strategy, Guilde des Orfèvres creates a real complementarity between the e-commerce site and the physical points of sale, while enhancing the value of the latter and the expertise of the advisors.
Activated a few weeks ago in six shops, Reserve & Collect was quickly launched across all stores equipped with the necessary software. Several Reserve & Collect orders have already been placed and some have been converted into a sale with the assistance of a store associate.
We now wish to continue the implementation of our omnichannel strategy by launching Reserve & Collect and Click & Collect in 2 hours across all Guilde des Orfèvres stores. We intend to go even further by adding the Ship from Store scenario to our omnichannel strategy by the end of 2022.