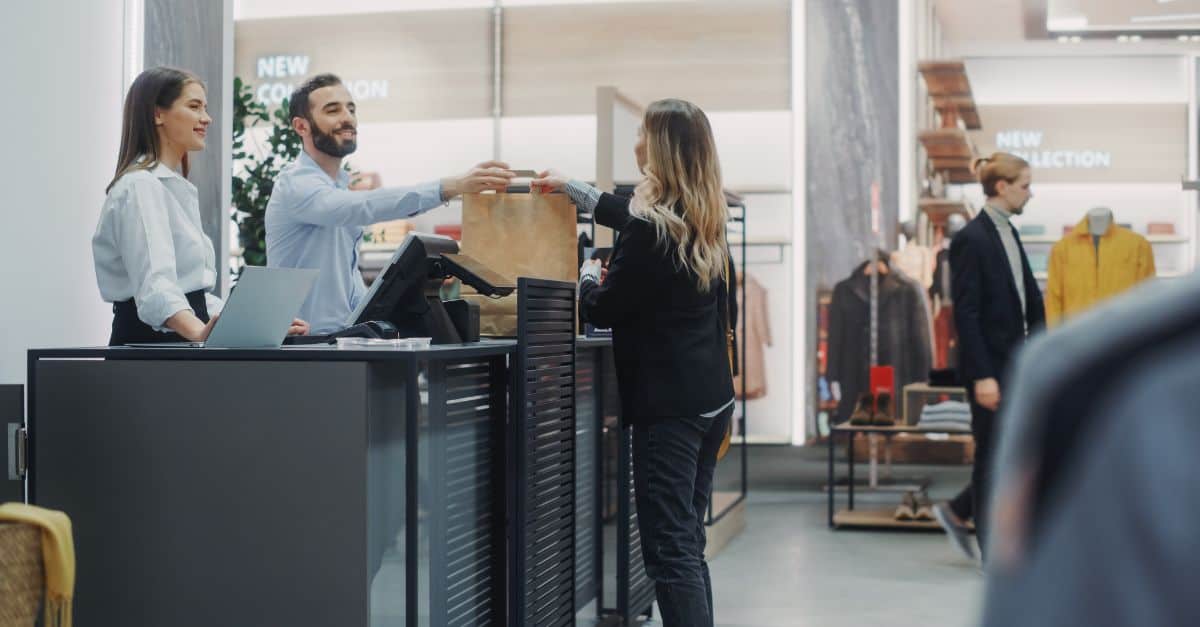 5 min
How to step up your Click and Collect experience
Click and Collect has become one of the most popular fulfilment options in retail. It's a favourite amongst customers for its ease of use, low cost and flexible delivery, and has been fully adopted by brands because it's easy to implement and delivers a rapid return on investment.
More than a basic picking method, this omnichannel solution can be enhanced from the moment a customer places their order online until they collect it in store. Stepping up your Click and Collect service will allow you to deliver the best possible customer experience.
"1 in 4 orders placed are for Click and Collect" (OneStock BI Suite, based on 70+ brands)
Improve Click and Collect availability & keep customers informed
When offering Click and Collect as a delivery method, many retailers will focus only on the selected pick-up store. The availability of Click and Collect then depends entirely on whether that store has the required stock available.
With an Order Management System, a customer can access this delivery method even when stock is not currently available at the selected location. In this case, the OMS can automatically organise a stock transfer, either from the warehouse or another store, to the pick-up store in the fastest and most cost-effective way.
For sectors where some stock transfers would not be profitable, retailers can limit this Click and Collect enhancement to specific categories or products to maintain margins. For example, Home & Furniture and DIY brands may choose to make stock transfers possible only for small items, or items below a certain weight limit.
In any case, customers should be informed of Click and Collect availability at every stage of the journey: on the product page, in the shopping cart, and in their order confirmation. Providing consistent information and updates throughout the process will allow your customers to weigh up their fulfilment choices for each item they wish to purchase.
Let's take the example of a furniture brand, where a customer has added 2 vases, 3 candles, 1 blanket and 2 sofas to their shopping cart. Several Click and Collect options can be offered:
All articles available for Click and Collect.
Click and Collect available only for vases, candles and blanket. Sofas to be delivered at home.
As the sofa must be delivered at home, no Click and Collect available to reduce transfer costs and carbon footprint of a split order.
But the availability of Click and Collect isn't enough on its own…
Offer customers a reliable pick-up promise
If you thought the Delivery Promise was only relevant for home delivery, think again – your customers also expect you to communicate a reliable pick-up promise for their Click &
Offering a vague 3–5 day timeframe for Click and Collect orders is no longer acceptable. Your customers want access to precise, reliable fulfilment information so they can plan their visit to the shop.
What information should be provided when a customer is placing an order for Click and Collect?
Stores where the order can be picked
Opening hours of the chosen store and in-store traffic information regarding the time of visit
Day and time when the order will be available for collection
Contact method that will be used to inform customer when the order is ready to be picked up (e.g. email, SMS)
Upgrade your Click and Collect service to be faster than ever
Standards have changed. To offer a competitive Click and Collect experience, you must adapt to your customers' expectations and be able to make the orders ready to collect… fast.
Faster fulfilment options are growing in use, including same-day Click and Collect and express Click and Collect in just 1–3 hours. Of course, these options are usually only possible if the selected pick-up store already has the items in stock.
Offering this kind of service will allow you to:
Increase e-commerce conversion rates and turnover
Increase customer satisfaction and Net Promoter Score
Develop customer loyalty
One-hour Click and Collect helped us deliver customer convenience and speed of collection into our customers' buying journeys. When pet owners make a purchase, especially if it's pet food or essential accessories such as bedding, they want to access it as quickly as possible to care for their pet. On average, an order placed with the 1-hour Click and Collect option is ready to collect in just 30 minutes. Being able to offer fast and flexible fulfilment to shoppers was a key evolution in our customer experience strategy.
Click and Collect is part of a good e-commerce customer experience. At OneStock, we've created a Customer Experience Index (CXI) to highlight the areas you currently perform well in, as well as where there's room for improvement. If you want to know where to begin, request your personalised study.