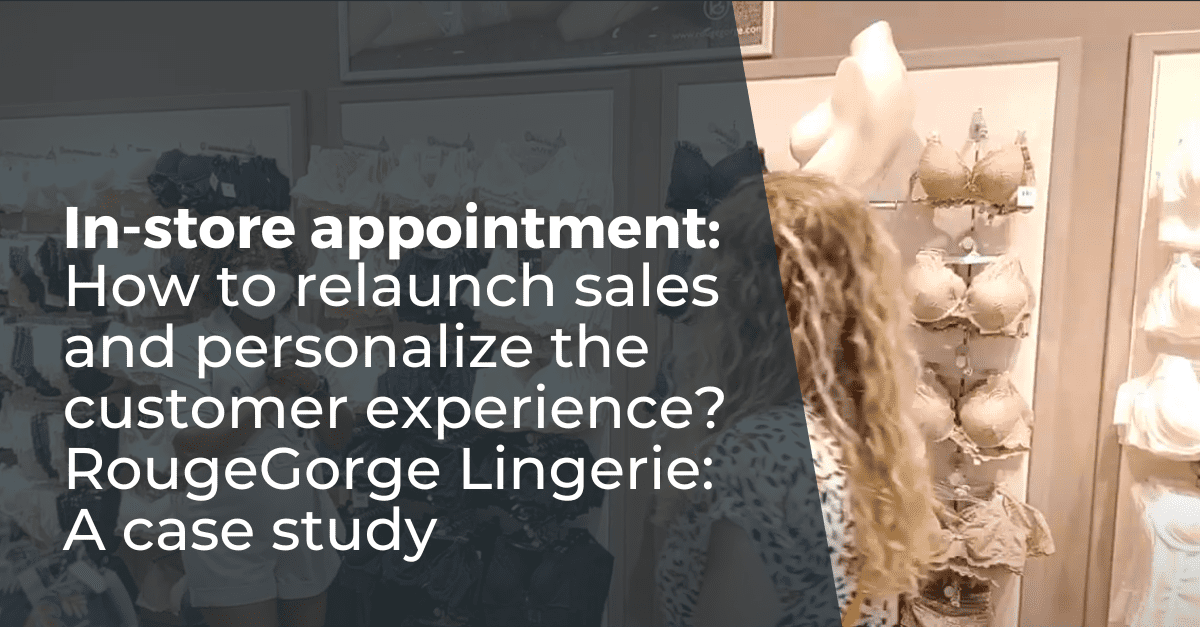 4 min
In-store appointment: how to relaunch sales and personalize the customer experience? RougeGorge Lingerie: a case study
The COVID-19 crisis has forced retailers to modify the services they offer to combine economic recovery with health security. Relaunching sales and personalizing the customer experience have become a priority, and these have been made possible, in particular, by the implementation of in-store appointments. This is an omnichannel strategy adapted to the post-lockdown period, but one that is also efficient beyond that time.
After closing its store network for two months and suspending its online activity, in only three weeks, RougeGorge Lingerie implemented the omnichannel solution for in-store appointments, which they named 'Click & RDV RougeGorge'.
In-store appointments at RougeGorge: a unified, customer-centric shopping experience
Before the implementation of in-store appointments, customers had the opportunity to try on lingerie items in the changing room, but could not always get advice from a sales assistant depending on the number of people in the store. The waiting time to access a changing room was also variable.
Since setting up in-store appointments, customers have had the possibility of benefitting from a special opportunity to meet with a sales advisor to:
Get advice about the most suitable lingerie for their body shape: thanks to a sales advisor supporting them during their shopping, customers can be sure to find items that match their tastes and body shape. This considerably increases the customer satisfaction rate.
Obtain a preselection of products: using the answers given by a customer when making an appointment, the sales advisor can thus prepare for the appointment in advance by selecting products suited to the client's needs.
Discover a collection: the Personal Shopper presents customers with the collection of their choice and its multiple variants, and the service is suitable for both a purchase for pleasure and a targeted purchase, such as a swimsuit, a post-operative purchase, Christmas, etc.  This helps to strengthen the brand's sympathy capital, which is carried by the sales representatives.
Be assisted in purchasing a gift: the sales advisor puts together a gift selection according to the criteria given by the customer (measurements, tastes, style) and assists them in their purchase. This service is aimed at a wider clientele, for example a man who comes to buy lingerie for his wife or partner.
RougeGorge's omnichannel strategy: the immediate success of in-store appointments
With the knowledge that 60% of lingerie purchases are tried on in store first, the in-store appointment has quickly demonstrated its usefulness, because it responds to a real customer need.
Our customers were there when we reopened, and we are even seeing strong growth compared to last year. Customers want coordinating underwear items; if a size is missing, they don't order.

Claire Tardy – Web and e-commerce manager, RougeGorge Lingerie
The simplicity of our Order Management System (OMS) store interfaces facilitated the adoption of this new in-store appointment service by sales teams, and it provides many advantages:
An increase in the average basket
An enhanced purchasing experience with the brand: special customer relationships with the sales staff through personalized appointments, resulting in an increase in the satisfaction rate.
Optimization of stock flow: items from store stock are sold to customers during appointments and are thus sold more quickly. If a size or design is missing, stores can rely on the unified stock to meet customer demand.
Skills development for sales staff: learning about customer relations, training in Personal Shopping and, in the context of the COVID-19 crisis, setting up new habits to guarantee the safety of customers when they come to the store.
Some numbers from the implementation of in-store appointments at RougeGorge:
More than 800 appointments made in 170 stores since the launch of in-store appointments (from end of May to beginning of July)
60% of appointments were booked for advice, discovering a collection and the purchase of a gift
Record baskets of € 300 – € 800 achieved during appointments.