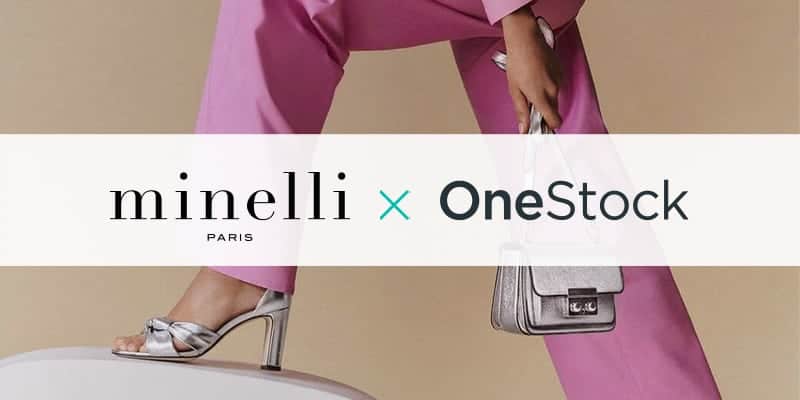 Minelli are stepping up their Omnichannel customer experience
The entire OneStock team is delighted to be teaming up with Minelli and consolidating its expertise in the footwear sector.
Minelli, footwear designer since 1973, has a network of 230 sales outlets located in France, Germany, Italy, Switzerland, Monaco, Belgium and Luxembourg.
In response to the Covid-19 crisis and consumers' shift to online purchasing, Minelli has decided to embrace omnichannel retailing. By deploying an Order Management System, the brand wants to step up its customer experience by unifying the purchasing process, from order taking to returns management, regardless of the channel (physical or digital).
Omnichannel as a response to new customer behaviour
The pandemic, as well as the various government restrictions that have impacted retail, have forced brands to rethink their digital service offering. Having been forced to close many stores during the health crisis, the implementation of omnichannel solutions proved essential for Minelli.
The company wanted to focus on :
Faced with the challenges brought about by the health crisis, it was essential that we enhance our in-store service offering. The maturity and functional capabilities of OneStock will allow us to offer an optimal end-to-end customer journey: pick up an order, reserve items, order items that are not available on the shelf, make returns… The OMS will bring us closer to our customers' expectations."

Olivier BRAMBILLA – Sales Director, Minelli
Order In Store and In-Store appointments: going the extra mile for customer satisfaction
With customer satisfaction at the heart of its concerns, Minelli wants to improve the in-store shopping experience through the deployment of two high value-added solutions: Order In Store and In-Store appointments.
Based on stock unification, Order in Store (or Endless Aisle) will allow store associates to offer customers a wider range of products. If the item their customer wants is not available in the store but is available in another stock point (online or in-store), they can still make the sale with the mobile POS and have the item delivered in-store or at home, depending on the customer's preference.
As for In-Store appointments, implemented in a second step, will help create a truly personalized shopping experience for the customer. Minelli's store associates will become the brand's primary ambassadors and reinforce the customer's attachment to the brand by:
pre-selecting products according to the customer's specifications,
advising customers on styles and fits that best suit them,
revealing new collections,
giving advice when customers are choosing a gift…
Our experience in the footwear sector and our expertise allow us to support the brand in these new challenges. Minelli has learned from recent events and capitalized on its strengths. OneStock will strengthen its online and in-store services and implement mechanisms to improve stock flow."

Stephen DOUCET – Senior Business Developer, OneStock
Kicking the shopping experience up a notch with Returns Management
As part of this omnichannel project, Minelli also chose to tackle one of the main pain points of retail: returns management! Their sole objective: to simplify the process for customers.
To do this, Minelli has a simple and precise returns policy that allows customers to return items via the channel of their choice. The OMS then redistributes the items to the stores or the warehouse, according to the criteria defined by the company. This setup is beneficial because it allows for quicker release of items, or even quicker replenishment of stores that are running low on stock.
For this project, OneStock integrated with the existing ecosystem: Salesforce Commerce Cloud e-commerce, ERP, PoS, and the carrier Colissimo.