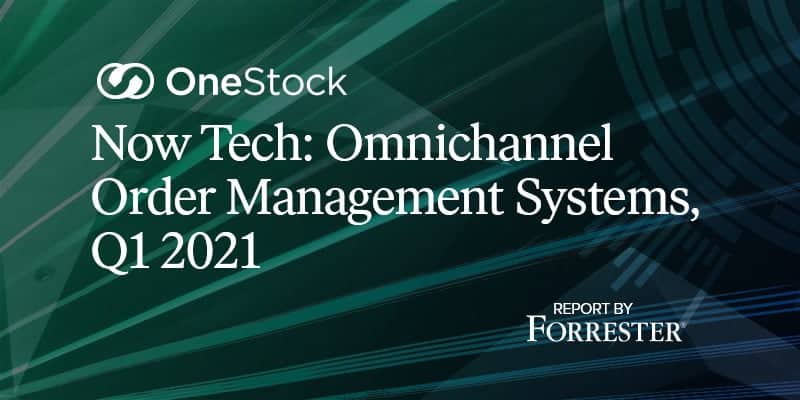 3 min
OneStock featured in Forrester's Now Tech OMS report
Forrester, a specialist in market research dedicated to the impact of technology, recently released its Now Tech: Omnichannel Order Management Systems, Q1 2021 Forrester's Overview Of 30 Omnichannel OMS Providers. This report provides a global overview of the most relevant OMS solutions on the market, among which OneStock was highlighted.
OMS: the strategic tool for omnichannel growth
As noted in Now Tech: Omnichannel Order Management Systems, Q1 2021 Forrester's Overview Of 30 Omnichannel OMS Providers, selecting an OMS is a critical step that transforms both the business and customer journeys.
In 2020, setting up an OMS was one of the top priorities for most retailers. Indeed, the transition to omnichannel is a strategic issue that makes it possible to establish an offer aligned with the growing demands of buyers and their desire to benefit from an optimal shopping experience, whatever the sales channel.
Omnichannel as defined by Forrester is "The coordination between traditional channels (marketing, sales and transportation) and the support of technological solutions to create a seamless and cohesive customer experience. It must also allow brands to adapt to the current context." As pointed out by Forrester, in 2020, new delivery methods were popular with buyers in times of health crisis: curbside pickup, Click & Collect called classic, Click & Collect by appointment… Benefiting from a tool that enables these delivery methods to be implemented is now a real competitiveness issue.
A true omnichannel experience requires an OMS that allows:
The display of a single view of stocks,
Optimized order management,
The implementation of solutions to support shipments from stores,
Anticipation of customer trends and needs.
OneStock, the leading European OMS
Unique European Order Management, this mention in Forrester's Now Tech report highlights OneStock's expertise. As the leading European OMS, OneStock designs a human-centric solution, created to meet the needs of its users (at headquarters, in stores) and their end customers (buyers).
We are pleased with this new publication in a Forrester report, which highlights the strength of our OMS and its relevance. Omnichannel is, more than ever, a competitive tool for retailers. Thanks to strong R&D investments and a substantial team of integrators, we allow our customers to deploy our solution in a few months and therefore quickly maximize their sales and perform.

Romulus Grigoras – Founder and CEO, OneStock
The OneStock offer and references have enabled us to implement our unified commerce solution across all retail verticals: clothing, DIY, luxury goods, cultural items, sporting goods, shoes, garden centres, childcare items, etc.
The OMS includes omnichannel solutions which are now must-have to improve performance while offering an optimized customer journey: Order in Store, Click and Collect, Ship from Store, Reserve and Collect, In-store appointment booking, Management of returns, Clienteling, etc. The OneStock roadmap is drawn up jointly with its 50 clients and resolutely turned towards the future.