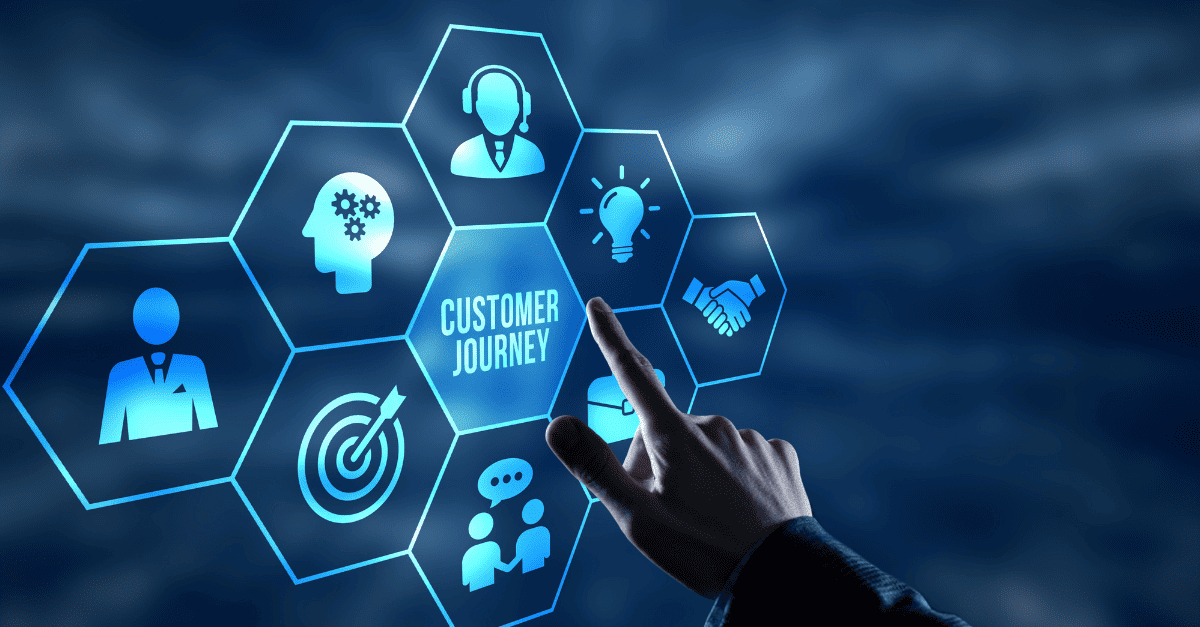 7 min
How an OMS benefits the entire customer journey
In today's highly competitive retail landscape, providing a seamless and satisfying customer journey is essential for success. One powerful tool that can significantly enhance this journey is an Order Management System (OMS), which offers a multitude of benefits for customers.
With solutions that improve product availability, enhance fulfilment and facilitate returns, an OMS enriches every stage of the customer journey, helping brands to attract more customers – and keep them.
Attract customers with an expanded product catalogue
Whether a customer starts their product search in-store, on your e-commerce platform, or through a search engine, social network or marketplace, awareness of your products relies on their visibility.
An OMS provides a complete view of the products you have available for sale, bringing together inventory at each of your stock locations to create a unified view of stock.
Buffers can be put in place to account for items that are faulty, missing or in another shopper's basket, so you can avoid overselling and disappointing customers.
The unified stock is updated in near real-time and made available to any sales channel, expanding your in-stock catalogue to include all products on hand, on order and in transit.
Now your customers have access to the most extensive product range possible, regardless of the channel they choose to shop.
Engage customers with a competitive browsing experience
Online shoppers are savvier than ever, and before they hit the buy button, they'll be comparing your products and services against those of your competitors. An OMS serves as their concierge, putting all the information they need to consider right at their fingertips.
If a customer needs a product quickly, collection pages can be filtered to show only those items that are available for express pick-up or delivery.
Surfacing stock levels and order cut-off times can create a sense of urgency with the knowledge that there are only a few items left in stock, or that a next-day delivery requires an order to be placed now.
All available fulfilment options are displayed on individual product pages with accurate delivery times and costs based on stock location, item attributes, carrier availability and more.
Now your customers know exactly what they can expect when they arrive at checkout, steered by a satisfyingly smooth shopping experience.
Convert more sales with an enhanced shopping cart
Today's shoppers have acquired a taste for fast, free and, above all, convenient deliveries, so it has become necessary for brands to offer a range of fulfilment options that meet their changing needs.
An OMS enables new and enhanced fulfilment services, including standard and express home delivery, standard and express store collection, store reservations, and delivery to a pick-up point.
The shopping cart presents all services available to a customer, along with the delivery times, costs and carbon emissions associated with each choice. Low-cost and low-emission store fulfilment can promote visits to stores, driving cross-sell and upsell opportunities.
These options are updated in real-time as cart contents change and order cut-off times pass, allowing customer expectations to be managed.
Now your customers can make a purchase with their preferred choice of fast, affordable or environmentally friendly delivery.
Deliver on customer expectations with a reliable fulfilment service
The customer's order now sits firmly in the hands of the OMS, where smart order routing ensures customer expectations can be met, reset and exceeded.
Custom orchestration rules automatically select the optimal stock location and carrier to fulfil every order, based on factors such as stock levels, stock point efficiency, carrier availability, cost to ship and distance to destination.
If multiple stock locations can fulfil an order, competitive order allocation comes into play. Each location is offered the order, but the first to claim it secures the sale, accelerating delivery times through the gamification of store operations.
Store associates can then pick, pack and ship the order in minutes using an intuitive store app that seamlessly integrates with your CRM and carriers. Automated notifications keep customers informed of their order's journey, along with any delays, to manage expectations and eliminate cancellations.
Now your customers can enjoy a fast-tracked, dependable and fully transparent delivery experience, without any surprises.
Retain customers with an impeccable end-to-end retail experience
Whenever a shopping journey starts, resumes, or ends in a store, an OMS gives store associates the omnichannel solutions they need to accompany customers through the entire experience.
A store app empowers sales teams with comprehensive product and customer data, clienteling tools and a mobile POS to improve customer service and streamline checkout.
Order management tools are configured to fit existing store processes, so online order collections and product reservations can be effortlessly managed and then enhanced with personalised cross-sell and up-sell recommendations.
When a purchase isn't quite right, customers can return their order through any channel – regardless of where it was purchased – with self-service returns online, or staff-assisted returns in-store.
Now your customers have even more reasons to choose your brand, with an experience that combines the very best features of shopping in-store and online.
Transform customers into brand advocates through continuous optimisation
Even the best experiences can get better, and an OMS is a valuable source of data that can help you improve each step of the customer journey.
A business intelligence solution brings all available data points together to create clear and actionable dashboards that measure the most important KPIs for each business department.
This information can be used to manually adapt order orchestration rules to optimise stock levels, manage location and carrier capacities, minimise split orders, improve fulfilment times and reduce order cancellations.
Brands can also use stock sell-through and return data to identify product issues and improve future collections, season by season, and year by year.
Now you have all the tools and insights you need to improve your customer experience and unlock your full omnichannel potential.
In the dynamic world of retail, where customer expectations continue to evolve, the role of an OMS cannot be overstated. It is the silent yet powerful force that underpins every successful customer journey, from initial awareness to post-purchase advocacy.
Embracing the capabilities of an OMS will ensure that your customer experience is seamless, efficient, personalised, and consistently exceeds expectations in a fiercely competitive market.
Attract, convert and retain more customers with OneStock OMS.