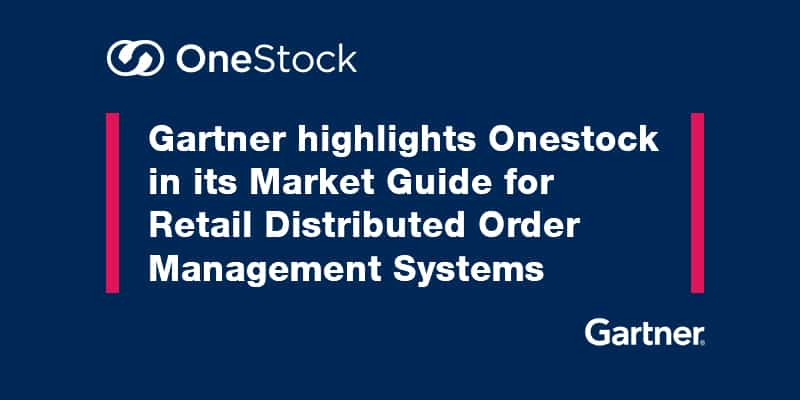 3 min
Gartner highlights OneStock in its Market Guide for Retail Distributed Order Management Systems
OMS is a strategic tool and a competitive advantage that is at the heart of retailers' concerns. Brands are showing an increasing interest in its implementation and, simultaneously, the offer of OMS solutions continues to grow.
Based on these findings, Gartner, leading company in research and consulting, has established a study of the most relevant solutions on the market to guide retailers in this tactical choice.
Market Guide for Retail Distributed OMS, the benchmark market study
Created by Gartner, the Market Guide for Retail Distributed Order Management Systems aims to help retailers optimize their supply chain by equipping themselves with order management software.
As Gartner points out, the strategic importance of OMS is based on:
Better order processing thanks to an orchestration module
The orchestration of orders, relying on stock unification, optimizes the flow of items, regardless of their location. A customizable algorithm directs orders in real time by referring to previously established rules: geographic proximity, stock levels, delivery times, etc.
A better response to customer expectations
The OMS makes it possible to offer various delivery methods corresponding to those expected by customers: express, standard, Click and Collect, at home, etc. The prices and associated deadlines are also reliable to avoid negative opinions and complaints (Delivery Promise).
Among the criteria established by Gartner to identify the most relevant OMS, there are several imperatives:
– To be regularly cited during Gartner's interactions with customers on OMS topics
– To have a portfolio of OMS customers
– To have a clear target from a market segment, company size or location point of view
– To offer real-time inventory updates
– To be able to respond to complex orchestration rules
– To offer easy integration with the application landscape already in place
OneStock listed among the world's leading OMS
OneStock's experience in supporting retailers in the deployment of their omnichannel strategy allows the solution to be listed among the world leaders of the OMS. N°1 in Europe with more than 50 customer brands, OneStock is an agile, human-centric OMS.
The solution was designed around the needs of its users and responds to the following issues:
For management: Profitability monitoring, identifying the most fashionable items, identifying the best performing stores, managing peak orders, …
In store: locating stock, identifying which references can be ordered thanks to the seller's tablet, tools to reduce the wait at the checkout, …
In the warehouse: adjusting supplies, optimizing the management of returns, identifying available references, …
As a human-centric OMS, OneStock also meets the needs of end customers:
– quick access to the products of their choice
– benefitting from a variety of delivery methods and a reliable delivery promise
– enjoying a seamless experience, both in-store and online
– knowing the environmental impact of orders
Finally, OneStock's expertise allows us to apply our know-how to all retail verticals: DIY, cultural items, fashion, sporting goods, luxury items, childcare, gardening, …