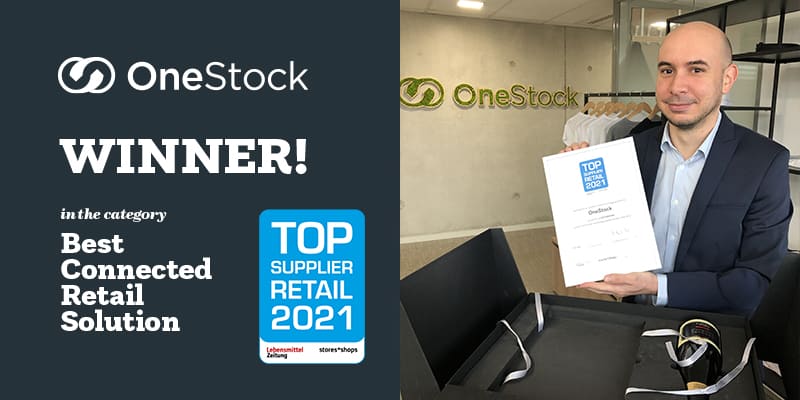 3 min
OneStock's Order Management System wins the 'Best Connected Retail Solution' award at the Reta Awards 2021
The EHI Retail Institute has honoured OneStock's Order Management System at the Reta Awards 2021. Voted 'Best Connected Retail Solution' for its results with INTERSPORT, our solution thus strengthens its status as the European leader in OMS.
EHI Retail Institute, the leading institute in Germany
EHI Retail Institute, the leading institute for retail in Germany with more than 800 members, supports discussions between retailers and technological solutions. Every year, EHI Retail Institute organises the Reta Awards, highlighting innovative brands that implement proven and reliable technological solutions.
The Reta Awards 2021 include 5 categories. Here are this year's winners:
Best Customer Experience : Küchenquelle with Island Labs GmbH and Microsoft, Breuninger with MuSe Content and 3d-berlin vr solutions, Tegut with Wanzl Group, design for human nature and Snabble
Best Instore Solution : Billa/Merkur with Bizerba, Rohan Pharmacy with SES-imagotag, Edeka Oertwig with GLORY DACH and ITAB Group
Best Enterprise Solution : E.Leclerc with Alkemics, Fressnapf with q.beyond AG, BabyOne with Qualitize
Best Connected Retail Solution : INTERSPORT with OneStock, ROSE Bikes with ROQQIO, Salling Group with commercetools
Best AI & Robotics Application : SanLucar Group with Barcotec, MediaMarktSaturn with Retresco, IKEA with Diebold Nixdorf
We are delighted with this award, which not only underlines the performance achieved by our client INTERSPORT, but also, and above all, our expansion into Germany. We are now members of the EHI Retail Institute, which will enable us to extend our know-how and expertise in this region to cover a wide range of omnichannel issues."

Romulus Grigoras – CEO, OneStock
INTERSPORT, an omnichannel success story
INTERSPORT and OneStock have been rewarded for their omnichannel collaboration. After having undertaken its digital transformation, INTERSPORT deployed OneStock's Order Management System in order to unify shop and warehouse stock. INTERSPORT has also opted for Ship from Store, a solution particularly suited to transforming franchisees' shops into mini-warehouses processing e-commerce orders. These implementations have enabled the company to considerably increase their stock depth and boost sales within the franchisee network, while simultaneously catering to their customers' purchasing intentions.
The results of this omnichannel strategy have been fast and significant:
+200% increase in web turnover in just 9 months
2/3 orders sent from shops (Ship from Store)
90% of the product catalogue available for sale vs. 50% before the implementation of unified stock
These excellent results have enabled INTERSPORT and OneStock to receive the 'Best Connected Retail Solution' award.
For more information on the winners of the Reta Awards 2021: https://www.reta-europe.com/