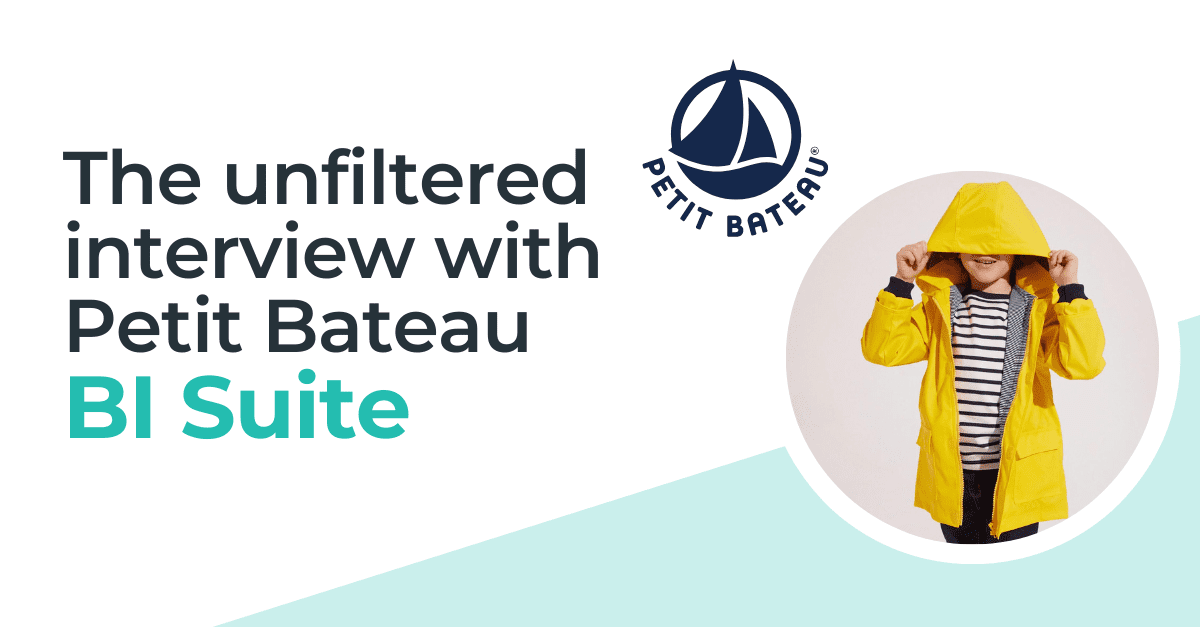 3 min
OneStock BI Suite: the unfiltered interview with Petit Bateau
We asked Sylvain Cheret, Supply Chain Director, Hafid Idoufkir, Procurement & Retail Stock Manager, and Camille Gasté, Procurement Officer, at Petit Bateau for their feedback on our brand new omnichannel order analysis tool: the BI Suite.
Read the full interview below.
Interested in the BI Suite? Request your demo now
How did you get to grips with our BI Suite?
Very well because the tool is very simple! At the beginning, as we wandered through the different reports, we found it to be quite fluid. We could easily access the information we were looking for and, above all, we could extract it easily.
We particularly liked the possibility of comparing two periods – for example, web performance over two sales periods, but also the shop contribution between the sales period and a normal one.
What benefits does the solution bring to your business?
Hafid: As a stock control manager, the BI Suite allows me to monitor orders in real time, especially problem orders such as rules over. In my team, we are also attentive to the weighting of the stores' contribution. Finally, we monitor cancellation rates and split rates very closely. The data available in the BI Suite allows us to put the stock in the right place at the right time and to readjust the orchestration rules to ensure that it is always available for online and stores.
What would you do without the BI Suite?
We would go back to our internal BI, but it would be very complicated. Using it involved a lot of extraction and analysis via Excel – it was a very time consuming process. In addition, while we were able to extract KPIs on Click and Collect and Ship from Store, we didn't have access to the qualitative aspect of the orders taken in OneStock. Today, we can no longer work without the BI Suite – when we see where we've come from compared to where we are, we've taken a big step!
Of all of your business objectives, can you name one that the BI Suite helps you achieve?
Like many brands, we are looking to sell as much of the fragmented stock in our network as possible at full price. The BI Suite helps us to understand our business better and to get an extra 5% off-take on key products, to reach almost 100% off-take at full price on the most popular products. Overall, OneStock allows us to reduce our residual stock by more than 20% at the end of each season.
What indicators do you monitor as a priority?
We are very vigilant about splits because they generate additional shipping costs for our brand. The BI Suite allows us to optimise them: by limiting splits, we can better manage the clearance of stock in order to record additional turnover and margin while keeping the order preparation activity digestible for the stores.