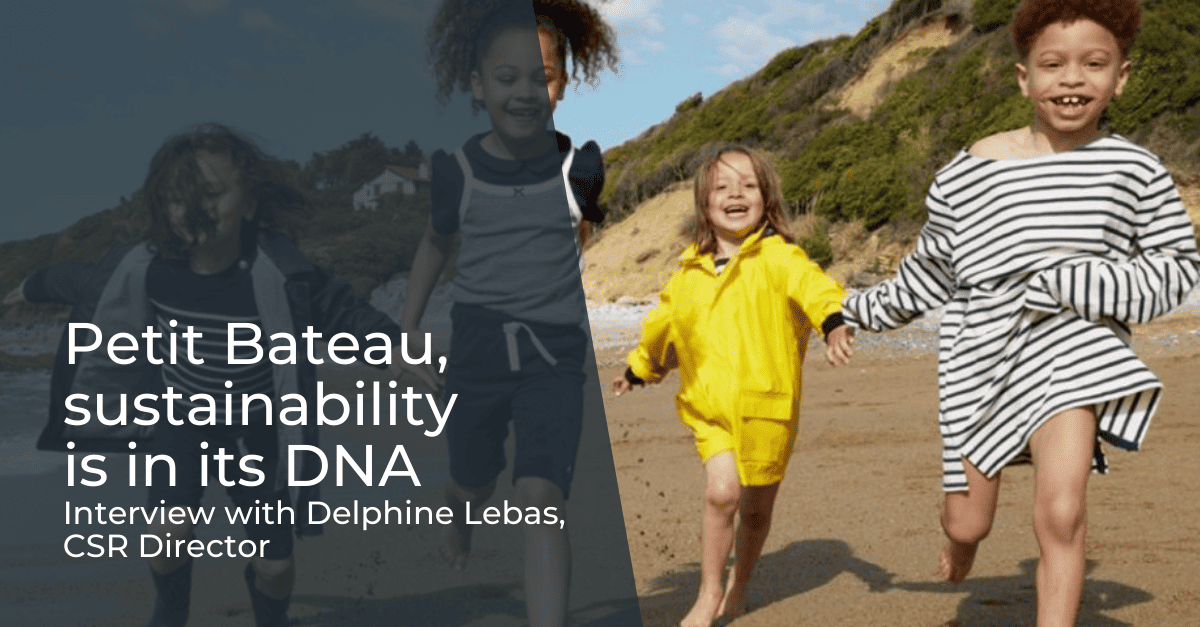 2 min
Petit Bateau: sustainability is in our DNA, says CSR Director Delphine Lebas
Petit Bateau is Rocher Group's only textile brand. At the instigation of Bris Rocher, Groupe Rocher became the first international group in 2019 to adopt the Mission Statement Company status, establishing an action plan for the growth and transformation of its business.
With 130 years of history and know-how, the brand now has a turnover of €300 million and a network of more than 300 directly operated stores in some 50 countries. Petit Bateau is one of the largest French textile companies thanks to its dual role as a distributor of products through its various sales channels and as a manufacturer thanks to its historic factory and logistics platform in Troyes, France.
Sustainability, a love story between Petit Bateau and its customers
CSR (Corporate Social Responsibility) is at the heart of Petit Bateau. The brand is based on values of sustainability and, over time, has demonstrated its loyalty to quality.
And it is the brand's customers who say so: "Petit Bateau clothes are passed on from generation to generation", "on average a Petit Bateau item has 5 lives". Attentive to this customer feedback, the brand is a forerunner on the subject and launched, as early as 2017, a customer-to-customer used goods application.
In early 2021, Petit Bateau repositioned itself to be even more in line with its vision. The brand slogan evolved to become "freedom, quality, sustainability" and the company's mission statement is clear: "Connecting children to nature".
4 key principles reinforce the brand's DNA and provide the guidelines for the years to come:
– A circular economy, via the development of new business models
– Sustainable development, through eco-design, product life-cycle analysis, traceability etc
– Social issues, via the training school integrated into the Troyes factory, via supplier audits, etc.
– The mission to connect children to nature
To take another step forward, Petit Bateau wishes to become a B Corp certified member by 2025.
Petit Bateau: transforming its business models, combining sustainability and circularity
One of the challenges for Petit Bateau was to 'close the circle'. For this reason, the brand chose to implement different business models: used goods, rental services, recycling and repair.
"In the future, Petit Bateau customers will have access to new, used & rental items, depending on their budget and their concern for environmental issues "
Delphine Lebas, CSR Director, Petit Bateau
Read the full interview in our special circular economy white paper