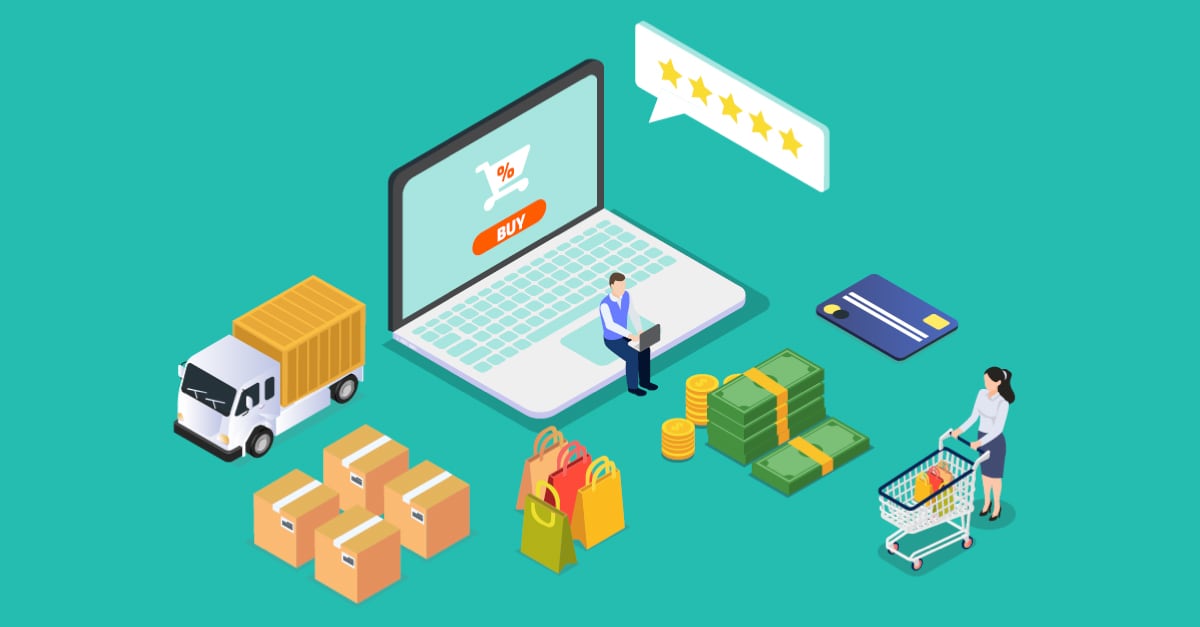 5 min
New challenges in order management: meeting expectations with the OMS
Ordering anytime, from anywhere, and on any device, while enjoying multiple delivery options: this is the e-commerce experience expected by today's consumers. Given the diversity of sales channels and customer touchpoints, managing orders, inventory and shipments is more challenging than ever for retailers.
Here, the Order Management System (OMS) has emerged as an indispensable solution to address these new challenges. With real-time inventory visibility, intelligent order orchestration and omnichannel service enablement, this type of tool combines operational efficiency and customer satisfaction. Let's delve into the details.
New challenges in order management
Across all product and service sectors, e-commerce websites recorded 2.3 billion transactions in 2022, with 49% of all transactions processed through smartphones. Retailers must therefore manage both the growth in order volume and new consumption habits.
Proliferation of sales channels
The proliferation of sales channels and customer touchpoints has led to significant operational complexity, forcing retailers to rethink their order management strategies. Online stores, physical shops, mobile applications – this diversity of channels demands seamless synchronisation of stock and order information while providing a consistent customer experience in every interaction. Additionally, retailers must coordinate with multiple suppliers, warehouses and carriers.
Complex delivery promises
Today's consumers expect a variety of delivery options, including standard, express, home delivery, pickup points, Click and Collect, and more. For merchants, meeting delivery promises while maintaining profitability is a major challenge. In fact, 45% of online shoppers abandon their orders if delivery times are too long, while 62% will abandon their order if delivery costs are too high.
Optimal shipment management, flexible delivery options and accurate delivery timelines are essential requirements to satisfy customers and remain competitive.
Increasingly demanding customers
Modern consumers desire a frictionless shopping experience where transparency, speed and personalisation are paramount. They want real-time information on product availability, order statuses and estimated delivery times. Furthermore, service personalisation, such as the ability to modify orders and delivery preferences post-purchase, has become a standard expectation. Meeting these demands requires agile and responsive order management capable of continuously adapting to changing consumer needs.
Consequences of poor order management
Ineffective order management can have devastating repercussions on customer satisfaction and loyalty, directly impacting a retailer's profitability. Order errors, delivery delays and failure to meet customer expectations can erode trust and tarnish a brand's reputation. It's worth noting the critical importance of reviews: 93% of consumers read online reviews before making a purchase and 94% have avoided a company due to negative reviews.
OMS: An ideal order management solution
Real-time stock visibility
An OMS gives retailers a 360-degree, real-time view of stock, order statuses and shipment tracking. With this type of solution, all stock information from various sales channels (e-commerce site, physical stores, warehouses, etc.) is centralised.
This real-time stock unification provides decision-makers with precise and up-to-date data to guide their strategies. Whether it's adjusting stock levels, allocating resources, optimising delivery times, or personalising offers, the information provided by OMS is essential. It also optimises inventory management, reduces stockouts and limits overstock, contributing to better cost management and increased profitability.
Furthermore, this real-time visibility is also a guarantee of customer satisfaction. An OMS allows shoppers to be fully informed about product availability, order statuses and delivery times.
An effective tool for managing demand fluctuations & stock variations
An OMS enables retailers to adjust their stock levels in real-time and respond to emerging trends and demand variations, especially during holiday seasons. This flexibility is crucial for maintaining an optimal balance between supply and demand and avoiding stockouts or overstock situations.
OneStock OMS goes even further by offering the possibility to leverage future stock. This expands the range of products available for sale by including stock being replenished, in transit, or available for order directly from a supplier.
A solution to meet customer expectations
An OMS offers unparalleled flexibility to retailers, allowing them to align precisely with customer needs. Whether it's offering diverse delivery options, adjusting promotional offers, or personalising services, an OMS enables businesses to adjust their strategies based on customer feedback and behaviour, optimise shopping journeys and offer customised solutions.
An optimised order & delivery process
With an OMS, customers benefit from a smooth shopping experience with clear and precise information about products, stock and delivery times, and more flexible fulfilment options, including express home delivery, same-day delivery, and Click and Collect. Automated and optimised processes reduce errors and delays (especially through intelligent order orchestration), ensuring the 'delivery promise' is upheld and contributing to a positive customer experience.
Conclusion
The Order Management System (OMS) is more than just an order processing tool. It is a strategic partner for retail brands, allowing them to address the challenges of today's commerce, continually improve the customer experience and remain competitive in an increasingly demanding market. The OMS also plays a valuable role in returns management and performance analysis.
Finally, integrating this type of solution with other systems and platforms delivers major advantages, enabling optimal synchronisation between different departments and sales channels, for a holistic view of overall business performance.
Feel free to contact the OneStock team to learn more about our OMS.