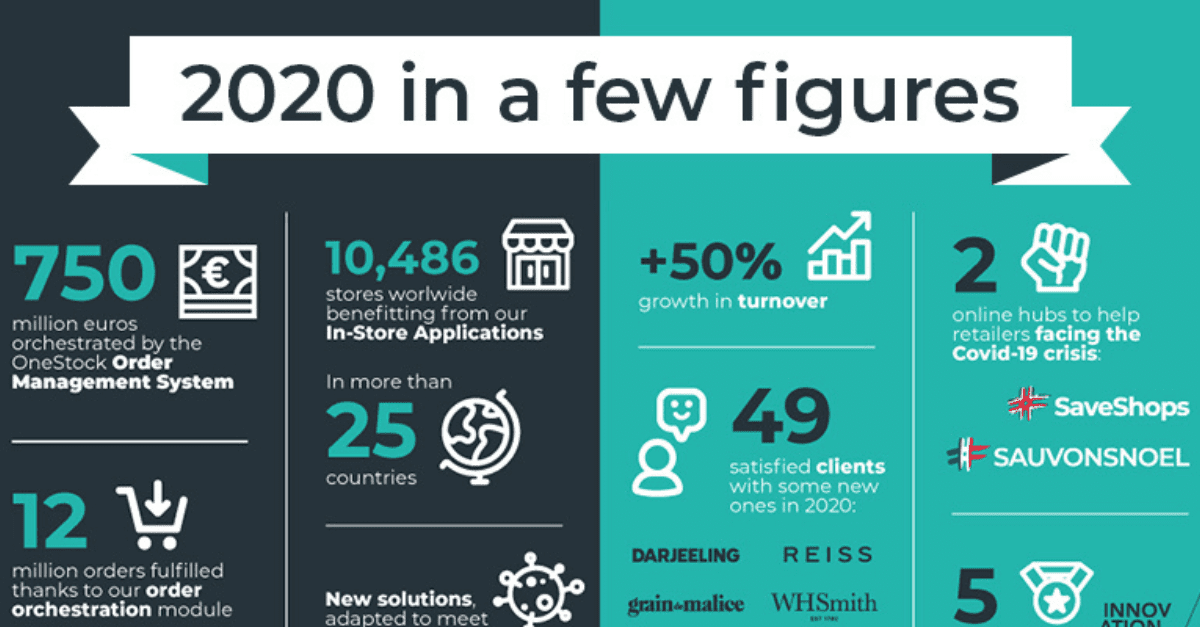 3 min
2020: Facing new retail challenges with OneStock OMS
2020 and the COVID-19 crisis have highlighted the relevance of Order Management Systems and their associated omnichannel solutions (Ship from Store, Click and Collect, Order in Store, Assisted Remote Shopping, etc.).
OneStock has established itself as the European leader of the Order Management System. Human-Centric, our OMS focuses on the needs of the users (at headquarters, in stores, in warehouses) and of their end buyers (visibility of stock, delivery options, delivery times, etc.).
In this particularly challenging year for the retail sector, OneStock has stepped up its investments in R&D and quickly rolled out new omnichannel solutions to respond to retailers' emergencies (Contactless Drive, Assisted Remote Shopping, In-Store Appointment, Express Click and Collect, Dark Store Fulfilment, etc.).
OneStock's Order Management System: a strategic tool for retailers
In 2020, OneStock received 5 new recognitions in its markets: Winner of the Retail Tech for Merchandise category at the Retail Project Awards 2020, Omnichannel Solution of the Year at the Retail Systems Awards 2020, Jury choice at the Retail Insider Transforming Retail Awards 2020, Jury's Choice at the LVMH Innovation Award and selected in the French Web Top 500.
Beyond the business aspect, OneStock has strengthened its commitment to retailers and helped them get through this unprecedented crisis. This has been accomplished through the #SauvonsNoel and #SaveShops initiatives, which aimed to encourage consumers to buy locally and thus help maintain jobs in the retail sector. More than 160 brands have joined these 2 movements, proof of the need for solidarity between retail players during this period.
Finally, OneStock has strengthened its expertise in the premium-luxury vertical (LVMH Group, ba&sh, Ted Baker) and made a sensational entry into the DIY sector with a collaboration with the European leader ManoMano.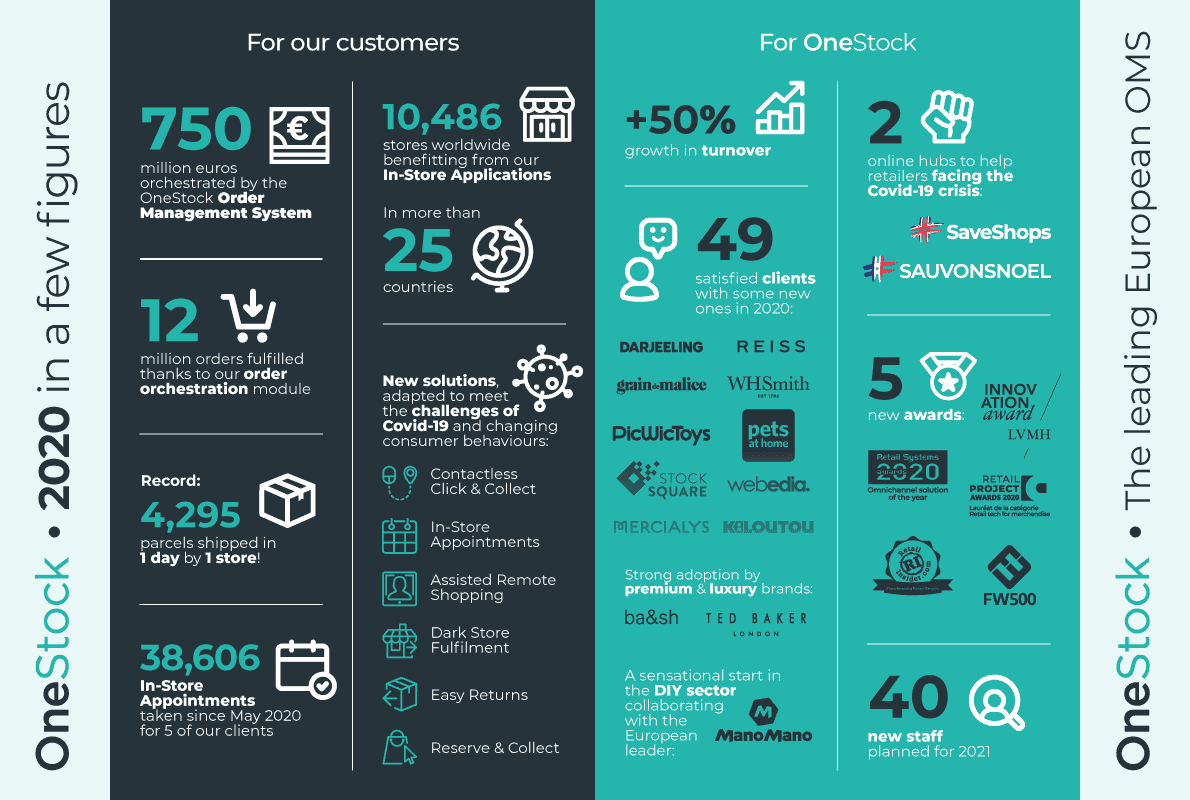 OneStock's results in a few figures:
A 50% growth in turnover
49 clients with some new ones in 2020 including ba&sh, Chantelle, Grain de Malice, ManoMano, Pets at Home, PicWicToys, Stocksquare, Webedia, WH Smith
10,486 physical benefitting from OneStock In-Store applications
In more than 25 countries
€ 750M directly generated thanks to our OMS
12M orders processed
A record of 4,295 packages shipped in a single day by a single store!
Our teams have been able to deal with unprecedented situations due to the health crisis. We reacted quickly and adapted our offer to help retailers maintain their activity despite the context. Beyond the issues linked to inventory management, we have also supported them in the deployment of omnichannel solutions to reconnect with their customers. I warmly thank the retailers for the confidence they have placed in OneStock this year, we will obviously be by their side in 2021 to help them perform!

Romulus Grigoras – CEO, OneStock