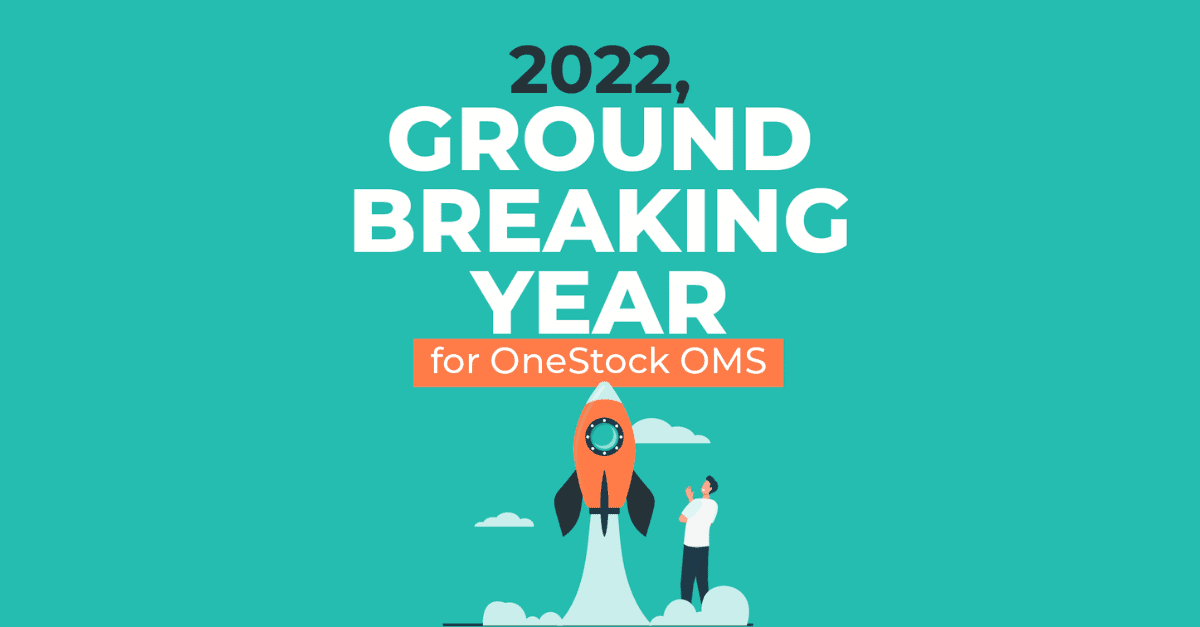 3 min
2022: A groundbreaking year for OneStock OMS
Before we begin, we'd like to wish you a wonderful 2023 full of success, both personal and professional. Although we are a future-focused business, we're proud to share our major achievements of 2022, which has been a groundbreaking year for OneStock OMS.
In 2022, new brands went live on OneStock OMS
This year was one of growth for OneStock. We have both retained our existing customers and brought our expertise to new retailers looking to move from multi-channel to omnichannel. We have strengthened our product with sector-specific solutions, so that all businesses can rely on our technology and guidance. New brands went live on OneStock OMS in 2022:
Beauty: Marionnaud, Yves Rocher Russia, The Perfume Shop
Footwear: Mellow Yellow
Kids & Baby: Petit bateau, IDKIDS (Okaïdi, Obaïbi, Oxybul)
Fashion: AWWG: Pepe Jeans, Hackett London
Premium & Luxury: Figaret, ba&sh
Jewellery & Watches: Synalia, Montres and Co, Julien D'orcel, Guilde des orfèvres
… with even more to be announced soon, including new projects in the B2B & Industry sector.
In 2022, we expanded our international presence
We're a large, global team of technology experts with more than 100 OneStockers now on board. Hello Joe in the UK, Ciao Davide in Italy, Guten Tag Ronny in Germany, and Hei Claudia in Finland!
The presence of our omnichannel experts throughout Europe has enabled us to support our customers' international growth, and even open new offices abroad. (Why not come and meet us in Milan?)

In 2022, we made extensive product improvements
At OneStock, we take great pride in the quality of technology and level of expertise we can offer our customers. We invest heavily in R&D to provide the most robust, high performance and reliable platform possible, with ongoing analysis of the ever-changing retail industry. We are committed to supporting retailers through all the challenges they face.
One of the challenges of 2022, for example, was to balance business objectives to achieve sales targets with moves towards a circular economy. OneStock is the first OMS to have taken a position on the subject and has established itself as the omnichannel partner for retailers wishing to implement more ethical business models, including second-hand and rental initiatives.
However, our commitment to better business goes much further. In 2022, we have launched a Research & Training Chair dedicated to responsible commerce with scientific input from the CNRS and Toulouse INP-ENSEEIHT training centre. The Chair will address issues concerning omnichannel commerce and help our customers move towards business practices that are both environmentally-friendly and profitable.

In 2022, OneStock OMS broke new records
Last but not least, our OMS has further helped omnichannel brands to move inventory, improve margins, serve their customers and perform.
The results speak for themselves:
We are more than ready for 2023. At the end of January, OneStock will announce a major new feature that will revolutionise the use of our OMS, the understanding of your ROI, and the daily life of your different business departments. Stay tuned!