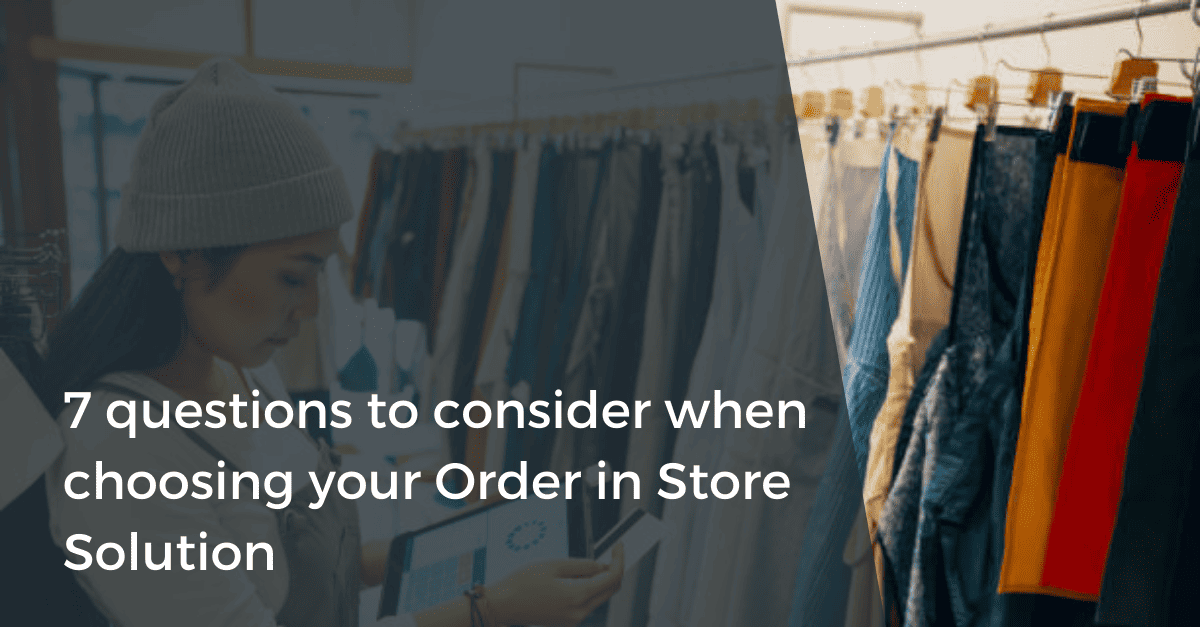 5 min
7 questions to consider when choosing your Order in Store Solution
As e-commerce grows and consumer habits shift, retailers need to rethink how they shape their in-store customer experience. Retailers are finding more and more ways to do this, from offering a wide range of Delivery options (Express Delivery, Click & Collect, Reserve & Collect…) to offering new in-store services like In-store Appointments or Order in Store. When it comes to this last service, many retailers are looking into this solution that allows store associates to take orders for items that are not in stock in their store directly from a mobile or tablet thanks to a retail mobile app, with the items then being delivered directly to the customer's home or to the store for pick up.
If you're looking to implement this solution, here are some questions to consider when choosing your Order in Store provider.
dddddddd
1. Can the solution easily connect to our existing technologies?
dddddddddddd
When implementing Order in Store, you want the new solution to easily connect to all your existing software and IT system to avoid any big upheavals. We suggest you ensure the solution uses APIs, which will allow the solution to easily 'communicate' with your legacy IT system.
Another great option is to look to a provider that already has integration in place with your existing technical solutions. At OneStock for example, we are already integrated with Salesforce, Magento, Hybris, Paypal, Mirakl, Ginkoia, UPS, DHL, Stuart, Microsoft Dynamics, Aptos, Retail Assist, Logys, Adyen, HiPay and many more!
dddddddddd
2. How long is the Implementation process?
dddddddddd
You also likely have a project roadmap and, as such, know when you'd like to have a solution in place. When it comes to implementation speed, not all solutions are made equal and if efficiency and speed are important for you, make sure you know how quickly the solution can be implemented. When working with famous British luxury retailer Jigsaw, OneStock was able to implement one of its many solutions in just 11 weeks.
dddddd
3. Can the solution connect to our warehouses AND our store network?
ddddddd
Implementing Order in Store efficiently requires the solution to be able to connect not only to your warehouse stock but also to the stock available in your store network. If a shopper is looking for a specific item and that item happens to be in another store just 15 minutes away, it would not be cost-effective or environmentally friendly to have the item shipped from a warehouse that is potentially hours away. As such, having a solution that can connect to all stock points and provide a unified view of stock is key to an optimised ROI.
dddddddd
4. Can the solution process payments?
ddddddd
In order to simplify the ordering process, the solution should be able to process payments on the spot. This can be a great tool for busy periods of the year as it can prove to be an ideal queue-busting system. As you will likely have heavy footfall in-stores over the sales and holidays season, chances are your stock levels will vary greatly from store to store so being able to send out store associates to take orders on the shop floor can be a real advantage.
ddddddddd
5. Can the solution show an accurate Delivery Promise?
ddddddddd
Your store associates need to be able to tell the shopper precisely when the item they are ordering will arrive. It is no longer good enough to give 'within 7 working days' type approximates. Retailers across many industries are stepping up their delivery game and providing an accurate and reliable Delivery Promise is key to customer satisfaction.
dddddddddd
6. How can store staff be incentivised to exploit this solution to its full potential?
ddddddddd
Store associates already have a lot on their plate and are asked to complete more tasks now than ever, with new solutions like Ship From Store and In-store Appointments being deployed. As such, it is imperative that each store associate knows how this new tool will help them meet their targets. Do Order in Store orders count entirely towards the store's revenue targets? Is there a 50/50 split between the store that placed the order and the stock point that fulfilled? These elements must be determined before you start training your employees.
dddddddd
7. Can the solution be linked to our existing customer database?
ddddddd
Connecting to your existing customer database when placing an order via a retail mobile app will allow you to collect more information about the customer's shopping habits. This will also help store associates to advise the customers, namely when it comes to sizing and items that could go well with their wardrobe. This could be a great cross-selling opportunity and will help better your In-Store Experience.
So, Order in Store is a great way to boost customer experience and turnover but you must be sure to choose a solution that ticks all the right boxes. 
dddddd
More questions about Order in Store? Get in touch with our Omnichannel experts now!