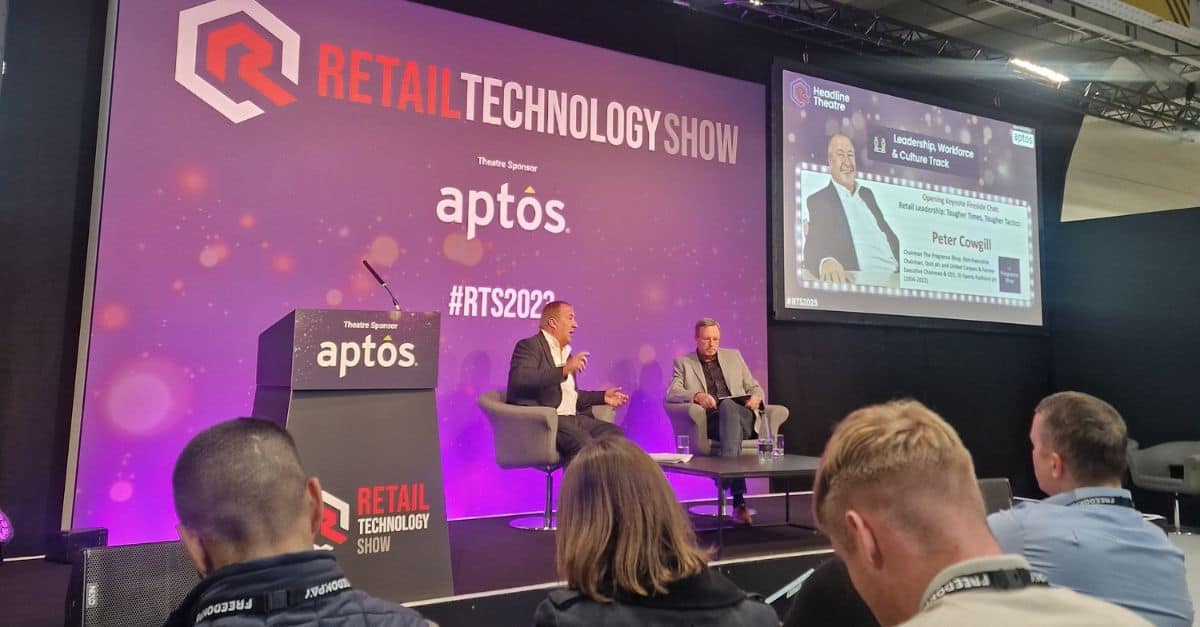 6 min
Retail Technology Show: Brands need agility to innovate & fail forward
"High performance is about getting through the hard times," says Jake Humphrey, host of The High-Performance Podcast. "And if you're in retail … it's never been tougher than it is at the moment." Humphrey was speaking at Retail Technology Show 2023 in London, as some of the world's most forward-thinking retailers and leading tech innovators came together to discuss the latest challenges and trends in the industry.
Leadership, culture, customer obsession and innovation were the key themes of day one – here's what we learnt:
Tough times require tougher tactics
Peter Cowgill is used to leading during a crisis. When he joined JD Sports in 2004, the company was in financial distress. Under his leadership, it grew exponentially, from operating only in the UK to having stores in 27 territories. He also guided it through the Global Financial Crisis and COVID-19, so he's confident retailers can weather the current cost-of-living crisis.
"If you are the best in your particular marketplace … you're differentiated, you've got the consumer proposition and the economic metrics," says Cowgill, "then you will win despite the environment."
But today's consumers have so much choice that leading brands can't afford to rest on their laurels. To drive continued customer engagement, brands must continually innovate. At JD Sports, bringing technology in-store enabled colleagues to deliver superior speed of service, accelerating product retrieval from stock rooms and busting queues with mobile POS. At head office, smart data analysis provided a stronger understanding of customers, leading brand partnerships and product selection.
Cowgill was appointed Chairman of The Fragrance Shop last November, and while the move from apparel to fragrances could be seen as a leap, TFS and JD are alike in operating multi-brand environments with a focus on securing distribution for global brands. Again, Cowgill points to innovation as the key to success.
To differentiate within a competitive sector, The Fragrance Shop has launched TFS Live (live shopping led by fragrance experts), Scent Addict (a monthly subscription of perfume samples) and Fragrancematch (an AI powered quiz to help customers find their perfect scent) – all with the goal of becoming a global force alongside the brands they sell.
Failure is the price of ambition
The need to innovate – and fast – was a common theme across the conference.
"There are always quick wins to be had," said Ajay Nassa, CEO at Virgin Megastore Saudi Arabia. Every new investment – big or small – should add value to the business, whether it's improving sales, profitability or the customer experience.
"Improve little and often." Furniture Village has adopted agile methodology to allow it to quickly identify and prioritise business needs, develop and deploy a minimum viable product, and test and learn. "Perfection should not stand in the way of good," says Mike Broughton, Business Development & IT Director.
Jake Humphrey also touched on the topic of perfection: "it stops us daring to do stuff because we won't be perfect at it." Quoting podcast guest and former Vice-President of Global Brand Creative & Marketing Innovation at Nike, Greg Hoffman, he added, "failure is the price of ambition." To perform at the highest level, retail leaders need to exist in a space where they're failing often – but failing forward and learning as they go.
Inspired by another podcast guest, Susie Ma, founder of Tropic Skincare, Humphrey encouraged retail leaders to shift their mindset from trying to hit arbitrary metrics year on year, instead finding an 'infinite purpose' where they are always trying to improve – as a leader and as a business.
Balancing carbon & cost savings
The main area the industry knows it needs to improve on is sustainability. Eighty-five UK retailers have now adopted the British Retail Consortium's Climate Action Roadmap, a framework to guide the industry to net zero.
Andrew Opie, Director of Food & Sustainability at BRC, says the roadmap is essential to the industry's survival, as financial institutions and investors increasingly demand the companies they invest in take clear action to reduce their environmental impact, while the government enforces steeper fines for violating its Green Claims Code.
When asked which technologies could best assist retailers in being more sustainable, Opie pointed to operations as the sweet spot for achieving cost savings and carbon reductions. By optimising logistics, retailers can significantly reduce the shipping costs and emissions of stock transfers, deliveries and returns.
Building a more sustainable business also requires waste reduction. Predictive inventory management can help to prevent overstocks and optimise sell-through, but the major issue for retailers – particularly fashion brands – is returns.
Shoppers have become accustomed to the free and fast return of online purchases and this now requires intervention by retailers. Many are already using analytics to curb the behaviour of serial returners and to identify product issues, while AI is improving product and sizing recommendations to help consumers make better choices to begin with.
Loyalty, loyalty, loyalty
Building deeper customer relationships through personalisation and incentives was another key theme on day one. Ajay Nassa declared loyalty to be the global priority for Virgin Megastore in 2023, and Chris Conway, E-commerce Director at Co-op, highlighted the grocer's new Member Prices as a key step in revolutionising its customer experience.
But loyalty programmes alone can't guarantee customer retention. To truly engage customers, Constanze Freienstein, former CEO of Lands' End Europe, insists that retailers need to demonstrate that they're listening to their customers and responding accordingly.
Bloom & Wild uses its data to instantly identify patterns in engagement, sales and customer feedback. In doing so, the brand noticed that two of its bouquets had received several complaints regarding quality. The brand took immediate action, sending replacements to every customer who had ordered one – even those who hadn't complained. Mairead Masterson, Director of Business Intelligence & Analytics, believes that gestures like this show customers they are valued, and consequently improves their life-time value.
Empowering retail staff – whether at head office or in-store – with the information and tools they need to improve engagement can help them turn customers into brand advocates. But they first need to believe in the tools they've been given.
Mike Broughton at Furniture Village leaves no stone unturned to drive adoption, talking to everyone in the business to ensure they understand the use cases, and to get feedback and ideas – especially from the company's very best salespeople. "Let's find out what magic they've got, and let's develop it and put it into the release," he says. "Then everyone can be the best salesperson in the world."