Optimise operations with OneStock's powerful OMS business intelligence
Increase profitability with a data-driven OMS that traces activities across every department, from the moment an order is placed through to final delivery.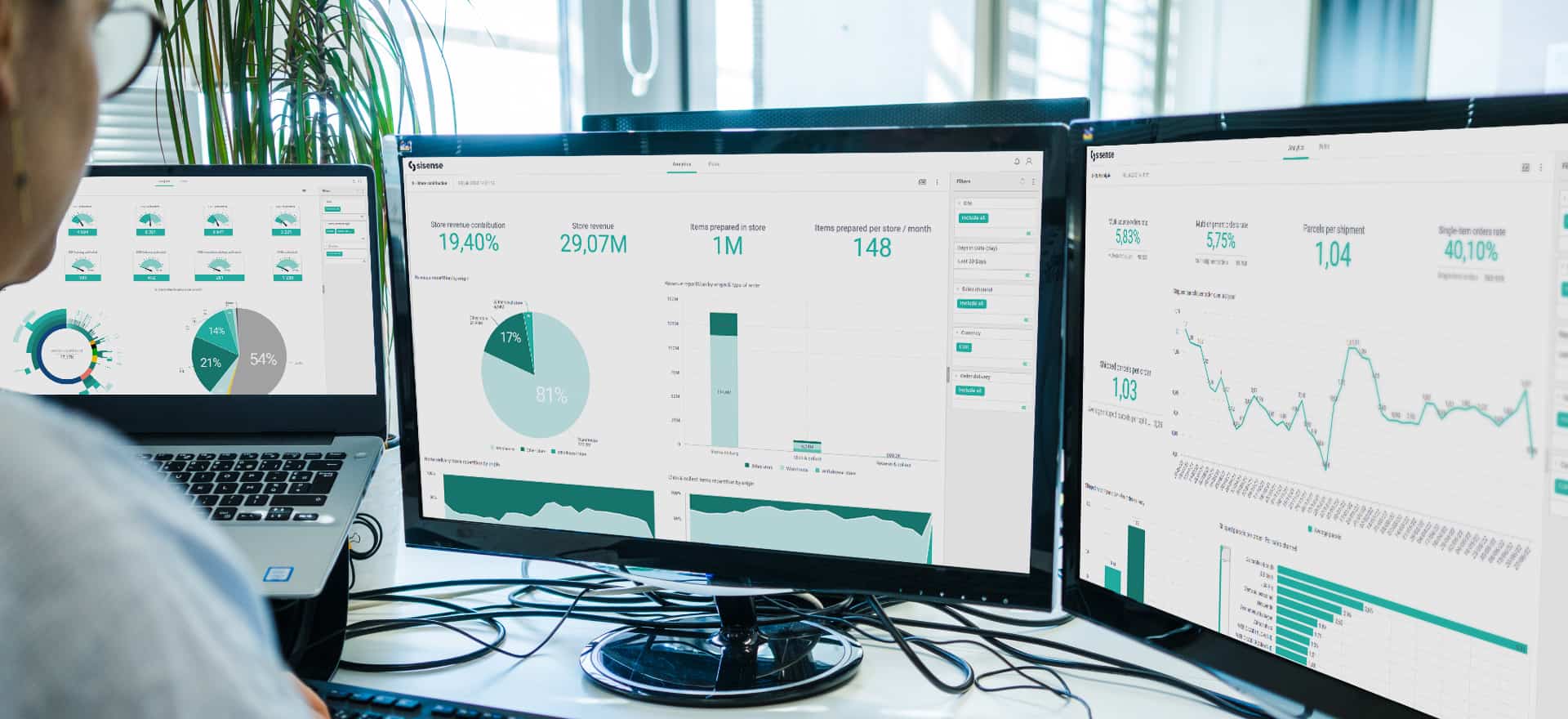 Maximise your omnichannel ROI with the OneStock Business Intelligence (BI) Suite
Optimise you operational and logistical costs
Optimise customer satisfaction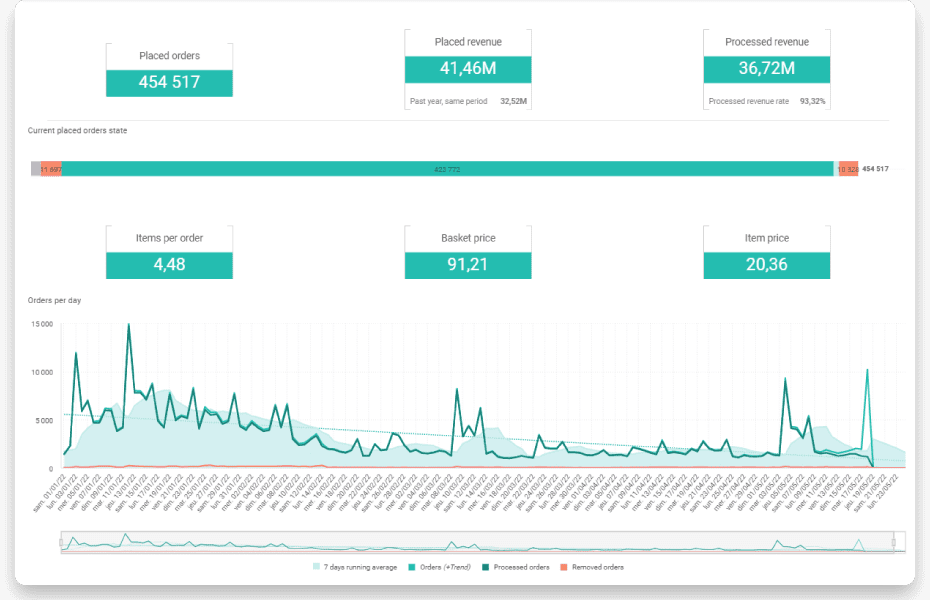 OMS business intelligence
Some practical examples
Here are some indicators you can track with OneStock's BI Suite:
Reduce the order cancellation rate
View the cancellation rates.
Track the loss of revenue by type of cancellation.
Monitor the reason for cancellation.
Reduce the number of split order shipments
Track the number of packages per order.
Sort by sales channel, order type or order amount.
Optimise order picking processes
Track the order picking time, by stage.
View the ratio of items prepared v claimed.
Sort by item, shop, region etc.
Instantly create operational business dashboards
View information in real-time
As a retail expert, OneStock understands your issues and has developed a comprehensive suite of relevant metrics that will help you optimise your omnichannel transformation.
Add new customised reports
Our solution's simplicity allows you to easily add your own customised reports without coding, in order to optimise key indicator monitoring.
Monitor a wide range of business KPIs
All indicators can be monitored. For example, you can track the evolution of time spent on each order preparation step per store/country/order type, the reasons for order cancellations, the differences between estimated and actual delivery times etc.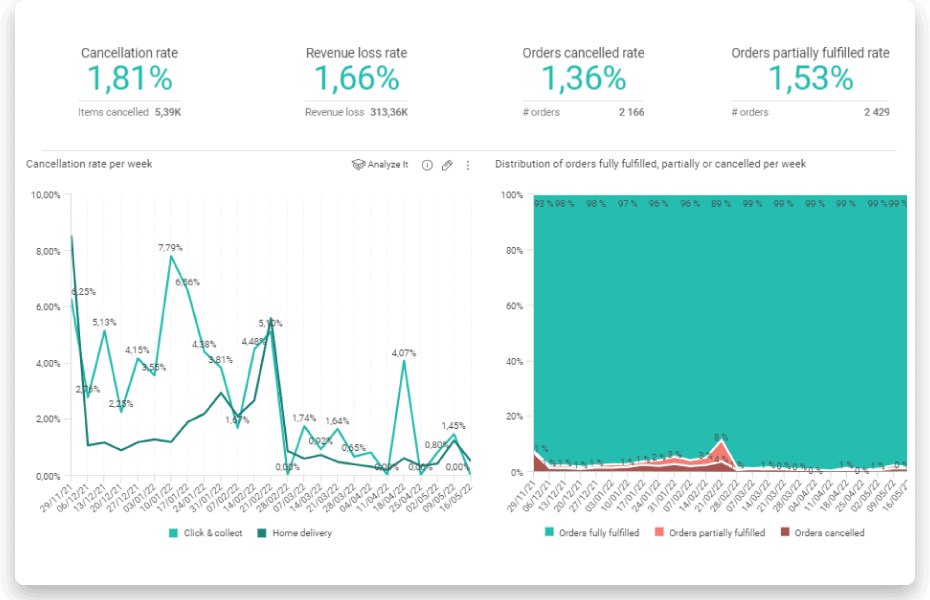 The insight you need
Understand the current situation
Analyse trends, sources of customer dissatisfaction, poorly followed or poorly defined business processes, areas for improvement, and the most effective shops and/or carriers and/or products with OneStock's BI Suite dashboards.
Receive regular notifications
Receive automatic alerts when the system detects abnormal results when compared to the average.
Optimise your business for the future
Monitor the indicators over time and make changes in your organisation and/or internal processes at the same time. Analyse the impact of these changes by monitoring your KPIs.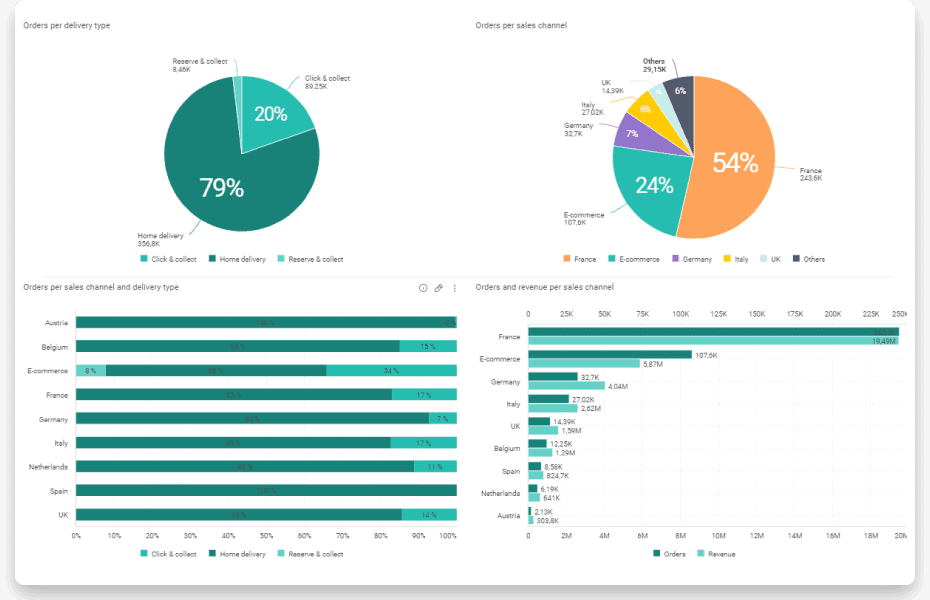 This retailer had a great store contribution, over 3 items per basket on average and a very good cancellation rate (<2%). The OMS was already very well configured but we still identified a way, by changing some parameters, to increase the number of orders that are shipped in a single package by 2%.
The full range of OMS data at your disposal
Every bit of data at your fingertips
The OMS tracks everything that happens. With OneStock you can be sure that you have access to all this data – either by exporting it or by receiving reports directly to your mailbox.
Aggregated data
View aggregated values of the data at your disposal, allowing you to track sums, averages, numbers of occurrences – showing trends and KPIs, not just values.
The SiSense BI
Our solution is based on SiSense technology and all its options including easy filtering and sorting, access to further analysis of certain data at any time.