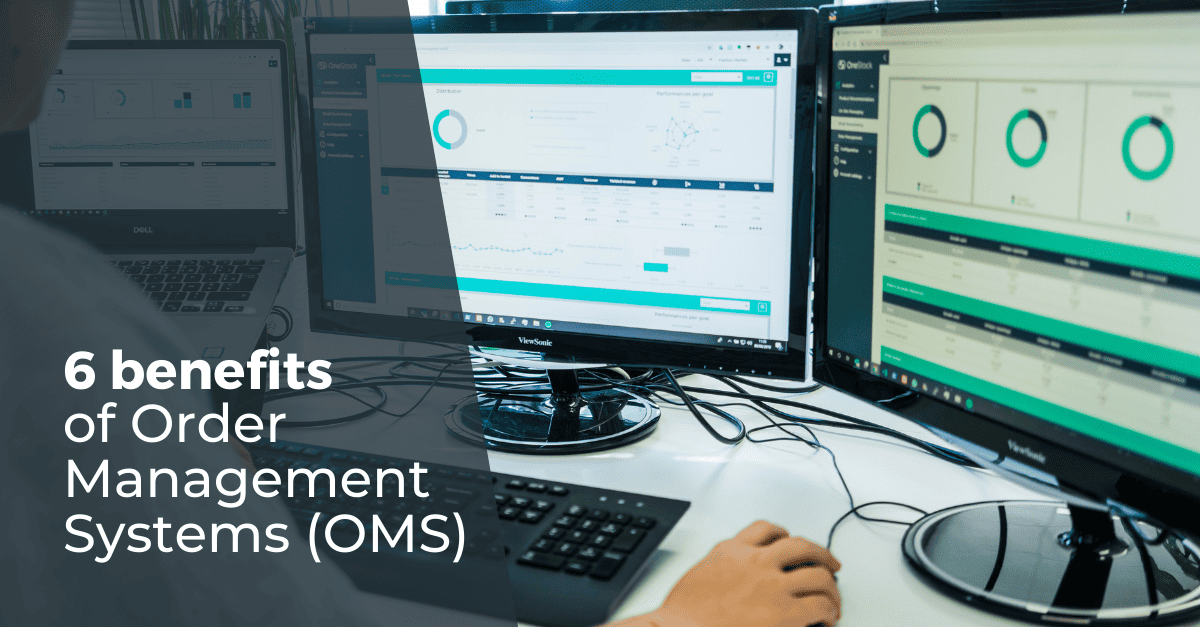 4 min
6 benefits of Order Management Systems (OMS)
Between the pandemic and the e-commerce boom, the retail world is undergoing a real revolution! Consumers' expectations have changed, they want transparency throughout the customer journey, from ordering to receiving the product. You, as retailers, must therefore adapt quickly to satisfy these new needs while maintaining the profitability of your business model. An Order Management System (OMS) will help you face these challenges head-on.
As the European leader in OMS, we would like to share 6 reasons why you should implement this system!
The Order Management System (OMS) adds value to your supply chain
By synchronising your products, orders and future stock, the Order Management System allows you to display reliable information to your customers.
As a result, the OMS strengthens your business relationship and makes it agile and highly personalised. Your storage costs are also reduced: since the supply chain automatically adjusts to omnichannel orders and needs, there is no need to immobilise stock.
Even if the added value is more obvious on the customer end, by guaranteeing better reactivity OMS technology also takes into account supplier and carrier constraints. Your entire supply chain is thus enhanced.
The Order Management System (OMS) processes all orders automatically
The majority of orders are placed after 10 pm. At this time, your teams are on-hand to process them. With an Order Management System, you can set up specific orchestration rules for these non-working hours and/or Sundays, for example. This way, web orders can be automatically allocated to warehouses, payments can be processed, labels can be printed and confirmation emails can be sent. Order processing speed is significantly increased and your stock inventories are updated in real-time.
The Order Management System (OMS) supports your company's growth
Increased competition in the retail market means that you need to choose tools that can constantly adapt to the growth of your company. The Order Management System is an agile and flexible tool that will accompany your growth – and it's not just for large groups!
Small and medium-sized companies also benefit from this solution, as it optimises existing channels, generates additional revenues and offers new omnichannel services in line with the ever-increasing demands of customers. It also optimises logistics costs.
The Order Management System (OMS) contributes to reducing your costs
The OMS improves your profitability and helps to reduce your costs by :
1. Reducing the cost of human error. Thanks to an OMS, you have a company-wide real-time view of your stock. Inventory is taken instantly across all your platforms. The customer can therefore be sure that the product of their choice is available, and the processing of their order is significantly faster, especially when it is taken in-store (Order in Store).
2. Reducing transport costs. Although the customer has a choice of shipping methods, it is possible, thanks to Delivery Promise, to highlight in-store pick-up methods on the product page. This way, if one of your shops has the necessary stock to satisfy the order, costs are reduced for both the customer and the company.
The same goes for returns costs, by accepting web returns in-store, you reduce their cost to you.
The Order Management System (OMS) increases customer satisfaction
In the age of e-commerce, social networking and e-reputation, the impact of negative customer reviews is unprecedented. In such a competitive environment, it is therefore essential to attract and engage customers. The buying process must be anticipated and designed with the utmost care, as your customers are just as demanding on the quality of the products ordered as on the buying process itself. With an Order Management System and its associated omnichannel solutions, you can improve the customer experience throughout the process:
Displaying reliable stock information through stock unification
By transforming your local stores into Ship from Store warehouses to shorten delivery times and reduce transportation costs
Simplifying your self-service returns processes and options (web-based, in-store…)
The Order Management System (OMS) operates in an omnichannel environment
By choosing an Order Management System, you can offer a unified shopping experience to your customers, both online and in-store. Providing distinctive sales channels is now a key area of development to meet and reach your customers, wherever they are! In practice, many retailers have websites, are actively present on social networks and marketplaces. These are all possibilities for brands to promote their products!
An Order Management System allows you to manage all the stock across these different channels. Regardless of the sales channel used, it is important to remember that your buyers want to be offered several  delivery methods: in-store (Click & Collect), at collection points or at home
With all the benefits of Order Management Systems, one wonders how some retailers can still do without one! Would you like to know more? Do not hesitate to contact us!