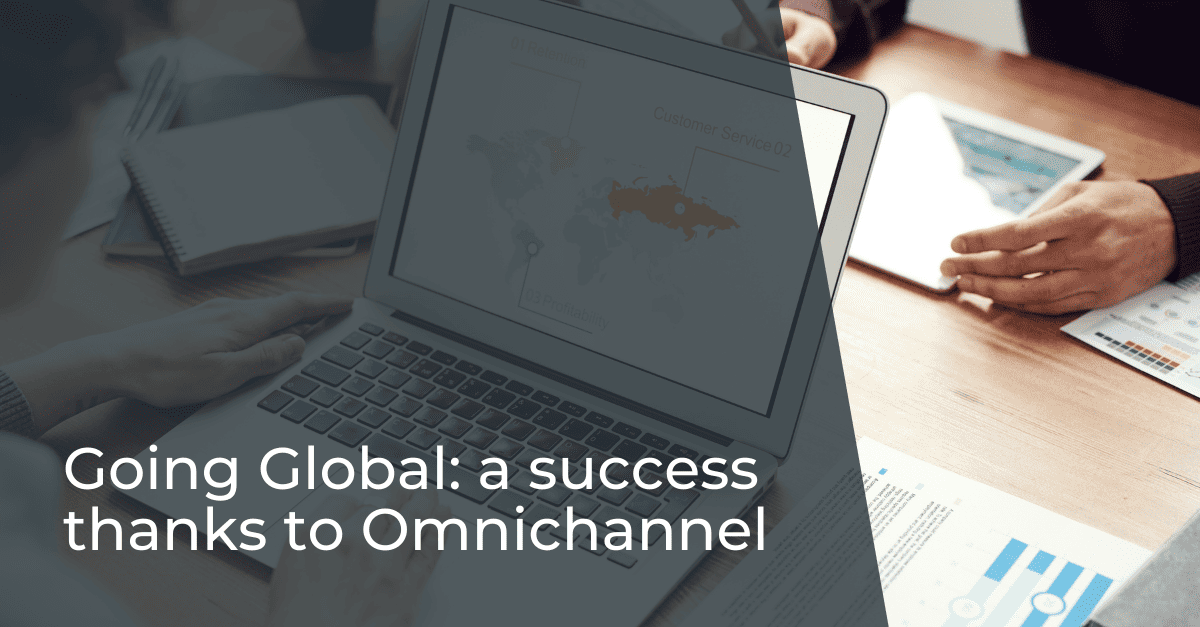 4 min
Going global: omnichannel solutions for your international expansion
If you are currently reading this article, it is likely because the international market represents a strategic axis for your company, synonymous with conquest and innovation.
We can tell you that YES, you should go international; yes, it represents a risk and no it is not easy.
It is not easy because, whether you are a pure player or a Clicks & Mortar retailer, there are unavoidable difficulties: translations, costs and delivery times that increase with distance, knowledge of international law, management of customs formalities… international e-commerce can seem complex to tackle.
In this article we will not discuss go-to-market strategies such as the eternal marketplace vs no marketplace dilemma, opening a flagship in the country in question vs having a 100% digital approach. Nor will we discuss marketing strategies such as 'how to make my brand known in the target country' or any legal technicalities of international expansion. Instead, we will focus on the three points that the OneStock omnichannel solution knows best:
1.    Delivery costs 
With distance comes higher delivery costs, not to mention the taxes and customs duties that may also be applied. A high delivery cost reduces or dilutes the price advantage, which is very impactful for industries where the price is the main motivation for buyers.
2.    Delivery times 
The internationalisation of e-commerce potentially implies a greater distance between products and customers. The longer the delivery time and the vaguer the delivery promise, the higher the risk of basket abandonment.
3.    Return policies and processes
Unfortunately, returns terms are often different for international customers. Indeed, if it is already expensive to manage the return costs for domestic customers, it is even more so for international customers. Brands that offer this service nevertheless have a real competitive advantage
How can omnichannel support your expansion into new countries?
All omnichannel solutions can be used to support retail strategies and to meet the challenges faced by retailers. International expansion is, in particular, one of the challenges that omnichannel can help overcome.
To demonstrate how effective an omnichannel strategy can be, let's look at two scenarios:
You have a stock point in the target country
If you already have or are planning to open a store in the target country, or are buying storage space from a local logistics provider, then Ship from Store and Delivery Promise are the right fit for you.
Ship from Store allows your network of stores to receive incoming web orders. Rules can be set up to automatically allocate orders from a foreign country to one or more local stores if they have the necessary stock. Shipping from a store or warehouse in the country in question will generally be more cost-effective and faster than shipping from the central warehouse as Mathilde Watine, Omnichannel Transformation Leader at ÏDKIDS, explained.
If I take Poland or Romania as an example, shipping from our classic French warehouse is going to cost us 10/15 euros via La Poste, whereas the local mail service in these countries is very cheap. Shipping via the Polish Post Office would cost us 2€, so it is in our interest to use the country's local transport services! For countries where it is not necessarily profitable to run e-commerce operations out of France, we instead run e-commerce operations out of the country itself by favouring local carriers

Mathilde Watine – Omnichannel Transformation Leader, ÏDKIDS
You have a 100% digital approach and purchases from the target country will be processed by your French warehouse  
If you don't already have a physical presence in the foreign countries you wish to sell to, your international delivery times will inevitably be longer. A word of advice: don't hide this from your customers. Transparency is very important to gain the trust of web buyers. Also, make sure you clearly indicate on your e-commerce site which aspects of your return policy apply to your national and international buyers.
In this case, the Delivery Promise is the omnichannel solution of choice for calculating and displaying reliable and accurate delivery times. For more information on the Delivery Promise click here.
Would you like to know more about international expansion strategies? Do not hesitate to contact us