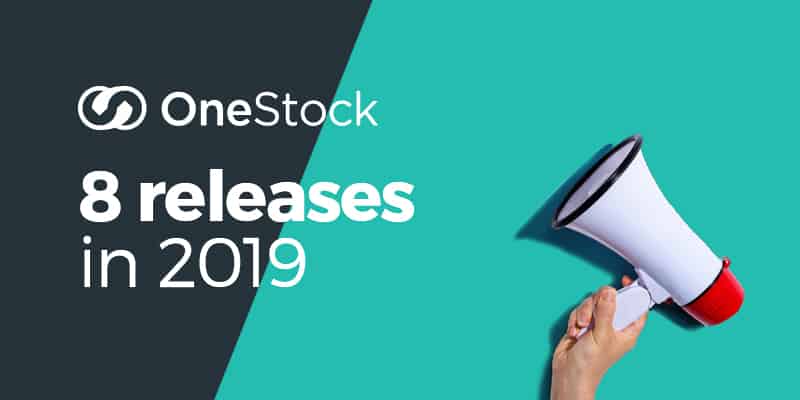 4 min
8 releases of OneStock in 2019: an OMS ever more customer-centric, agile, profitable and sustainable
With OneStock, all our customers are always on the most recent version of the software and can therefore benefit from every new feature. Large investments are made in Research & Development to continuously improve OMS and add more capabilities and new options.
2019 has been a rich year, with the deployment of 8 releases of the software:
Delivery Promise
A brand new Delivery Promise module has been developed. This module is designed with the end customer in mind. A benchmark of best practices around Delivery Promise has been made in several countries to integrate the best customer experience in OneStock. Very early in his navigation on the e-commerce site, the customer will have precise information on all possible delivery methods, their cost, delivery dates/times, the number of parcels he should receive and also on the carbon footprint of the transport.
The module is highly configurable to support all scenarios and all delivery service. It calculates instantly all the possible options: standard delivery, relay points, express, but also Same-day delivery, Click&Collect (from the stock of the collection store, from the warehouse, from another store…), Reserve&Collect. At a glance, the customer has all the information to make his choice!
Store as a warehouse
Store as a warehouse allows the industrialization of in-store operations to improve the efficiency and profitability of order processing. It is inspired by warehouse processes while sticking to the reality of the stores.
The new version of Store as a warehouse offers a whole range of options to manage the warehouse processes of Ship from store, Click & Collect and Reserve&Collect order preparation. You can optimise picking, parallelise picking operations, scan the picked items, use a sorting wall in the store, print documents in bulk, etc. OneStock adapts to your processes and to the organisation in place in your stores.
Reserve & Collect
A Reserve&Collect tunnel has been added to OneStock to be easily integrated into the e-commerce front. You can directly call this tunnel from the product pages without any other modification on the front!
To make things even simpler, the SalesForce Commerce Cloud connector to OneStock allows to integrate this tunnel in a few clicks, without any development!
Multi-channel, multi-country, multi-currency, multi-time zone management
The notion of sales channels has been reinforced in OneStock to be able to properly manage multiple sales channels (different countries, different brands…). OneStock also knows how to convert currencies in order to analyze data in local currency or to aggregate them into one currency. All calendars are managed in the appropriate timezone and OneStock takes into account timezone constraints when calculating dates, especially for delivery promise.
Open APIs
Many REST APIs have been opened and documented to allow direct connections to OneStock from external applications. This facilitates integration and opens up new possibilities for interaction.
RFID Support
Stores equipped with RFID readers can use them to prepare OneStock orders and connect OneStock to their RFID backoffice to integrate the EPCs of the picked items.
Store User Management
The store manager is now autonomous to manage his local users. He can create new accesses, activate/deactivate them temporarily, change passwords… Everyone has a personal access to OneStock, improving security!
Multi-pack
If an order does not fit into one parcel, you can now split it into several parcels and print the corresponding labels and delivery notes. OneStock will communicate the information and contents of each package to the customer.
And much more…
Many other new features were delivered in 2019: signature at pickup, print return confirmation, new customizable user guide, integration of OSS extensions, additional reports, etc.
And releases in 2020 already started with version 7.2 delivered in January! And many more things to come!