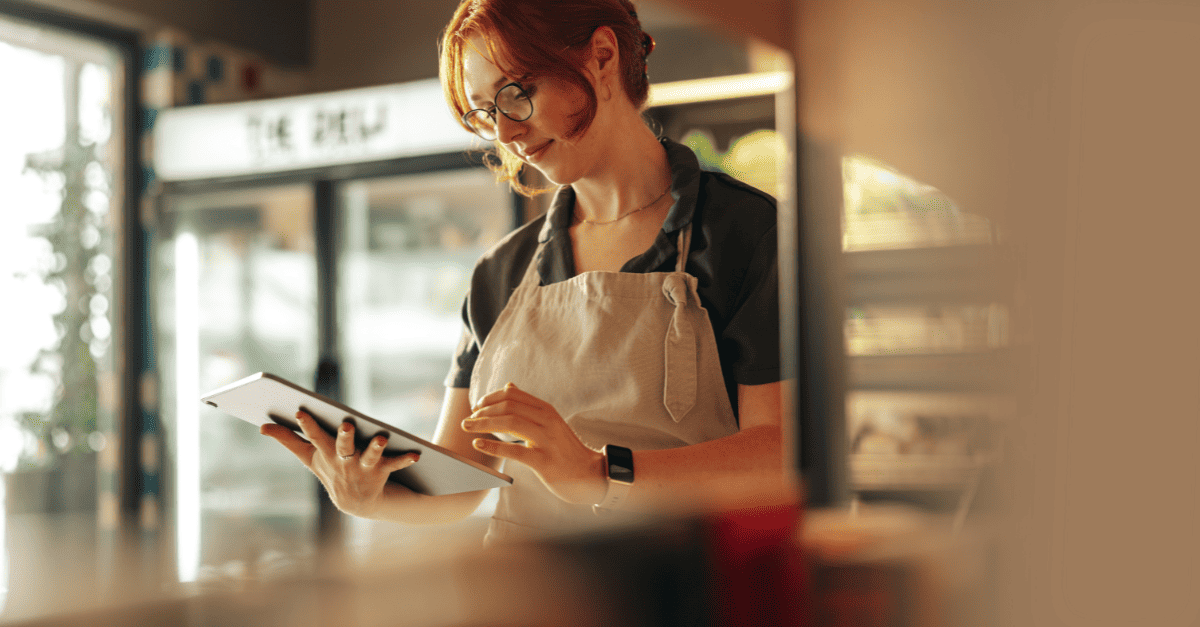 7 min
Enhancing the customer experience with digital in-store solutions
In the face of aggressive e-commerce competition, physical retail stores must reinvent themselves to remain relevant. Their best strategy? Enhance the customer experience with 'digital in-store' solutions and make stores an indispensable part of the customer journey. To successfully achieve this, these solutions rely on the integration of an Order Management System (OMS).
So, how does an OMS revolutionise the in-store shopping experience? In this article, we'll explore the digital solutions an OMS enables, their benefits and how to successfully implement them to create a competitive retail experience.
What is 'digital in-store'?
'Digital in-store' refers to a set of digital solutions designed to enhance the in-store customer journey. These solutions give omnichannel retailers an opportunity to merge their physical and digital stores. A 'phygital' strategy allows brick-and-mortar stores to integrate digital data and methods with the goal of improving the customer experience and increasing revenue across their store network.
The objectives are multifaceted: attract new in-store traffic from initial online shoppers, cater to all purchase intentions and build stronger customer loyalty to become an indispensable brand.
The digitalisation of retail stores involves various omnichannel scenarios that OneStock provides.
OneStock OMS: An ideal omnichannel solution for digital in-store
With over 15,000 stores equipped with our solutions, OneStock is a trusted partner for digitising the in-store experience. Let's take a closer look at our digital in-store services:
– Order in Store:
When customers can't find a desired product in-store, retailers can rely on the Order in Store solution. Enabled by the unified stock principle of an OMS (see more on this below), this technology allows customers to order a product directly in-store, even if it's not physically available. The product is then delivered to their home or made available for pickup at another store location. This solution is particularly beneficial for small boutiques, as it virtually expands their product range beyond available floor space. The Parisian fashion brand ba&sh increased in-store revenue by 6% in the first month of using Order in Store.
Discover our Order in Store solution.
– Reserve and Collect:
With this solution, customers can reserve a product online and pick it up in-store. This allows them to enjoy the benefits of online shopping (search, reviews, recommended products) combined with the advantages of physical stores (trying on, personalised advice). For retailers, it's a way to increase in-store traffic, average basket size and reduce returns and their associated costs. Our client Cultura successfully integrated Reserve and Collect into its commercial strategy and it now represents 25% of the brand's e-commerce transactions.
Discover our Reserve and Collect solution.
– In-store appointments:
This service allows customers to schedule a personalised appointment in-store or remotely. In practice, the solution integrates with the retailer's e-commerce website, allowing customers to select their desired appointment type, store location and a convenient time. On the appointed day, a dedicated advisor is available to provide expert recommendations, and possibly even a pre-selected range of items based on customer information. For retailers, this type of solution improves customer engagement and increases average basket value. Lingerie brand RougeGorge tripled its average basket size with online appointment booking.
Discover our in-store appointment booking solution.
The benefits of digital in-store for the customer experience
Digital in-store is more than just a trend; it's a game-changer that offers numerous benefits for the customer experience.
A seamless shopping experience
Inventory errors, out-of-stock items, products available online but not in-store – digital in-store solutions eliminate the usual obstacles in the customer journey. They also offer a more personalised experience that genuinely caters to customer needs through services like Order in Store and in-store appointments. Furthermore, the digitalisation of stores often translates into time savings for busy shoppers. For example, Reserve and Collect ensures that products will be available for a customer to try when they arrive in store, and mobile POS removes the need to queue at the checkout.
Improved product availability
Out-of-stock items are a major disappointment for customers. With an OMS, retailers, and their customers, have a unified view of stock across the entire retail network. This means that even if a product is not available in-store, it can be ordered from another store or warehouse and delivered directly to the customer's home or for pickup in store.
OMS: A central role in digital in-store integration
The success of a digital in-store strategy relies on precise coordination of stock, orders and customer interactions. This is what an Order Management System (OMS) enables, with its two key principles:
– Stock unification: Consolidation of all available stock within a retail network (warehouses, stores, marketplaces, suppliers, future stock).
– Order orchestration: Intelligent allocation of each customer order to the stock point best equipped to fulfil it, based on predefined parameters set by the retailer.
The OMS is more than just an order management tool; it integrates into the retailer's information system, centralising all information related to customer orders. With a unified, real-time view of stock, orders and customer interactions, merchants can offer a seamless and consistent shopping experience, regardless of the purchasing channel used.
Comprehensive customer journey management
An OMS enables tracking of the customer's entire purchasing journey, from an initial online interaction to the final in-store purchase. Whether the customer reserves a product online for in-store pickup, makes an online purchase with home delivery, or returns an online order in-store, the OMS ensures smooth management of every interaction. This allows retailers to offer services such as Click and Collect, Reserve and Collect, or in-store returns, significantly enhancing the customer experience.
Conclusion
'Digital in-store' solutions represent a profound transformation in how consumers interact with brands and make in-store purchases. By integrating digital elements into physical store locations, brands can not only meet consumer expectations but also differentiate themselves in a saturated market.
The Order Management System (OMS) stands as the central pillar of this revolution, providing retailers with the necessary tools to create unified, seamless and memorable shopping experiences. By centralising data, optimising operations and improving inventory and order management, an OMS is the strategic partner that retailers need to succeed in this digital transformation.