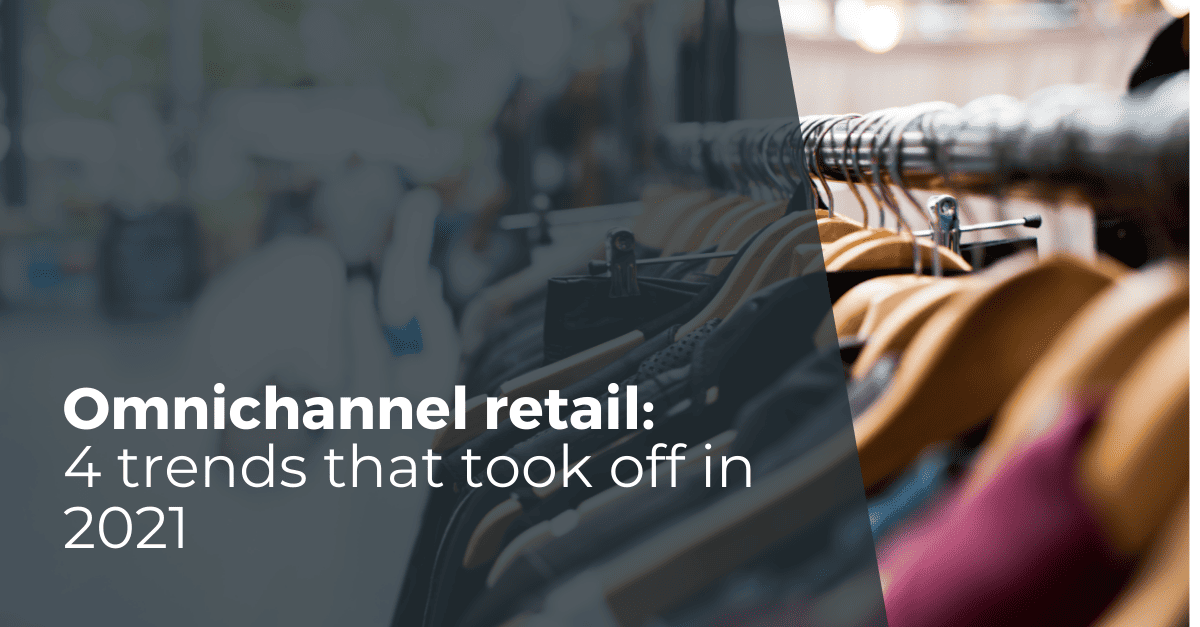 3 min
Omnichannel retail: 4 trends that took off in 2021
Omnichannel retail is more relevant than ever! While 2021 is not over yet, we can already say that it has been a challenging year for retail. It has been marked by the effects of the health crisis, an unprecedented logistical crisis and increasingly connected and demanding consumers. 2021 has once again proven that retail and omnichannel are now inextricably linked.
Let's take a look at what trends really took off in 2021. 
The second-hand market or the 'new entrant' of omnichannel retail
Popularized by platforms like United Wardrobe, Depop or Vinted, the second-hand market has now truly transformed consumer habits. So much so that brands themselves are now creating dedicated websites for second-hand items, offering a second life to their collections and their customers' purchases. In most cases, the brands provide gift cards to the consumers who return their used items. These vouchers can then be used on the brand's new collection, as is offered by Levi's SecondHand trade-in program.
According to Romulus Grigoras, CEO of OneStock, "the interest in second-hand clothing has been boosted by the pandemic and will be long-lasting" (LSA interview, Nov 2021). This is a trend that omnichannel retailers need to be aware of and follow closely!
Sustainability as the future of omnichannel retail
Another related trend is that shoppers have embraced ecological awareness in their consumption habits. This trend now applies to non-food retail and brands are committing to ethical production methods and environmentally friendly deliveries.
This eco-friendly approach has been integrated into the Delivery Promise displayed on e-commerce sites. Web shoppers can check the carbon footprint associated with different delivery methods and choose the most environmentally friendly delivery. They tend to do so, as a OneStock study of 5,000 European consumers found that 60% of them would be more loyal to a brand if it had sustainable practices. Could sustainability and environmental awareness be the future of omnichannel retail?
Social selling for omnichannel retailing that reaches millennials
A new sales channel has come to the forefront of the omnichannel customer journey – social selling!
Social networks, particularly Instagram and TikTok, now allow retailers to reach their target audiences in a different way. Thanks to communication strategies based on influence and live shopping, retailers, whether they are mainstream (Nike, Etsy, Madewell…) or more exclusive (Lancôme, Livy Studio, Alohas…), are playing along!
Social selling and live shopping will continue to grow in the coming years and is estimated to be worth $25 billion in the USA by 2023 (Coresight Research).  Given the ease of implementation of this channel, it is likely that digital and e-commerce managers will be more and more interested in the coming years!
Order Management Systems or the technological foundation of omnichannel retail
Having been particularly popular following the health crisis, Order Management Systems (OMS) have become a key strategic partner for all retailers, regardless of their sector of activity.
Order Management Systems have proven to be among the most important performance drivers during the Covid-19 crisis and beyond, enabling retailers to optimise stock-flow and maximise margins. In particular, by creating a true complementarity between a brand's physical network and their website.
The omnichannel solutions that are implemented through an OMS are also becoming a must-have in retail: Ship from Store, Order in Store, Click and Collect, in-store appointments, etc.
Considering the immensely positive impact they have on retailers' performance, Order Management Systems will doubtlessly continue to play a key role in strategic discussions!