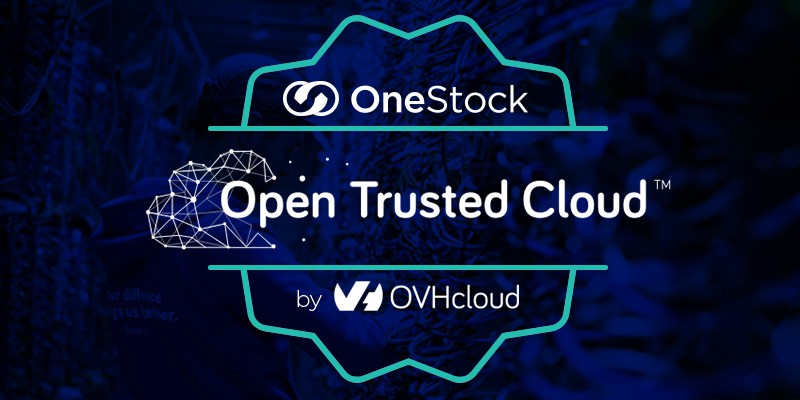 2 min
OneStock's Order Management System labelled Open Trusted Cloud by OVHcloud
As a SaaS solution, OneStock has, for many years, chosen to host its services on the OVHcloud infrastructure. To strengthen this collaboration, OneStock OMS is now joining the innovative Open Trusted Cloud solutions programme for even more trust and security.
OVHcloud: a trusted host for Order Management System data
OneStock is fully aware that a large amount of data circulates within its Order Management System and is therefore very watchful of regulatory developments in its sector. By hosting all of its omnichannel solutions with OVHcloud, OneStock benefits from OVHcloud's trusted infrastructure and the guarantee of compliance with European regulations. OVHcloud is committed to respecting corporate freedom, fundamental business rights and the right to data protection.
OneStock has joined the Open Trusted Cloud programme, which aims to co-construct an ecosystem of innovative services that comply with the General Data Protection Regulations (GDPR). Open Trusted Cloud lists all the solutions known as 'trusted partners' on their website: https://opentrustedcloud.ovhcloud.com/en-gb/ 
Data processing at the heart of the Order Management System
The efficiency of OneStock's Order Management System comes from the data processing: stock, orders, store performances, … Clear communication on data protection and transparency on server locations are two subjects of major importance for OneStock.
By hosting our solutions in the OVHcloud, we guarantee :
The choice of the location for data storage and processing,
Compliance with the European CISPE "code of conduct" on data protection,
Compliance with the "code of conduct" on data reversibility facilitated by the European Commission (SWIPO IaaS),
The addition of the SOC1 certification
OVHcloud and OneStock's shared values
By hosting its data with OVHcloud, OneStock has chosen a partner that shares its values, particularly in terms of Corporate Social Responsibility (CSR).
OVHcloud and OneStock want to build more sustainable and environmentally friendly business models. This includes limiting their :
Environmental impact: setting up internal actions to promote waste recycling, raising awareness of these issues among all stakeholders and offering more environmentally friendly solutions,
Social impact: promoting parity and diversity among the company's workforce,
Economic impact: creating a strong local and regional ecosystem, favouring short and agile circuits.