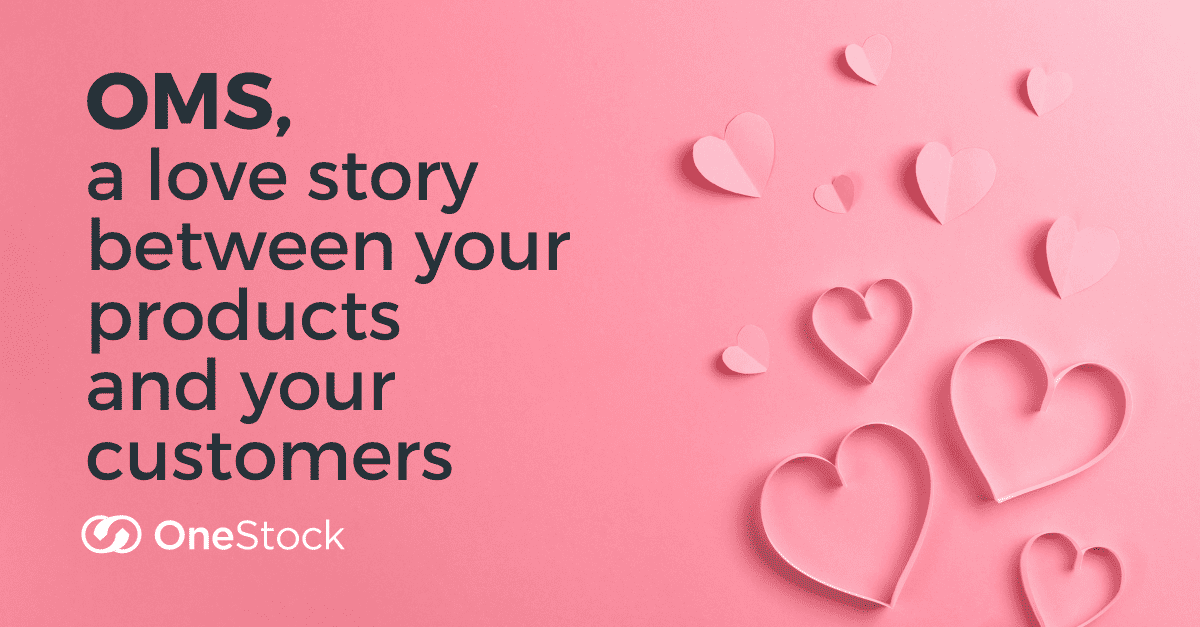 5 min
OMS, a love story between your products and your customers
This year, OneStock celebrates Valentine's day with OMS lovers!
Order Management Systems (OMS) and their associated solutions – Click & Collect, Order in Store, Appointment Booking, etc. – have become the norm. While your customers may not be familiar with OMS terminology and may not be aware of the technical implications of these solutions, they have nevertheless become indispensable to them.
OMS helps you bring your available products and your customers together. Now let's take a look at why there's a good chance of a match!
What does the OMS mean for your products?
The OMS gives your customers the perfect opportunity to fall in love with your products. How so? Well, for starters, by allowing them to buy them!
« If a product is out of stock online, 69% of European shoppers will try to find it from another retailer" OneStock Omnichannel Barometer 2021 » 2021 Omnichannel consumer survey
The OMS improves the availability of items throughout the network by unifiying stock. It looks at all available stocks, whether they are in warehouses, stores or drop shipping. To go even further, the system also takes into account items that are not yet 'physically' in the network: pre-orders on expected products, items in transit or in the process of being restocked. So what are the results?
1. Better product availability considerably increases the chances of your customers finding the products they are looking for and placing an order. This improves your     customer acquisition and retention rates!
2. Your store staff have the tools to meet customers' purchasing intentions, and the customer experience improves!
3. You optimise the flow of your stock and reduce residuals at the end of the season. So you sell your stock faster and improve your margins!
4. Your turnover increases!
How does the OMS affect your customers?
The OMS allows you to transform your customer relationship and improve the customer experience in store and online.
All OneStock omnichannel solutions are customer-centric, which means that they are designed for the end-user, your customer! The OMS is therefore a tool created to improve customer satisfaction, build loyalty and win new customers. Its implementation gives your customers the ability to :
1. Quickly pick up a web order directly in store: Click & Collect and express Click & Collect option
2. Know exactly where to find the items they are looking for, or even have them ordered for them directly from the store: Order in Store
3. Be assisted by a dedicated store associate during their shopping trip and benefit from a special and personalised experience, similar to what is done in department         stores: In-store and Virtual Appointments
4. Access your brand's entire product catalogue, at all times, everywhere they are: OMS and stock unification
OMS, products, customers: a match made in heaven?
We are thrilled by this great match which is at the heart of OneStock's mission. Our teams believe that our OMS can continually improve to provide the smoothest possible customer experience across all channels.
So, as a Valentine's Day gift to you, we're unveiling a few areas of improvement that will soon be incorporated into our OMS offering:
Improve communication with customers: when a customer places an order on your e-commerce site (and even more so in the case of split orders), they receive a confirmation email from you – so far so good. The flow of emails becomes more complex when the order is picked up by the carrier. The web customer then receives an email from your brand to inform them of this + the same email from the carrier. Imagine this pattern repeated for an order split into 4 packages, difficult to find your way around!That's why OneStock is actively working to improve this communication with the customer, especially when orders are orchestrated across different stock points. We will soon be rolling out a new unique module that will make it easier to track orders and their carrier status.
Improve knowledge of your customers: while the OMS has a view of web orders, it should also be used in conjunction with the CRM to access all the information about your customers. In this way, you can give both your store associates and your ecommerce platform all the information they need to finalise a sale: purchase history, sizes, wishlists, etc. With regard to the wishlist in particular, it is essential that it be omnichannel so as to allow the web and store associates to see your customers' favourite items. We can even take the customer journey a step further by imagining that a customer who has been advised by one of your store associates but leaves the store without making a purchase receives, via email, the list of items they spotted and tried on that your sales assistant would have automatically added to their wishlist.
If you want us to help you make the love story between your customers and your products even more beautiful, contact us